We are influencers and brand affiliates.  This post contains affiliate links, most which go to Amazon and are Geo-Affiliate links to nearest Amazon store.

Do you know how to play the guitar, but feel that sometimes it can become boring?
The guitar is one of the musical instruments for popular, for some it may be difficult to learn, but when you start practicing you realize that it is not an instrument as difficult as it seems. Although the guitar is a traditional musical instrument, the truth is that many people tend to get bored when playing the guitar and there are some reasons, for some, it may be a bit difficult to play some songs, but the most common is that the sound of the guitar seems somewhat simple, so it is possible to get new sounds if you get a smart guitar.
I know that technology and acoustic guitar seem like words that do not have many things in common, but if you are bored of the classic sound of an acoustic guitar then technology can provide you with new and incredible sounds so that you feel the passion for playing the guitar again, which will be of great help if you want to improve and learn new songs. Smart guitars are few, I would say that I only know 2-3 brands with smart features, since most of them have a patented system, so they are unique in the world and have been tested by professional musicians. The price may vary, but if you consider that you get new sound effects without needing an amplifier then it's totally worth it.
The BLUE LAVA is a moderate and fun intelligent guitar that will make you feel again the passion for playing this great musical instrument. This is not just any guitar, of course, it has strings like any acoustic guitar, but you can customize the sound in many ways to get an unbeatable sound effect. Below, discover the most interesting features of this product.
Features of the BLUE LAVA smart guitar
If you are looking for a guitar with its own sound effects then the BLUE LAVA smart guitar is what you need to try. The main feature of this acoustic guitar is that, unlike a traditional guitar, the LAVA guitar has sound effects preset, this means that you can get a sound with effects without using an amplifier, which is one of the most incredible ideas that you will surely have heard. To configure the guitar, you only have to use the screen and change the presets to your liking. Another feature of this guitar is the bright tone that has been improved to offer a richer experience when playing, so, you can get a really nice sound when playing with this guitar, no matter what genre of music you are playing, the BLUE LAVA will do a great job to provide the best sound quality. The screen of this guitar not only allows you to use the sound effects, but it also includes exercises and a tuner so you can improve in a much more fun way. Finally, you should know that this guitar is made with high-quality ecological material and that is really appreciated, deforestation is a big problem that affects the environment.
You can buy this item here on Amazon
We are influencers and brand affiliates.  This post contains affiliate links, most which go to Amazon and are Geo-Affiliate links to nearest Amazon store.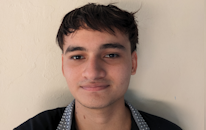 My name is Joel! I love to read, I go to university like most people my age.
In my free time I usually train boxing, I love music, I also know how to play the guitar and the harmonica.