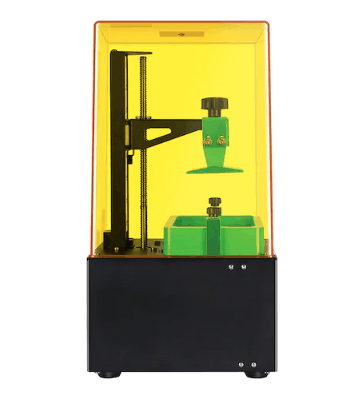 Being able to print your own 3D miniature figurines is one of the best reasons to invest in a 3D printer. Not only can you make your own ideas come to life, but you can also print out some of your favorite collectibles. The Anycubic 2020 New Photon-Zero 3D Printer from Gearbest allows you to bring your ideas to life.
Overview of the Anycubic 2020 3D printer
This 3d printer on the inside of the printing area has a dimension of 150mm height, 95mm wide, and 54mm depth. Depending on what you'd like to print or the general overall things you want to do with it, that should give you a pretty good idea if that space will fit what you need.
There is a lead screw inside the linear rail to make sure the z-axis moves smoothly, which helps make sure your designs come out exactly how you tell it to. The built-in anti-aliasing effect will help make the edges smoother so you will have a much smoother finish. These will make your overall finished product look high-quality without any extra work from you.
The upgraded UV module helps distribute the UV light in a more uniform way and keeps the lights parallel. That will give it more of a professional finish as it does its work. The UV cooling system also helps keep your printer from overheating. When it has a built-in cooling device, it's able to maintain a stable printing performance and will need to take less breaks as it works.
If you don't know, a lot of 3D printers struggle to make a solid adhesion between the platform and the prints. By using aluminum platforms with wire drawing processes, it makes sure they stay together and don't have any of the issues that the other ones do. With this 3D printer, you'll get the self-developed slicer software to create your models, design them, and print / cut them. The Photon Zero helps reduce wasted resin and endless printing times by using different exposure parameters to print each model. It can print eight different models with these parameters which will let you know the best exposure time with just one print instead of multiple prints.
You can also see your resin amount with a quick glance to know exactly where you're at and when it's time to refill. This printer also ships from a USA warehouse, so you can get it to your doorstep sooner than later.
Features:
2.8 inch Touch Screen
Software: ANYCUBIC Photon workshop
Connectivity : USB
Supported format: .stl,.obj
Light-source: high-quality filament(wavelength 405nm)
16x anti-aliasing
Quick slicing
Marks in resin vat
Integral FEP film