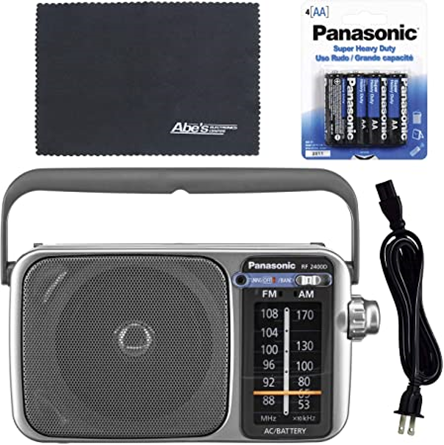 Do you need a radio that takes up little space?
The Panasonic RF-2400D radio is an incredible and compact radio that allows you to take it anywhere. This radio has an old appearance but is built with current materials that will significantly improve its quality and durability. It offers two signals (AM and FM). This radio is a perfect gift for your grandparents, uncles, and friends. This radio includes everything you need to start using it right away. Panasonic has always been characterized by offering durable and high-quality products, this will not be the exception. This compact radio is an amazing purchase for your home. Always stay informed when electrical power fails. The radio is an indispensable device when a natural disaster occurs. This Panasonic radio is available on Amazon.
Panasonic RF-2400D Radio Features
The Panasonic RF-2400D is an amazing compact radio made to be easy to carry and easy to use is a perfect choice for people who need to travel and need something with little space. This little thing does enough to beat other portable radios. If you are looking for an efficient and durable portable radio with AM and FM signals for travel, the Panasonic RF-2400D is an ideal purchase for you. It is compact, lightweight, and has a wide frequency range. You won't be surprised by the audio quality that the Panasonic RF provides, but come on, we're talking about a portable radio with a 10cm speaker. Simple design is a winner here. With the Panasonic RF, you get a small radio that gives you access to AM/FM stations wherever you are. It especially stands out with its radio dial. It's big enough for easy use, yet precise enough that you can get the exact frequency you need. Additionally, the AM/FM portable radio can be powered by four AA batteries or AC power, giving you great flexibility. Another cool feature is the inclusion of a headphone jack, so you can listen quietly when needed. For those who need a lightweight and effective portable radio, you can't go wrong with the Panasonic RF. It's well priced and durable enough to last and count on. It's made for outdoor use, making it a great value for campers, fishermen, boaters, hunters, and the like. This compact radio supports a 3.5 headphone output which means you'll be able to listen to the radio silently and prevent other people from getting angry about the noise. It includes a fluorescent pointer that helps to have better visibility when there is low light. This radio antenna is incredibly accurate and effective. It is a purchase that can not be missing in your home, the radio is considered one of the most important devices when a natural disaster occurs. It's important to stay informed no matter where you are. The Panasonic RF-2400D radio is available on Amazon at an incredible price.
Summary
If you are looking for a compact and functional radio the Panasonic RF-2400 is what you need. This compact radio allows you to stay informed no matter where you are. It is an ideal radio for travel because it is easy to transport.
You can buy this item here: Amazon.com: Panasonic RF-2400D / RF-2400 Portable FM/AM Radio with AFC Tuner + 4 X Panasonic AA Batteries + Starter Bundle : Electronics