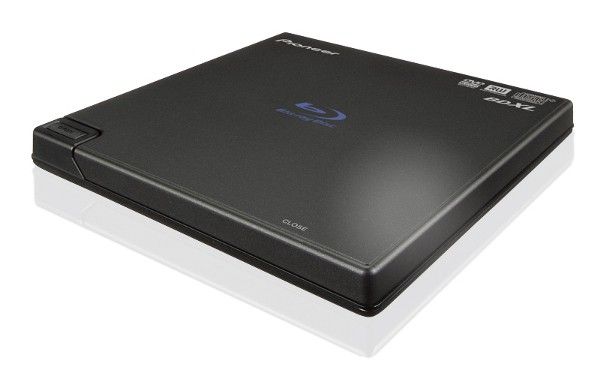 Pioneer Electronics, the company well known for audio and entertainment devices, has unveiled their new portable Blue-ray burner, the Pioneer BDR-XD04. The new device is the world's smallest and lightest BD/DVD/CD portable burner which comes with  BDXL 1 support. The Blue-ray burner looks like an ultra-compact clamshell kind of a driver, which can read and write to any BDXL disc formats. This includes BD-R triple-layer 100GB media, BD-R quad-layer 128GB media, and BD-RE triple-layer 100GB media, as well as conventional Blu-ray™ discs (single-layer 25GB media and dual-layer 50GB media)
"As the popularity of drive-less ultrabooks continues to rise, the BDR-XD04 becomes the ideal accessory because of its compact size and portability," said Steven Cohn, director of Optical Sales for the Home Electronics Industrial Department at Pioneer Electronics (USA) Inc. "There's a growing need for a drive that's highly transportable for playing CDs, DVDs and Blu-ray discs, as well as for storing valuable personal files on a secure, removable medium."
The Pioneer Blue-ray burner measures just 5.2 x 0.55 x 5.2 inches and weighs 8.46 ounces (240g). The device also features PowerRead, PureRead2+, Auto Quiet mode and can be powered directly via USB. The BDR-XD04 comes with a CyberLink software, which enables users to watch standard Blu-ray and Blu-ray 3D titles, and author high-definition Blu-ray Disc content or standard-definition DVD content.
 Pioneer BDRZD04 Blu-ray Burner Features
The player can provide hassle free movie playback even when the disc contains finger prints or minor scratches, else it will quickly move forward to the next available data point, resulting in smoother Blu-ray and DVD movie playback.
The PureRead2+ technology will help to remove the click or pop sounds generally caused to the presence scratches on the disc.
Auto Quiet mode to change the noise generated by the reader based on the usage.
The burner can be powered directly through most USB PC connections without AC power.
Comes with a manual eject lever which lets the user eject a loaded disc when power to the device is not available.
The Pioneer Blu-ray burner will be made available thee end of January, for a price of US $149.99.