Yes you read that headline correctly.  You may get a chance to get your hands on Pokemon GO even sooner than Pokemon Sun and Pokemon Moon.  After months of hype and speculation, it was officially announced that a field test for a beta build of Pokemon GO will be available for US fans.  While the date is still shrouded in secrecy, this is an encouraging sign that the current Asia test has been yielding positive results.  Below is a tweet from the official Pokemon Twitter account making the announcement.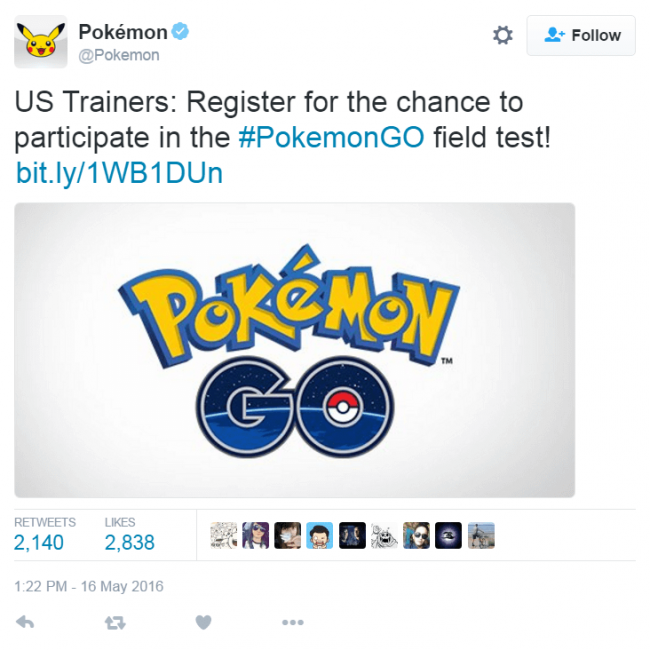 How to Sign Up for the Field Test
Compatibility:  Phones running Android Version 4.3 (Intel Atom-based Androids not supported) or an iPhone 5 and up with at least iOS 8 will be able to participate in the US field test.
At the moment, it seems the best way to score a potential shot at participating in the beta test is to click the link included in the official tweet.  After doing so you will be brought to an announcement post which includes a link to the following page.  Find the yellow "Sign Up Here" button and give it a click.  You'll be directed to an easy to fill out form which will ask for an email address (only Gmail addresses are allowed at this time), questions about whether you play Niantic, Inc.'s other iOS release Ingress, and the typical "I'm not a robot" CAPTCHA box.  Theories have been spreading on the Pokemon GO Reddit that higher preference may be given to Ingress players.  At this time, it is hard to say what will be the biggest determining factor on who gets in on the fun.
Thankfully, there are videos sporadically popping up of those already playing the field test edition.  The most comprehensive one I have stumbled on so far is by the YouTube channel GOtrip.  The video was especially helpful in illustrating how the battle system works as well as the gym distribution.  It is important to bear in mind that the final release may differ from the beta version played in this video.
Mitra Faridian first joined the site in 2011 under the handle "Persian Poetess." Her gaming and entertainment taste is very eclectic and she's always open to a fun new virtual adverture. Email her at the following address: mitra [at] dragonblogger.com