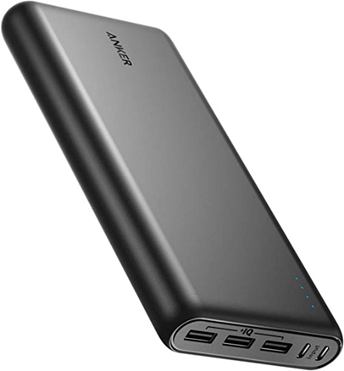 Looking for a Power Bank to charge your cell phone when you are not at home?
Having our cell phones charged during travel is becoming increasingly difficult. Although many phones include fast charging, the truth is that battery life is not something that has improved much. The applications of our cell phones every day consume more resources, so it forces the batteries to discharge faster. If you usually spend a lot of time at home it is likely that you do not notice many differences or at least do not think that the battery is a major problem, but when we need to travel or work outside the home, you will begin to notice that the battery can be discharged before the end of the day, especially if you need to use your cell phone for a long time. The good news is that you will no longer have to worry about charging your cell phone while you are not at home, using a power bank you can easily and quickly charge your cell phone, almost at the same speed with which it is usually charged normally.
The power bank is one of the best ways to charge a cell phone while you are not at home. In previous years it could be said that they were not so good products since they offered a slow charge that worsened over time, but they have noticeably improved their performance, so you will be surprised to know how fast they can charge a cell phone. Before buying a Power Bank it is recommended that you opt for a high-capacity one, so you can charge more than one cell phone, so in addition to you, other people can use it.
One of the best options to consider is the Anker 337 Power Bank. This is one of the best portable chargers you can buy for about $70. With a 26800mAh battery, you can charge several cell phones, so it will certainly be of great help on family trips. Next, discover the most interesting features of this product.
Features of the Power Bank Anker 337
High-capacity battery
The Anker 337 is not only characterized by offering a stable and fast charge, but it has 26800mAh that will give you enough energy to charge not only one cell phone but up to 6 cell phones, so it will undoubtedly be useful on long trips. Another important fact is that it works with most cell phones, whether you use iPhone, Samsung, or any other cell phone you will not have to worry about compatibility.
USB ports
This Power bank not only includes a USB port, but includes a total of 3 USB ports so you can charge more devices at the same time, so if you have more people by your side who need to charge their cell phones it will surely be of great help.
Fast recharge
Although the Anker 337 has 26800mAh (plus 7 batteries of an iPhone 13), you will be surprised to know that you will only need 6 hours to have the power bank fully charged. Keep in mind that to charge at this speed you will need to use the two charging ports, otherwise, the load will be slower.
Safety
To keep all your devices safe, it incorporates an advanced security system that ensures that all devices receive the energy they need, avoiding any risk of damage.
You can buy this item here: Amazon.com: Anker 337 Power Bank (PowerCore 26K) Portable Charger, 26800mAh External Battery with Dual Input Port and Double-Speed Recharging, 3 USB Ports for iPhone, iPad, Samsung, Android and Other Devices : Cell Phones & Accessories
My name is Joel! I love to read, I go to university like most people my age.
In my free time I usually train boxing, I love music, I also know how to play the guitar and the harmonica.