I, very well, understand that how significant your personal collection of photos is to you. I also understand that you cannot even imagine losing a single photo out of them, no matter what. However, things are not always in your hands; you may lose them all at once due to partition loss, unintentional disk formatting, or in a like scenario.
People like to keep their personal collections of photos, music, videos and other multimedia stuff on their personal computer. However, they forget to implement right security measures, which is important to keep all such stuff well secured. Stellar Phoenix Photo Recovery software alleges to bring the lost or deleted media files (i.e. photos, audio and video files) back to life, keeping the original file structure of every single file intact. Go through the following section for detailed elaboration of this photo recovery software.
Overview
Stellar Phoenix Photo Recovery software is based on Windows platform and is compatible with Windows 8 operating system. The software is termed as a Do-it-Yourself utility for photo, audio, and video files recovery. When it comes to recovering lost photos from a hard drive, SD card, USB flash media, or an external storage media, the recovery software must be highly efficient.
The efficiency of a software is a measure of how easily and efficiently it can be used to perform the intended task. This photo recovery software provides you with simple interface that plays a key role in recovery of your lost or deleted photos and other media files. On the software home screen, choose the right option to start with.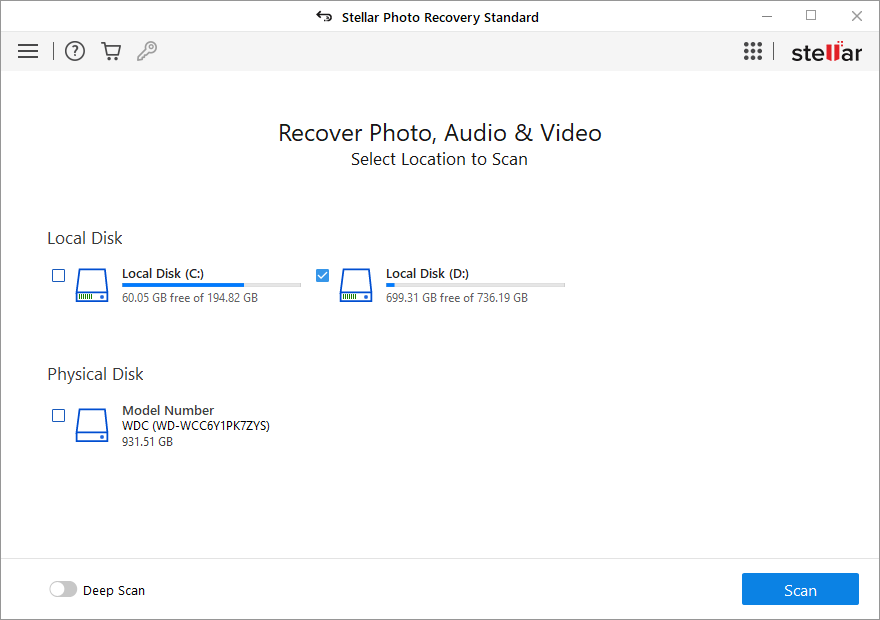 The software thoroughly scans the concerned drive, aiming at recovering all media files that are no longer available on your PC, no matter how they were deleted or lost. Amongst the key features of the software, the one that I bring in spotlight is the preview part. In other words, Stellar Phoenix Photo Recovery software generates a tree of the items recovered from the scanned drive, and then you can watch a preview of all those items, individually. In this way, you can also select which folder you want to recover. Or, you can say that the software enables selected recovery, lost, or deleted items, instead of saving all the files, including the ones that are no longer required again.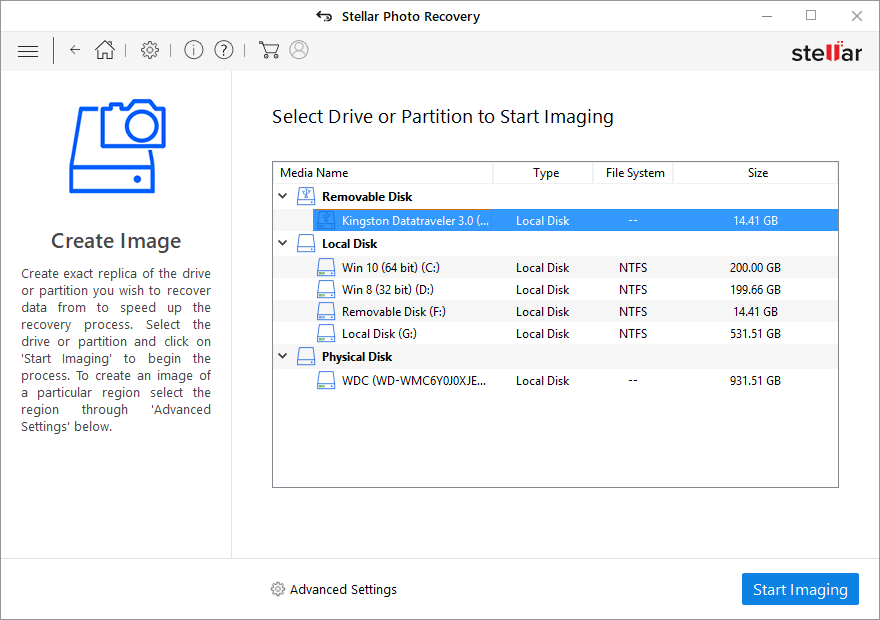 In case you want all the files to be recovered intact, you can otherwise go that way as well. Simply select all the folders in the folders tree shown to the left in the preview window, and then proceed to save them all.
Important: The disk used for saving the recovered files should not be the one from which you recovered them. Instead, use a secondary drive as the destination for efficient recovery.
Select File Format and Drive Region
The software facilitates recovery of photos, audio and video files of particular file types from specific or the entire region of the hard drive or a particular partition.
Well, this is Advanced Scan option for recovery of specific types of media files. If not this, you can directly scan the concerned drive with no scan filter applied.
Quick Scan
Keeping the drive scanning time to minimum, it is important that the scan engine of the recovery software should be as quick as it can be. This photo recovery software incorporates faster drive scanning, aiming for quick results and high software efficiency. Based on the photos loss scenario, the software is provided with the ability to allow scanning the entire hard drive at once as well as its individual volumes.
Preview of Recovered Files
Once the software is done with scanning the concerned drive, it enables you to watch a preview of the recovered items, before you save them. Based on this preview, you may eventually save selected as well as all recovered items.
Stop and Resume Recovery
Stellar Phoenix Photo Recovery software incorporates Disk Imaging and save Scan Information options for recovery at a later time. You can create image (*.IMG file) of the concerned drive, which (but not the drive) can be used to resume the recovery of lost photos and other media files. In contrast, the software prompts for saving Scan information (*.DAT file) to resume recovery at a later time. However, the concerned drive must be attached to your PC.
Salient Features
Supports a range of storage media for lost file recovery
Quick and Smart scanning
Preview of the recovered files before saving
Recovery from large drive up to 2 TB
Recovers HD MOV files
Compatible with Windows 8
Enables adding new file types for all three types of media files
Saves recovered items with their original names
Pros
User-friendly interface
Do-It-Yourself utility
Quick Scan and preview
Cons
A bit confusing while select/unselect all file types in Advanced Scan option
Costly software
The Verdict
As per the features of Stellar Phoenix Photo Recovery software, this is a recommended software for recovery of your crucial media files that have been lost. The software is compatible with Windows 8 operating system and recovers lost photos, audio and video files from a range of internal hard drives, external drives, SD cards, USB flash drives, and more. Though the software is costly for individuals, it does worth your money with its ability to recover your lost or deleted media files.