We are influencers and brand affiliates.  This post contains affiliate links, most which go to Amazon and are Geo-Affiliate links to nearest Amazon store.
It's time once again for yet another convention review and this will be the last one of the year as well as the last one of the decade! This time we hit the road to Galaxycon Louisville which I went to last year when it was formally known as Louisville Supercon.  As Galaxycon states on their website "The family behind Supercon sold the Florida Supercon event and the name "Supercon" to ReedPOP, the company that runs New York Comic-Con. Yes, we loved that name, but we are able to make an investment in our remaining events in Louisville, Minneapolis, Richmond, and Raleigh as a result of this sale" However, just because the name was changed and it is under new ownership, does that mean that the convention was better or worse? Well, it's time you find out on the next "Pros & Cons"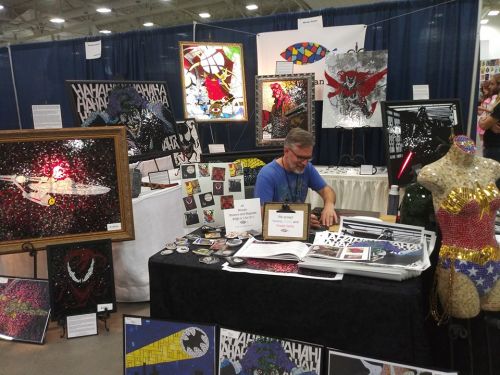 So the format for my reviews is going to be a bit different this time around. I'm not going to rate each individual category, but instead, I'm going to simply just write out my thoughts and give you my overall review. A lot of cons have a tendency of just giving great celebrities and guests but in my honest opinion, this is not at all what makes a convention great. See, my biggest problem with a lot of these conventions I have been to is that they rely too much on their "Star Power" and spend so much money on the guests that they forget that while having amazing guests is all well and good, that simply isn't just what a convention should be about. Having attended Louisville Supercon last year I will say that I was rather impressed with what I experienced. They had a wrestling show in the form of the FSCW or Fantasy Super Cosplay Wrestling, where wrestlers performed under the guise of their favorite characters. The first match I watched on Saturday evening was between Skeletor vs the Green Lantern, which was quite an amazing match and some pretty hilarious dialogue between two characters.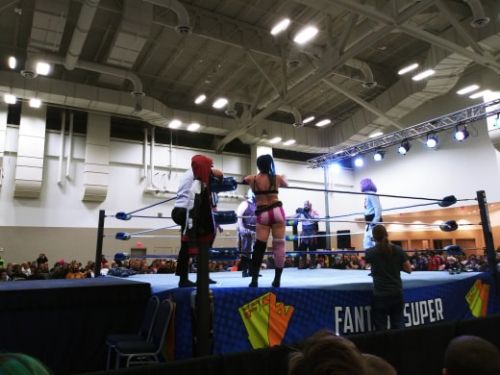 Having great events at a convention is something that I really look for as I believe that a convention is really just one huge "fair" if you will for nerds and should feature all sorts of attractions such as FSCW for instance. This is where Galaxycon truly shines as there were several events throughout the weekend such as an amazing cosplay contest, cosplay photo booth and then there was karaoke. Let's talk about this karaoke by the way. I am a huge fan of karaoke and I absolutely love to sing and perform. Last year at Supercon, the karaoke was rather spot on and also provided those that only wanted to watch the ability to color instead. Well, the coloring will still there however, the karaoke, not so much. Karaoke was split up into two different sessions on Saturday from 8pm-10pm and then back at it at 12:15-2am. When I arrived there was a line wrapped around the back of the ever so small room that was definitely not big enough to host karaoke, unlike last year where one of the ballrooms was used. The DJ was not very competent on how to run karaoke software and was using pen and paper to take people's names down. I had to wait over an hour just to get my song in and almost another 35 minutes before I was able to actually sing. It was a real mess and nowhere near as smooth as how it ran last year where I was able to get in at least 4-5 songs.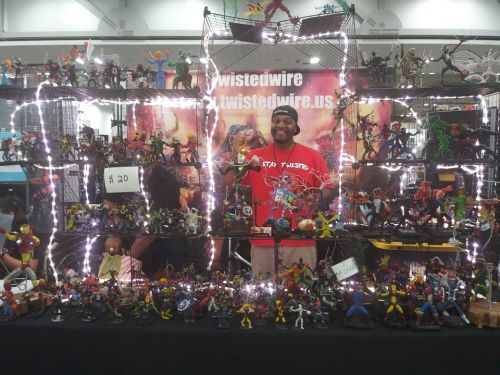 The vendors this year were really top-notch. Everything from weapons booths, comic artists and some very unique creations such as one vendor called "Twisted Wire" I was able to talk with the owner of Twisted Wire, Kevis, about his booth where he makes his own custom character models by using all sorts of different plastic and metal wire. It is booths like this that I look for because after attending so many conventions I see a lot of the same kind of booths, but his booth was definitely one that I found to be very unique and after talking with Kevis he even provided me with my very own character that was one of his own original creations. The layout of the floor was very well spread out and it didn't feel as crowded in there as it does at some conventions I have been to such as Wizard World, granted they are a much bigger convention, the layout is important as you want to have a very nice flow for your attendees to enjoy. The guests were in different rows and seemed to be grouped together by what they do. For instance, wrestlers such as Ric Flair, Arn Anderson, Jerry Lawler, and Mark Henry were all together on the same row whereas anime voice actors where grouped together in another. I like this because it makes finding different types of guests far easier instead of what I mostly see which is one huge row that is typically up against the wall of an exhibit hall.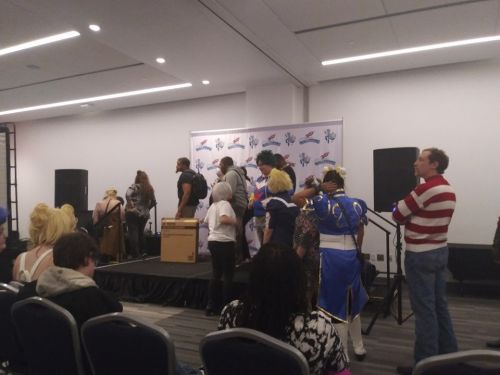 Another great aspect of Galaxycon is that they have their own app that you can download and make your own schedule as well as set up alerts to remind you of any panels or upcoming events so you don't miss out. I highly recommend anyone attending next year to please download the app as it is very helpful and is a fantastic tool for those planning on attending several events throughout the weekend. There are a few things I hope to see more of from Galaxycon next year, such as making use of 4th Street Live and having food trucks, or making use of outdoor space for some events. There were a ton of after parties that I noticed and I didn't see any of them charging for admission. I'm a firm believer in free after parties and if people want to pay for drinks, so be it, but there is already so much people pay for at these conventions these days, so why not give folks a break a provide them with an afterparty with some incredible music?
Galaxycon does so many things right that about the only thing they did wrong, in my opinion, was the karaoke. After having talked with several vendors and guests, Galaxycon has always been good to them and even to attendees alike. If you are looking for Louisville's premier pop culture convention, please do yourself a favor and attend next year as you certainly won't be bored with things to do and you definitely won't be disappointed with the number of booths available to spend your money on.
We are influencers and brand affiliates.  This post contains affiliate links, most which go to Amazon and are Geo-Affiliate links to nearest Amazon store.
I've been writing and covering many forms of entertainment such as comedy shows, and arcade bars as well as reviewing video games and more for the past decade. I love to write and I am blessed to be able to have the opportunities that I have had in the entertainment and technology fields.