We are influencers and brand affiliates.  This post contains affiliate links, most which go to Amazon and are Geo-Affiliate links to nearest Amazon store.

It's that time once again for me to tell you my thoughts on another convention that is part of my schedule this year and yes, it is about a convention that I have attended every single year. Welcome, to my review of PopCon Indy 2019. This is the sixth PopCon so far that started back in 2013 and I have attended every single one which gives me the ability to do a fair comparison between this year's PopCon and those that have come before it. For those wondering why the name sounds familiar but is different, that is because PopCon LLC decided to change the name from "Indy PopCon" to "PopCon Indy" implying that this convention will in fact not just be at Indy which it actually has had its first convention outside of Indy by having a second convention in Fort Wayne.
This review will be the start of my new review system. Where I will go over some points that I believe are important at any convention and I will be providing you my insight on each. So, let's get started on my thoughts and review of PopCon Indy 2019.
Star Power 5/10
PopCon typically holds nothing back when it comes to having great guests at their conventions. This year's headlining guest was none other than the creator of the hit animated show "Rick & Morty" Justin Roiland. I will say that it didn't seem like there were that many people to see Roiland, who only appeared on Saturday of the convention, and compared to past celebrities, such as Kevin Smith, the turnout didn't seem as much. Other guests included voice actors such as Fred Tatasciore, Vanessa Marshall, Richard Horvitz along with celebrity actors like Erik Stolhanske, Dot-Marie Jones and Asher Angel. While there were quite a few well-known actors, the lines for each didn't seem very long and it didn't seem like many people were familiar with those that were there. When compared to previous PopCon's, this years celebrity turnout didn't seem all that much of a favorite with Roiland and Jason David Frank being the only exceptions.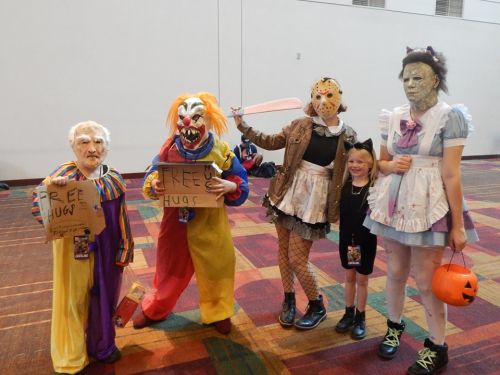 Fun Factor: 6/10
This was also another factor that didn't seem to really deliver this year compared to previous PopCon's. There wasn't much in the way of any real major events going on. Sure, there were some great panels this year, but the only major events taking place were, of course, the cosplay contest which was far better than last year and they actually got the judging right this time around unlike the drama that ensued around last year's convention. The only other major event this year besides the PopCon Podcast Awards was the Official PopCon After Party. This was the first year that PopCon decided to offer only one after party and this being a paid one. This premium/paid after-party was dubbed "Rave of Thrones" and featured Kristian Narn, the actor that played Hodor on the hit show Game of Thrones" as the DJ and also featured special guest "Rock and Roll Over" and hosted by Jason David Frank, the Green Power Ranger.
My problem with this is that in year's past there always has been a free after-party for those of all ages that want to attend. Last year the party was held at Gate Ten Parking which is right across from Lucas Oil Stadium. I am curious as to why there was no free after-party for those that did not want to attend the paid one and several others I talked with about this were really upset that no free party was provided for those that simply just wanted to drink, listen to music and get to know other attendees. PopCon has always been known for having major events throughout the course of its convention and this year it felt very lacking in that department. PopCon Indy 206 will forever be the best when it came to having events due to that being the year where there was a wrestling show, Kevin Smith's movie debut and podcast as well as the GFUEL Esports Arena which was not present at all this year.
Ease: 8/10
This is the one thing that PopCon Indy always gets right year after year and they did it once again. The layout of the convention has always been very easy to maneuver through and with the convention being on the side by the Capitol Street entrance, it made for a much easier time getting to panels as well as going to the main exhibit hall. The only issue that a lot of the vendors I discussed with had was a large area where people could play board games taking up a ton of unnecessary space which I am certain was put there to break up each side of the exhibit hall. There were some vendors that were not particularly happy with that space and also a lot of attendees that I spoke with also found the placement of that area being a bit of a roadblock and having to move around that area just to access artists alley. Other than that, I saw no other real issues with the layout and this time PopCon made use of the upstairs area to give even more panels for attendees to check out.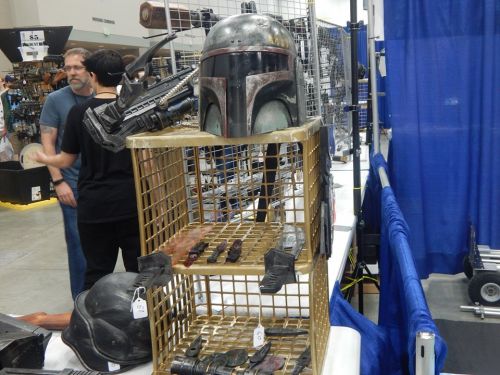 Vendors: 6/10
The vendors this time around were very plentiful. I was able to discover a lot of new authors, artists and a ton of new merchants that I had never seen before. I will say that I did not find nowhere near as many local artists or merchants as I have in previous years which for a convention that takes pride in being a local con really says something. There were some vendors there that made absolutely no sense such as a window company taking up quite a lot of space and other vendors like AT&T, the library and a few other commercial vendors that just simply make no sense for any pop culture convention. There was even a vendor that I recall seeing at Wizard World last year that claims they are giving away free trips when all they do is actually just use your information to try and call you to get you to purchase something. I'm not sure if PopCon just didn't have enough vendors to cover the entire exhibit hall or what, but it definitely lacked this year.
Staff/Volunteers: 10/10
Where PopCon shines the most is with its very intelligent staff and volunteers that support them throughout the weekend. The staff is extremely friendly and always on hand to answer any of your questions. The volunteers are always super nice and friendly as well as being very knowledgable themselves with where photo-ops are located and knowing the layout very well without having to reach for their phone. I have never had any issues with a single staff member and I hope this continues. PopCon tends to always bring back the same volunteers so you know you're going to get the same friendly and helpful people year after year.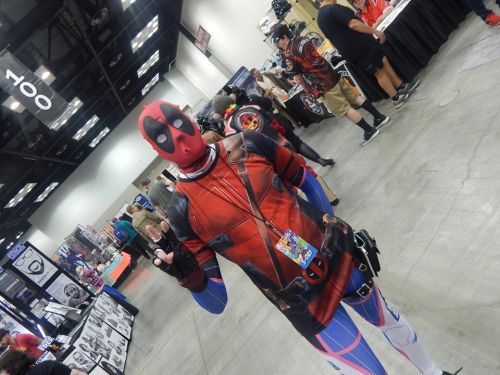 So there you have it! PopCon Indy 2019 was, in my opinion, was quite disappointing compared to the other years I have attended. Attendance numbers seemed very, very low this year with there being not as many people. Even on Saturday, which happens to always be the busiest day of any convention, it didn't seem like there were as many attendees there. Others I discussed with said the same and the opinion amongst everyone is that PopCon seems to be caring more about making bank than providing an all-around excellent show. This year you can tell where the money went to with so many celebrities, including Justin Roiland which I cannot imagine how much he cost to bring. PopCon needs to invest more in the convention as a whole and not just try and lean on celebrities which is the case for almost every convention. I truly hope that next year we see a lot more in the way of major events throughout the weekend as well as the return of the esports arena which was extremely popular. PopCon will always be the premier Indianapolis home-grown convention, but with other conventions in the area really bringing in the more well-known celebrities and events, they have some serious competition.
We are influencers and brand affiliates.  This post contains affiliate links, most which go to Amazon and are Geo-Affiliate links to nearest Amazon store.
I've been writing and covering many forms of entertainment such as comedy shows, and arcade bars as well as reviewing video games and more for the past decade. I love to write and I am blessed to be able to have the opportunities that I have had in the entertainment and technology fields.