Modern Gadgets & Technology In the case of laptops, many interesting features has been added. In fact, now there are laptops with touch screen capabilities. While the touch-sensitive technology is now close to some time. You should never before the touch screen laptop has been made. Many people are not very familiar with the touch screen laptop. Touch the sensitive screen technology on the laptop to tape, zoom, click, and drag directly to the laptop screen. If you are interested in buying some very useful touch screen laptops so then you will get some top quality laptops with the prices and specification details here https://www.bestadvisor.com/best-touchscreen-laptops.
This technology will possibly guide the possibilities when you will not need a mouse, touch pad, or perhaps a keyboard. Everything is connected to the laptop screen. This great and wonderful technology thanks everyone for the Windows 7, the latest operating system marketed by Microsoft.
Here are the best touch laptops that will be released this year.
HP ENVY x360 15z
Convertible 2-in-1 Laptop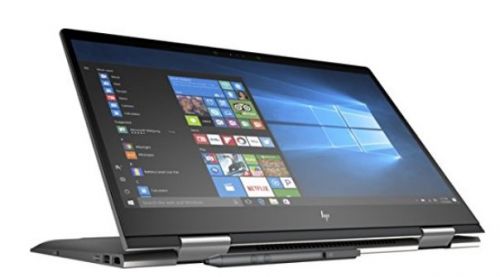 This is the most powerful touch screen laptop in this roundup that doubles as a low end gaming laptop as well.  This 15″ laptop includes a AMD Ryzen 5 2500U Quad-Core Processor with RX Vega 8 Graphics and 1TB hard drive with 8GB RAM.  It sports 1920 x 1080 edge to edge touch screen and folds into variuos configurations to be used as a touch display.  This Windows 10 laptop also boasts battery life of up to 11 hours and 15 minutes.
Lenovo ThinkPad T470s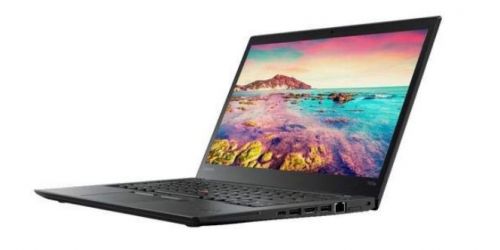 The ThinkPad T470S is a more than capable 14″ Touchscreen Laptop that includes the Intel Core i5 processor and 8GB RAM.  It also includes a fast 256GB SSD M.2 which allows it to have much faster boot times to Windows 10 than non-SSD laptops.  The laptop also includes a built in 3 x USB 3.0 ports, and 1 x USB-C port.  Though not as convertible as other 2-in-one laptops the zippiness of the SSD and it's price tag make it a good option.  The touch screen allows you to navigate browser tabs, calculator and other programs with ease to help speed up time if you don't have a mouse handy.
ASUS Transformer Book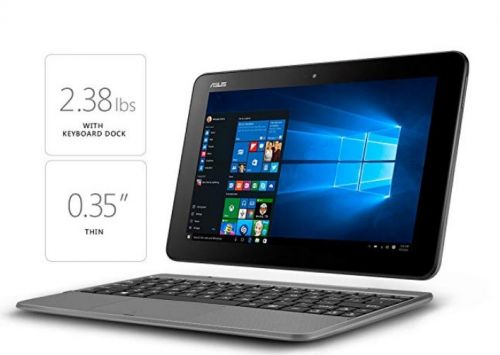 The ASUS Transformer Book is one of the lightest and most portable of all the notebooks it is one of the few where you can actually also detach the keyboard and use the 10 inch multi-touch screen solely as a tablet as well for even more portability.  It has 4GB Memory and 64GB eMMC and is among the lowest cost multi-touch two in one tablets at less than $300 as well.  This tablet also rates more than 11 hours of battery life when doing video playback.  It has the Intel CHERRY Trail Quad Core x5-Z8350 1.44GHz (Turbo up to 1.92GHz) 64-bit processor.
RCA Galileo Pro 2-in-1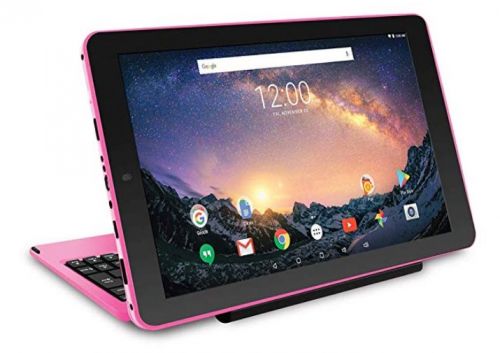 For the final touch screen tablet we will cover, it will be the lowest cost tablet in the round up at less than $150 dollars. With the RCA Galileo Pro 2-in-1 you can enjoy internet, music, videos and your TV shows in a hand-held device. This touch screen device comes in a thin 11″ screen that is the the only Android tablet in this roundup.  The 11.5″ touchscreen has a 1024×600 resolution and it features a 2MP rear Web Camera  and a 1MP front facing camera with microphone.  It includes the 1.3Ghz Intel Atom Quad-Core processor and 1GB DDR RAM and a 32GB onboard storage.  It also supports additional storage with a MicroSD card slot.    The keyboard is detachable and you can navigate the apps and games at ease with the multi-point touch screen.  It boasts 6 hours of battery life on a single charge and weighs just 1.65 pounds.
Touch Screen Laptops Offer Functionality and Look Amazing
Whether it is a touch screen tablet running Windows 10, ChromeOS or Stock Android the touch screen capabilities help you become more efficient by letting you simply tap and open or drag and drop things with your finger instead of being tethered to a trackpad or having to lug around a mouse whenever you want to use your laptop.  All of these laptops looks amazing and depending on your needs and function you should be able to find a touch screen laptop for any budget.  I personally like Chromebooks for specific Internet surfing, video watching and social media stuff, but I need Windows 10 when I need more powerful programs or software that doesn't exist for ChromeOS or Android.
What type of touch screen laptops interest you the most?