We are influencers and brand affiliates.  This post contains affiliate links, most which go to Amazon and are Geo-Affiliate links to nearest Amazon store.
Mechanical keyboards are becoming the new norm for the PC and gaming enthusiast for the different feeling and actuation points they offer, and today we're going to take a look at the Rantopad's MXX Cherry MX mechanical keyboard. The Rantopad MXX mechanical keyboard is available in various colors and switches but the one we have features a black panel (black body) and everyone's favorite Cherry MX brown switches.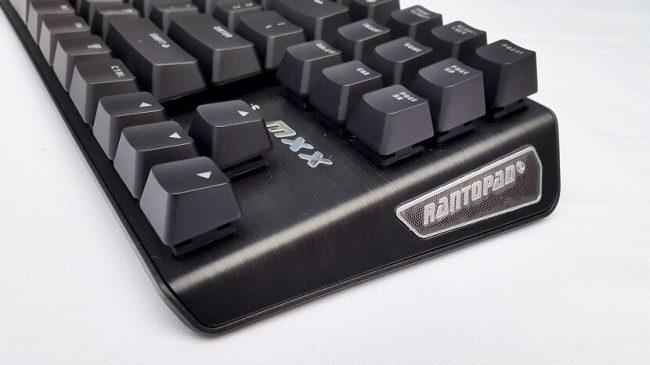 Rantopad is not a new name for us. In past, we've done a few of their product reviews, including some mousepad, mouse, and mechanical keyboard review. And today, we add another review from their product line to our vault.
Rantopad MXX is a tenkeyless mechanical keyboard, which was initially released with geteron switches which are considered as the cheaper alternative of the Cherry MX switches. Now looking at the market, I bet Rantopad thought it's best to include the Cherry MX switches in their line up as well and so now we also have the Rantopad MXX mechanical Keyboard with Cherry MX Switches. The Rantopad MXX is still available in the cheaper gateron switches, but for now, the Cherry MX version are only available with blue and brown switches in black panel.
So let's go ahead and unbox this keyboard without me talking too much.
Rantopad MXX Unbxoing
If you've been following my reviews, then you must've noticed I've started doing video content as well, so here's the unboxing video of the Rantopad MXX mechanical keyboard.

Some picture for eye candy.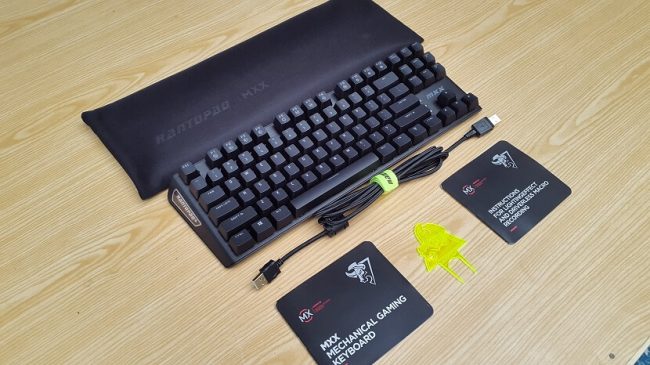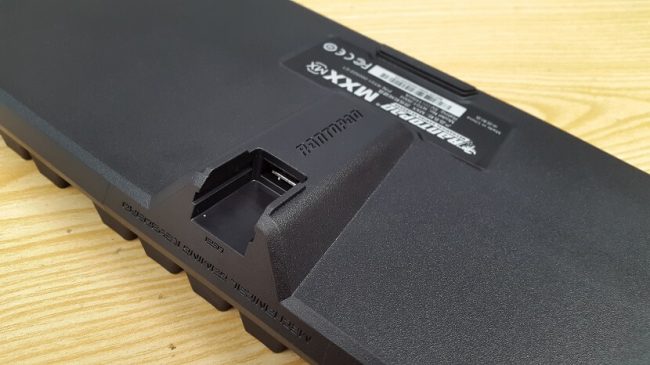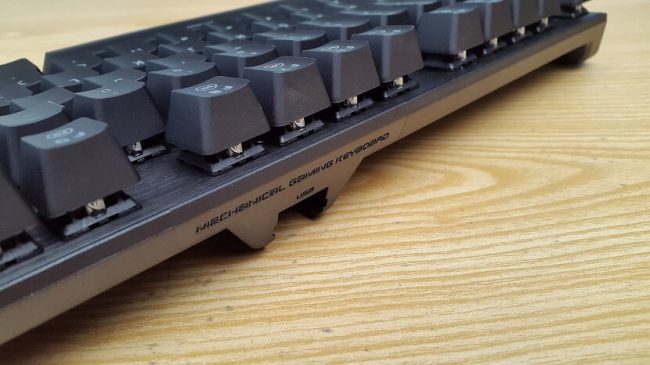 Specification:
Brown Cherry MX Mechanical Switches with 45cN Soft-Tactile movement
Mechanical switches with a lifespan of 50 million clicks per key
Monochrome LED Backlight
Space-grade Aluminum Cover in Black
Detachable, Gold-plated, Braided USB Keyboard Cable
87 Keys
N-Key Rollover
Body: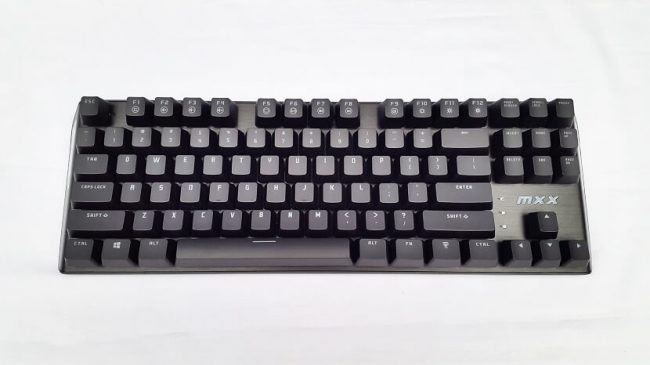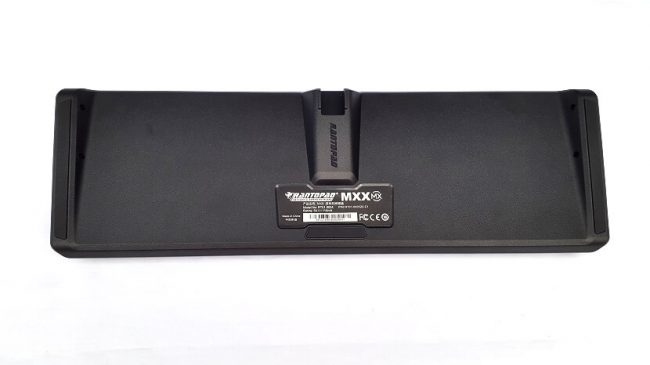 The Rantopad MXX is a tenkeyless keyboard which means it doesn't have the numeric pad attached which not only provides for better space management but also as saving in the price sector. And some people also prefer tenkeyless keyboard to decrease ther distance between the keyboard and mouse. Now the MXX isn't your ordinary bar-shaped keyboard. Instead, it has a special design where the body is lifted from the middle via two large feet on each side. Then we also have the Rantopad logo's on both sides and the MXX engraved right between the arrow and mid function keys that also lights up. Though there's no height adjustment nor any USB or 3.5mm audio jack ports on the keyboard. Though looking at the design, there doesn't seems to be enough space for any.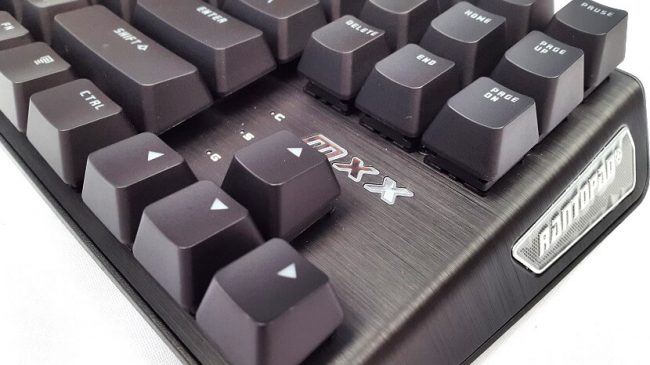 Now the particular model I received for review has Cherry MX brown switches and right above the switches; we have the LEDs. Now this would've been really awesome if the Rantopad MXX featured RGB LEDs; it doesn't, we have the LEDs in only white color for the models available right now. Considering the tenkeyless format and single color LEDs, we should be looking at a budget mechanical keyboard, but are we? Let's find out more below.
As for the material goes, the bottom of the body is made up of most probably hard plastic (not listed on website) and the top panel is made up of space-grade aluminum.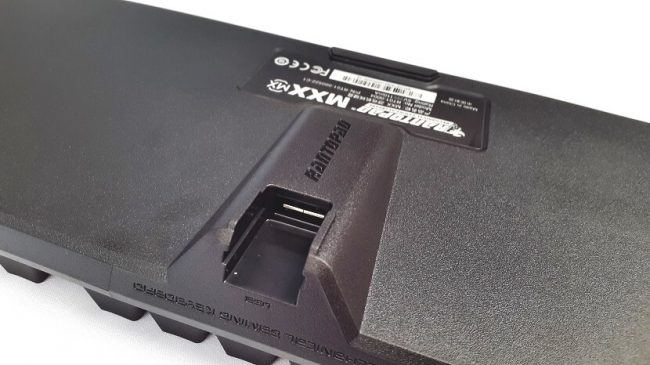 Also, the keyboard features detachable wire so that's a bonus in case your current wire dies, which happens alot with peripherals, an easy replacement option for you.
Cherry MX Switches: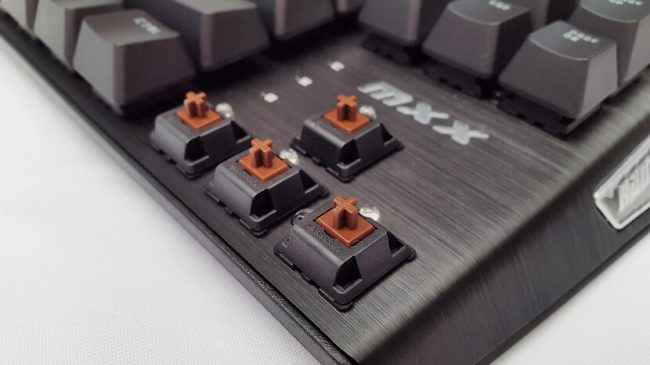 Let's keep this sector as simple as possible. we have the Cherry MX switches in various colors which signify the difference between the actuation or registration force required and the type of sound and feedback they have.
The Blue switches are the most clicky, tactile and loud switches with a actuation force of 50cN while the Red switches are the linear, quieter ones with a low actuation force of 45cN and the brown switches, none clicky and tactile, falls right between. Putting it simply, it feels like you're typing on butter or something soft; it has that soft feeling to it (maybe exaggerating ;p).
Rantopad MXX LED Effect:
Rantopad MXX Typing Test and Noise:
Macros:
Since the Rantopad MXX doesn't have an accompanying software, the marco recording is done on the go which in this case is a hassle and you have to remember the process. Also, the macros comes with a few condition. The macro keys supported is from 1 to 9 (numeric numbers on the top), so this isn't a any key macro keyboard, and secondly, the macro is limited to 24 key strokes and thirdly, it won't record the input delay, it have it's own predefined delay for the macro.
So not an ideal keyboard if need alot of macros to fulfill your need but still, let see how it's done for the review sake. So to record a macro, first you'll need to enter the macro recording mode, and to do that, you need to press Fn+N keys on the keyboard. Doing this, the LEDs will go dark except the 3 status LEDs as a confirmation of entering the macro recording mode. Now to record the macros on the numeric keys on the keyboard, press Fn+* (* = desired number, eg, Fn+1), the desired macro key will start recording and now you can record your macro upto 24 strokes. Once that's done, press the same macro key along with Fn (Fn+*, eg, Fn+1) and the macro recording will stop. Still not done though as you need to exit the macro recording mode, so press Fn+N again and now you can use your macro key after pressing the Fn key.
So yea, it's a stretch but that's how it's done.
Conclusion:
Now if I were doing this review a few months back, I would've been very happy because then I needed some space management as my table wasn't large enough as it is now, but that doesn't mean I'm not happy with the keyboard right now. Having any mechanical keyboard over a membrane keyboard feels awesome that the person doesn't think about switching back to the membrane, at least that's the case with me. Now as for the switches, that's somewhat of a personal desire, some may prefer Reds for the quietness, some like me, the blue ones and some, others. So before buying a Mechanical keyboard, it's only ideal to test the switches in questions at a local store before the final decision.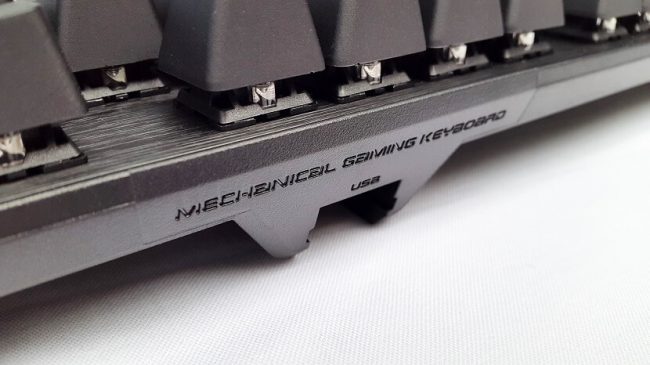 But as for the design, the black and white LED contrasts, and the tenkeyless format, I'm very happy with the Rantopad MXX keyboard. Though in the end, it comes to the deciding factor of price point. Now looking at a tenkeyless keyboard and one with single color LEDs, I was expecting an 85-95$ price tag, but the Rantopad MXX with Cherry MX is currently being sold for $110 which in my opinion seems a little off the acceptable price point. Because, for the same price, give or take a few, you can get a full 104 keys keyboard with RGB LEDs and Cherry MX switches. Also, there's no software where you can set and change profiles from and the macro recording is a hassle with limitations. So all and all, I would like to rate the Rantopad MXX Cherry MX Brown Tenkeyless Mechanical Keyboard a 4/5 stars.
We are influencers and brand affiliates.  This post contains affiliate links, most which go to Amazon and are Geo-Affiliate links to nearest Amazon store.
Hi, I'm Ahmed Kazim and I've been a gaming freak since like 7-8. I'm also a geek-o-nerd who keeps looking around for latest development in hardware/tech/gadget industries so expect some quick news from me. I'm also interested in anime (Japanese animation) and can't stand a day without music and gaming.