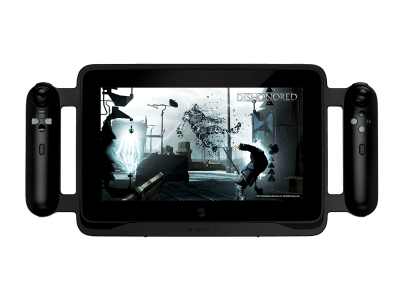 Last year I wrote an article on the concept for the Razer Fiona a beautiful sleek and amazing tablet that had the power and performance to deliver truly breathtaking graphics and portability allowing players to game on the go. Now this concept is a reality with the Razer Edge. With the help of the community Min Liang Tan  the CEO for Razer has finally given us what we have wanted to hear for along time the ability to buy the tablet. It is now available for purchase off their site however expect a long back order because they are already out of stock. Over 10,000 people helped form Fiona into the Edge by posting the specs they wanted to see. Currently the Edge is $999 and comes with an intel i5 processor however the Pro version is 1299.99 dollars and the specs are :
Intel Core i7 Dual core w/ Hyper Threading Base 1.9GHz / Turbo 3.0GHz
8GB DDR3 (2x4GB 1600MHz)
Intel HD4000 (DX11) NVIDIA GT 640M LE (2GB DDR3, Optimus Technology)
10.1" (IPS, 1366×768) 10-point capacitive touch
Windows 8
128/256GB SSD (SATA-III) (The Razer Edge Pro comes with great software to enhance your gaming experience. This software uses significant storage.)
Intel WLAN (802.11b/g/n + BT4)
Stereo speakers Codec supports 7.1 (via HDMI) HD Webcam (front-facing, 2MP)
Array microphones Dolby Home Theater v4
USB 3.0 x1 (green,SuperSpeed)
Audio jack (3.5mm, 4-pole, stereo out / mic in)
The Edge looks to play multiple roles when it is used like for instance with the keyboard dock, analog sticks, other monitors and controllers or on the go, However all of these variants will cost extra, like for instance the analog stick attachment which will set you back an additional $249.99. If you are looking to buy the keyboard dock, it looks like it won't be till q3 this year before you can get your hands on it since it is still in production and the price and some aspects are not complete. Over all the Edge will be at the forefront of tablet gaming and will be raising the bar for gaming tablets. It will certainly be an interesting time looking to see how Nvidia's Project Shield compares to the likes of the Edge.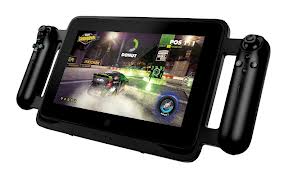 I've been interested in gaming and computing for many years and using this knowledge I create videos for Dragonblogger.com's youtube and occasional articles for the site. I've been writing for Dragonblogger for over a year and it's been awesome. My content usually is around product reviews and gaming.