It didn't take much longer than 2 weeks to break the 6,000 entry mark in the Xbox 360 or PlayStation 3 Giveaway contest, which puts it so far on track to do at least equal if not maybe exceeding the iPad 3 Giveaway contest I held back in May 2012 on DragonBlogger.com.
This contest was to appeal to my rapidly growing gaming audience and more gaming writers have signed up for the site recently as well.  After several readers have asked I also expanded the contest to cover pretty much any game console you want less than $299 if you win the contest.  This includes the PS Vita, Wii, Nintendo 3DS (and a game or 2)…etc.
All you need to do is enter and get as many entries as possible to increase your odds of winning, if you are International then you will receive the $299 via Paypal instead of the prize due to shipping costs.  I make some exceptions for those who are willing to pay the shipping costs if I buy the console (and it isn't something prohibited or that will be blocked by customs).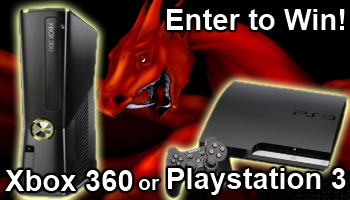 Enter now for your chance to win!
-Justin Germino