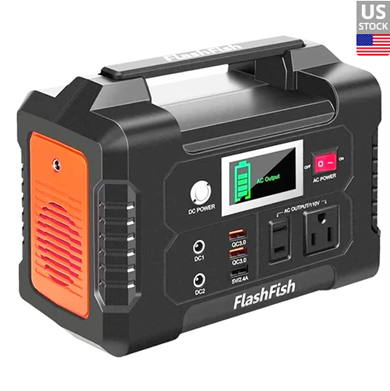 Looking for an inexpensive portable power station to recharge devices on the go?
If you are a person who usually travels frequently it is likely that at some point your devices will be downloaded and that could be a problem if you need to use them. Electrical problems are becoming more frequent and you will likely need to recharge your devices if that happens. There are some solutions that could help recharge your device, a clear example is the power bank, which is a good way to recharge your cell phone, but as you know, power banks can only recharge the cell phone up to 2 times in most cases, so if you need to recharge more devices it is very likely that you need a portable power station, in this way you can recharge not only cell phones, but equipment that require more energy.
The portable power station is arguably one of the best purchases every traveler should have. Using the station you will be able to recharge many devices, so they are a great substitute for traditional power banks. You will not have to worry about the battery, with a single recharge you would have to have enough energy to recharge your personal devices and even some more. Keep in mind that the power level will depend on the amount of W, but if you are looking for something economical you will surely be able to find some options.
One of the best options available for just over $100 is the FlashFish E200 portable power station. This power station is not only capable of recharging cell phones, but it is also capable of recharging laptops, so it is certainly one of the best purchases you could make. Best of all, it is available at an affordable price and if you think about it, it is much better than any traditional power bank. Next, discover the features of this product.
Features of the FlashFish E200 Portable Power Station
You no longer have to worry about recharging your devices while you're not at home. The FlashFish E200 power station will help recharge a lot of your devices in no time. The main feature of this power station is the 200W output that it is able to offer, so you will have enough power to recharge not only cell phones, but equipment that requires a voltage value such as laptops, fans, or portable refrigerators, so, if you usually travel often, you will surely get the most out of this product. Another of the most interesting features is that you can recharge up to 7 devices at once, which is very useful if you have more people next to you who need to recharge their devices. It includes different connection ports (USB, AC, USB fast charging, and some more). If you have a solar panel, you can recharge your power station, but you can also do it from a common outlet.
Summary
If you are looking for a portable and inexpensive power station then you should consider the FlashFish E200 power station. With a power of up to 200W, you can recharge most of most devices (cell phones, laptops, tablets, portable refrigerators, and some others). It includes different ports to increase compatibility with your devices. Without a doubt a product that every traveler should have. Geekbuying offers to ship to a large number of countries, make sure your country is available before buying the product.
You can buy this item here: FlashFish E200 200W Portable Power Station (geekbuying.com)
My name is Joel! I love to read, I go to university like most people my age.
In my free time I usually train boxing, I love music, I also know how to play the guitar and the harmonica.