Encryption! When you have important work files, securing the data in the file is the most important. So to add a layer of protection, you encrypt your files. Basically, encryption means adding a password to protect your files from being accessed by anyone other than you. But in some cases, you open a password protected file after a long time and you don't remember the password anymore. What do you do in this situation? Well, I have an answer for you. Today, we will be reviewing the iSumsoft Office Password Refixer software. This software lets you recover the forgotten password of your Office files. This includes Microsoft Word, Access, Excel, Outlook, and PowerPoint. The software covers Office versions from 97 to 2016 and supports Windows 10/ 8/ 7/ Vista/ XP/ 2000/ 2003/ 2008/ 2012/ 2016 (32 bit & 64 bit).
Check out our How-To video on YouTube:
To recover your forgotten password, click here to purchase and download the Office Password Refixer software. Launch the app once it's installed.  This is the main layout of the software. The user interface might be a bit scary to look at first, but it's actually very easy to understand. Let's check it step by step. First, we are going to need an encrypted file. On the top left, click on the Open icon and select the locked file. Once the file has been selected, it will be shown in the Encrypted File box.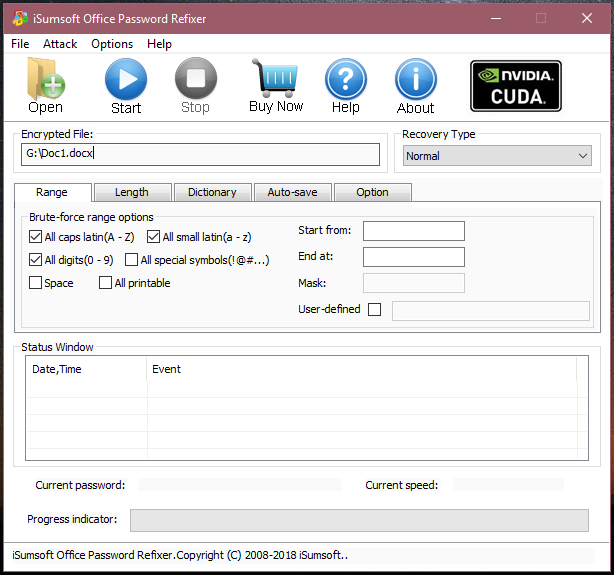 The next step is to select the Recovery Type. There are a total of 4 recovery types. Normal, Mask, Dictionary, and Smart. Let's have a detailed look at each one of them.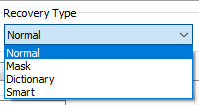 Normal Attack
The Normal recovery attack decrypts the password by trying out all the possible combinations in a specified Range. The Range can be specified from the tab below. This is quite helpful when you have a basic idea of what characters your password consists of. The range has many different options to choose from. If you know that your password consists of all small latin letters and numeric digits, then you can select just those 2 and untick the other characters. This will significantly improve the decryption time as the software only has to scan limited characters.

The next tab is Length. This lets you set the minimum and maximum character length of your password. So if you know that your password ranges from somewhere between 4-6 characters, then you can set the length accordingly. If you don't set a range, then the software will first start searching for a password within 1-3 characters first. So the length feature can again save you quite some time.

Another important tab that we will be looking at is the Auto-Save feature. This feature automatically saves your search progress as per your mentioned time. This feature is super helpful if your password is of a much larger character. Having a big password will lead to hours of scan time and due to any mishaps such as power failure, you don't want to waste your search progress and have to scan again. Enabling Auto-Save will auto-save your project every now and then so you don't lose your progress.

Once all these parameters are set, Click on Start. This will start the decryption process. The recovery time will depend majorly on how large the password is and also on how powerful your Graphics Card is. Having a good GPU will hugely decrease the recovery time. So make sure to set your Range and Length parameters properly before starting the scan as this will help you a lot. Once the recovery is finished, you will get a popup screen where you can view your password. As you can see, the software was successfully able to recover the password.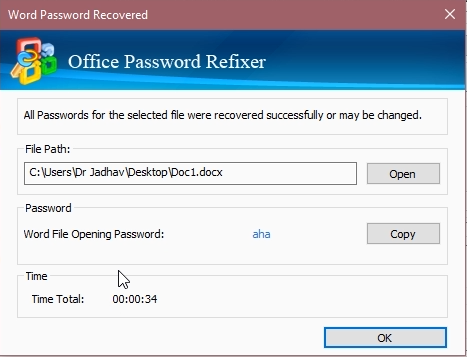 Mask Attack
The Mask Attack comes useful when you remember a portion of your password. For example, if you know that your password has 6 characters and starts with "ab" and ends with the number 8, you can type "ab???8" in the Mask box. The question mark symbol stands for unknown and the software will search only for the missing characters.  Again if you know that your password doesn't contain any specific symbols or capital letters, then you can untick them. The Length tab is disabled for this, as you need to know the exact character length for the mask attack to work.

Dictionary Attack
The Dictionary Attack is the best bet for you if you think that your password is a word that exists in a dictionary. All you have to do is select Dictionary from the Recovery Type option and then click on the Dictionary tab below. In the Dictionary tab, you can select the dictionary file path. By default, you can use the iSumsofts Dictionary text file, but the word collection is quite limited so you may not be able to recover your password with the Dictionary Attack. I would recommend you to look for a word dictionary text file online and use that instead. Or you can also click here and copy paste the words from the site to a new text file and use this instead. Hopefully, iSumsoft will fix this in the future updates. Once you have selected the Dictionary file, simply click on Start and you should have your password recovered if the word exists in the dictionary file.

Smart Attack
Smart Attack should be your last resort. Smart Attack should only be used if you have absolutely no idea what your password is. What the smart recovery does is that it does not ask for any character combinations or any specific symbols nor does it ask for the password length. Smart attack tries out all the possible combinations possible and decrypts your password. Since the software has to scan for all types of combinations, this method is the most time-consuming. So I would only recommend this if you have no clue about your password or if you have tried out all the other recovery types. The Smart Recovery will take its time, but it will surely be able to recover your forgotten password.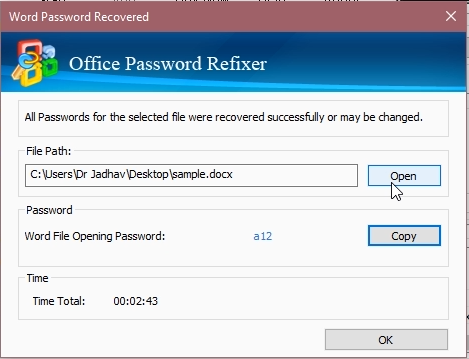 Verdict
The iSumsoft Office Password Refixer is an amazing software that lets you recover the forgotten password of your Office document files. This includes Microsoft Word, Access, Excel, Outlook, and PowerPoint. Instead of purchasing individual password recovery software for each software included in Office, you can just purchase this one software which includes recovery solution for all Office document files. With 4 different recovery methods, you will have your password recovered in no time. At a price of $29.95, the iSumsoft Office Password Refixer is a very good deal and I can definitely recommend this software.
[P_REVIEW post_id=1080882 visual='full']