So once per month in addition to my larger giveaways I run a Stream Team appreciation giveaway where my own stream team members who contribute a certain amount of hours gain automatic co-sponsorship into a giveaway for a gadget, game or gift card as a thank you and perk reward for being part of the stream team on DragonBloggers Twitch channel.  This month I chose the really good bang for the buck Redragon K552 Mechanical Gaming keyboard as the prize for this giveaway.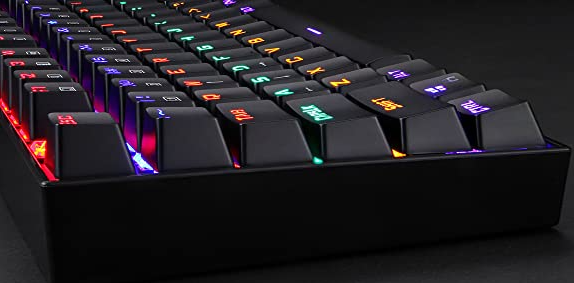 This is an 87-Key Outemu Red Switch keyboard which is also known as a TKL or Ten-Key-Less keyboard as it doesn't have the numpad on standard sized keyboards.  This makes it more suitable for gamers where portability is a factor, tossing a keyboard in the bag because it fits better and is less wide.  The Redragon K552 has 12 multimedia keyboard keys and is rainbow RPG with 19 Different Rainbow RGB Lighting Modes.  The Model number is K552-KR.
Enter to Win the Redragon K552 Mechanical Keyboard
As with my other giveaways where a physical prize is involved, the product will only be shipped to a USA address, though you can enter and win $30 as prize equiv via PayPal or Amazon USA gift card if you don't want the keyboard shipped.  The giveaway is open Internationally but unless you us a service like MyUS which gives you a USA Shipping address as a proxy/forwarder, then you will only receive the prize equiv.  Amazon USA gift card and PayPal are only prize equiv options.
Redragon K552 Mechanical Keyboard Giveaway

Can't wait to see if you will win? This keyboard is only $29.99 on sale right now on Amazon and is a fantastic price for performance value.