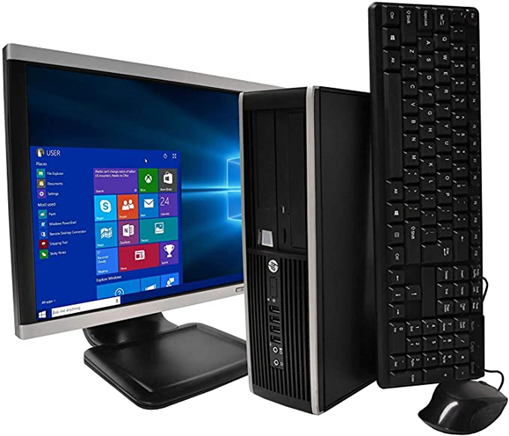 Need a desktop computer with good components, but don't want to spend a fortune?
The HP Elite Desktop is an amazing desktop computer with good components. It is an ideal computer for the office, for students, or for the home. This desktop computer includes everything you need (CPU, mouse, keyboard, Wi-Fi adapter, and cables). It's a perfect choice if you want to get a good computer without having to spend too much money. It's a smart way to save money. A computer is something fundamental in every home. This computer has good storage and processor. The computer will be fast at all times for everyday tasks. The amazing HP elite desktop is available on Amazon at an incredible price.
What is a refurbished product?
A refurbished product is an item that was sold and returned by the customer for aesthetic or internal problems. Refurbished products will look like new and have been repaired by authorized technical service. These products are sold as used and work perfectly. Accessories may not be original, but they will work correctly and be compatible. All refurbished products sold by Amazon come with a 90-day warranty and can be returned. They are a smart choice if you want to save money.
Features of HP Elite Desktop
The HP Elite Desktop is an excellent desktop computer that includes good quality components. This desktop computer includes an i5 processor which is powerful and fast enough to get a comfortable and reliable experience. The storage of this computer is incredibly high and efficient, it has a 1TB hard drive which is enough to not worry about. It includes a 19″ monitor with LCD technology that offers a sharp image and HD resolution. This computer includes original software. This desktop computer includes the latest version of Windows 10 installed. If you want to install optional apps you can download them from the Microsoft Store. The HP elite includes input ports for connecting external accessories like cameras, headphones, and more. This laptop also includes a Wifi adapter that allows you to connect to the wireless internet, you can also connect to the internet using the cable. It includes 8 GB of ram that is incredibly fast and allows you to navigate clearly and without delays. They include a good quality keyboard and mouse that are compatible with the computer. This desktop computer can be used to play non-demanding games, but you can upgrade it if you wish (using a video card). If you want to use an external video card remember to check the power source. This amazing complete equipment is available at an incredible price.
Summary
If you are looking for a desktop computer at a good price and with good quality components, the HP Elite Desktop is what you need. It is a perfect computer for office, study or home. Includes everything you need to use it immediately.
You can buy this item here: Microsoft Authorized Refurbished- HP Elite Desktop PC Computer Intel Core i5 3.1-GHz, 8 gb Ram, 1 TB Hard Drive, DVDRW, 19 Inch LCD Monitor, Keyboard, Mouse, USB WiFi, Windows 10 (Renewed) : Electronics (amazon.com)