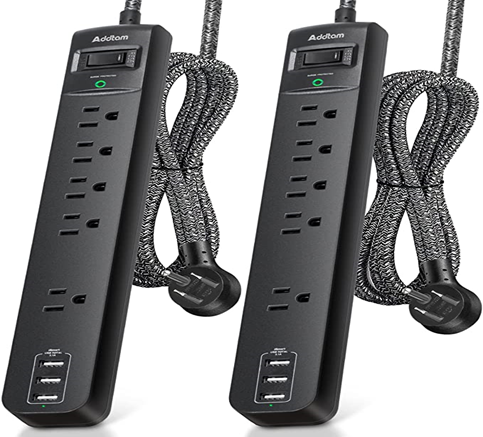 Need more electrical connections?
This 5-connection power strip is a perfect purchase to keep several devices connected in one place. Includes a kit of 2 strips of 5 connections each. With this power strip, you can also charge devices by USB (Cell phones and devices that require low voltage) including 3 USB inputs. This power strip is completely safe to use thanks to its advanced surge protection technology. This 2-power strip kit is ideal for computers, television, video game consoles, printers, fans, and more. This electric power strip is made of high-quality materials so I am sure it will last for many years. Keep your devices connected simultaneously with Addtam power strips. This kit of 2 modern and safe power strips is a great purchase and is available at a low price.
Features of Addtam power strips
The Addtam is an amazing kit of 2 safe and effective power strips. They have modern technology that protects their devices from electrical failure thanks to surge protection. It allows for keeping 8 devices connected simultaneously. Includes 5 plugs and 3 USB inputs. This power strip is ideal for powering your TV, computer, cell phones, laptops, ps4, Xbox, Nintendo Switch, and many more devices. Another very useful feature is that it includes a separate connection from the others, this allows you to introduce large adapters without there being any space problem. Your devices will always be protected against overload. This electric strip incorporates intelligent circuits that can detect the current power used, when it detects that the limit has been exceeded the switch will turn off automatically. Another incredible feature of the Addtam power strip is that its housing can resist fire at a maximum temperature of 1382° F. It incorporates an advanced technology that detects the electrical energy required by your devices, this prevents overload and protects your devices. The extension cable is 6 feet long which is enough to keep the power strip at a considerable distance from the outlet. You can charge up to 3 devices through the USB port (cell phones and devices that require low voltage). The cable of this power strip is very durable and safer than most traditional cables. For greater comfort, you can install this electric strip on the wall, thanks to two holes that are in the back in this way your worktable will be cleaner and orderly.
Summary
If you need more connections for your devices and are looking for a safe and effective power strip, then you need the Addtam. This durable power strip allows you to keep up to a total of 8 devices connected simultaneously. It has great technology that keeps your devices protected at home from a power failure. This kit of 2 power strips is available for less than $30.
You can buy this item here: Amazon.com: 2 Pack Power Strip Surge Protector – 5 Widely Spaced Outlets 3 USB Charging Ports, 1875W/15A with 6Ft Braided Extension Cord, Flat Plug, Overload Surge Protection, Wall Mount for Home Office : Electronics