When my son's laptop became almost unusable due to Yahoo Genio and other malware that had been installed as a result of his search for free Pokemon games, I learned something about Internet Explorer 9 that I wish all other browsers had.  Yes, this feature is something so awesome that Firefox and Google Chrome should implement it ASAP.
There is no way to uninstall Internet Explorer 9 or repair it from the Control Panel Programs like previous versions or Windows OS versions, instead the only way to truly repair Internet Explorer 9 is from inside Internet Explorer 9 itself.
Repair Internet Explorer 9
All you need to do to completely reset IE9 t0 it's original install state is the following.
Open up Internet Explorer 9
Click on the gear in top right
 Click on Intenet Options
Click on Advanced Settings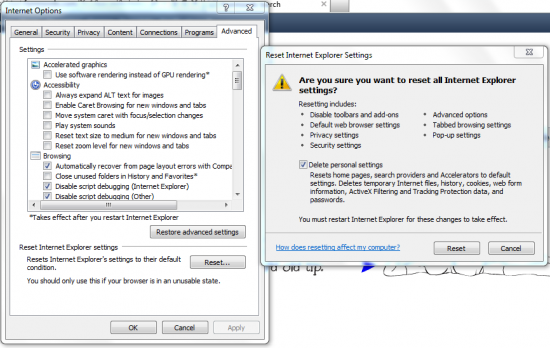 Here you will click on Reset
You will get a popup telling you what this means and how it will wipe out all extensions, plugins, addons and custom changes to IE9.
Delete User information is recommended as well.
This feature works very well and you have a blank new fresh looking Internet Explorer 9 after performing it, but this alone won't stop an instance re-corruption and infection if you don't remove the problem malware in the first place.  So after doing this step, close out of IE9 and go into your Control Panel – Programs and uninstall everything that  you suspect could be a problem (any toolbars, free anything, Yahoo Genio and FunMoods…etc) These are all problems that will cause more problems on your Windows 7 PC.
You may want to also use PC Decrapifier to help clean up multiple programs en masse, it is one of my favorite utilities.
FCleaner and CCLeaner both do a good job optimizing and cleaning, but you may need Malwarebytes Anti-malware, AVG Antivirus 2012 and/or other programs to truly clean up what gunked up your Internet Explorer 9 in the first place.
Still, I had a much easier time cleaning out Internet Explorer 9 than I did with Chome which I had to completely uninstall and re-install /red0wnload to achieve the same results.  So from my point of view I finally found a feature in Internet Explorer 9 that I wish Google Chome and Firefox had.
-Dragon Blogger