Data corruption is quite a common misfortune that many people have suffered through. It can be quite frustrating when you record a video, be it a fun vacation vlog or an important work presentation and then later realize that the file is corrupted and the video is unplayable. MP4 is the most widely used video container format for recording and storing audio and video. It is used in phones, cameras, GoPros, drones, etc. Since these are all electronic devices, they are susceptible to some kind of issues that may cause your files to get corrupt. There are many reasons as to why a video file would get corrupt, such as dropping the device while recording, memory card ran out of space or turning off the camera before you stop the recording. This has personally happened with me a few times in the past and I had just erased the corrupted file. But now, there are various methods through which we can try to recover our corrupted data. In this article, we will be reviewing Restore.Media which is an online service that helps us repair corrupted videos online, without the need of installing any software on your computer.
Restore.Media Features
Repair videos with common file formats such as MP4, MOV, M4A, 3GP, MXF and more.
Easy online video recovery process. No software required.
Option for a manual repair service from an engineer in case the algorithm fails to recover the video.
How to repair videos using Restore.Media
It is a very simple process to repair broken mp4 video using Restore.Media. Let us go through each of the steps and repair your corrupted files.
Register for a free user account
Head over to Restore.Media and sign up for a free user account and then click on Get Started. The free user account will allow you to upload and repair your corrupted video. Creating an account will also help you keep a track of your uploaded files and invoices of your previous purchases.
Note: To repair your fixed video, you will have to pay a small fee.

Select your camera
The next step is to select the camera which was used to record the corrupted video. Click on the drop-down icon and select your camera. In case you don't know which camera was used to record the video, then simply choose your file format  (for example, Generic MP4 file). If your camera device is not listed in the camera list, then you can manually type it in the second text field.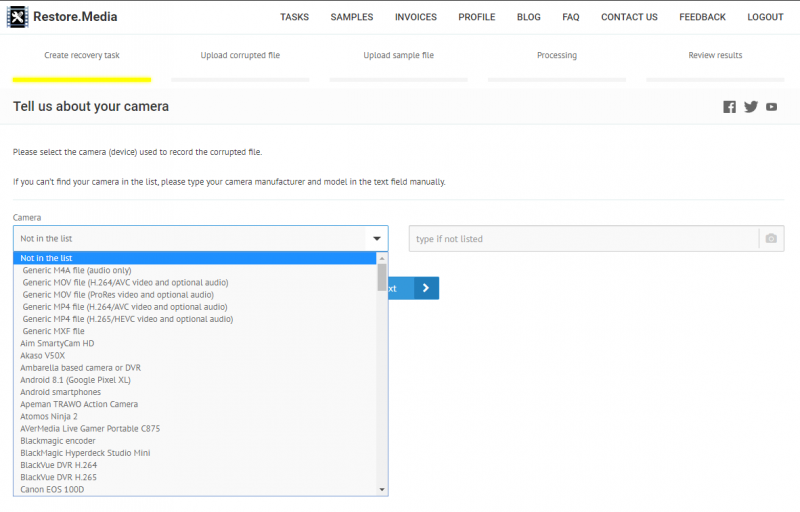 Create a recovery task
Next, we need to create a recovery task. Under the task description, write a suitable name for your task to manage it with ease later on. Then select the recovery stream. If the file that you are trying to recover has only video or only audio, then choose the respective stream. If it contains both audio and video, then choose Video and Audio.

Upload the corrupted file
Now it's time to upload the corrupted file. To do that, click on Choose File and select the corrupted video file.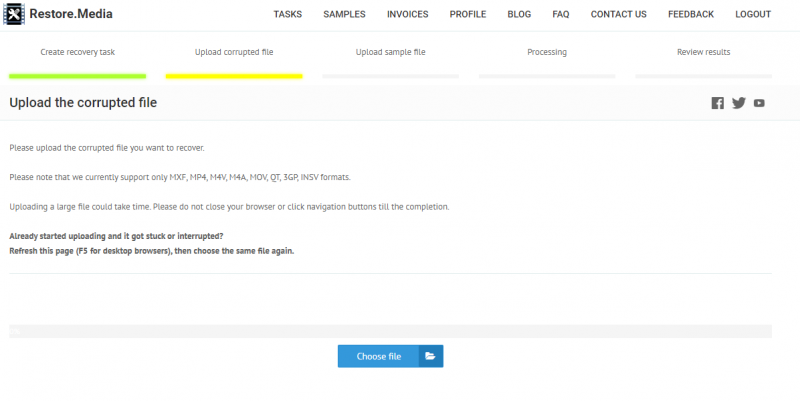 In some cases, you will be asked to upload a sample file. A sample file can be a working video file recorded from the same device. This will further help Restore.Media to repair your corrupted video.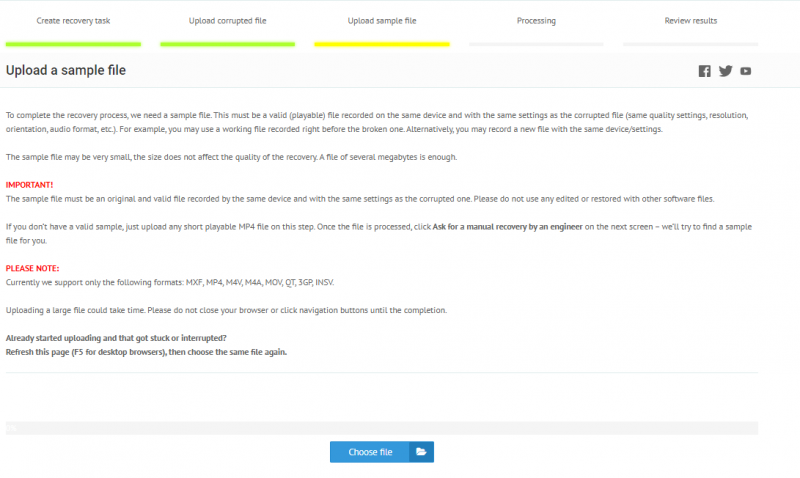 Reviewing the recovered results
After uploading the corrupted file, Restore.Media will start processing the video. The processing time will depend on the file size of the video. After it's finished processing, you can view the results. The recovered results show the video settings on the top. Restore.Media provides us with 3 sample screenshots and a preview of the recovered file in low quality. This way, you can check if the corrupted video has been properly repaired or not.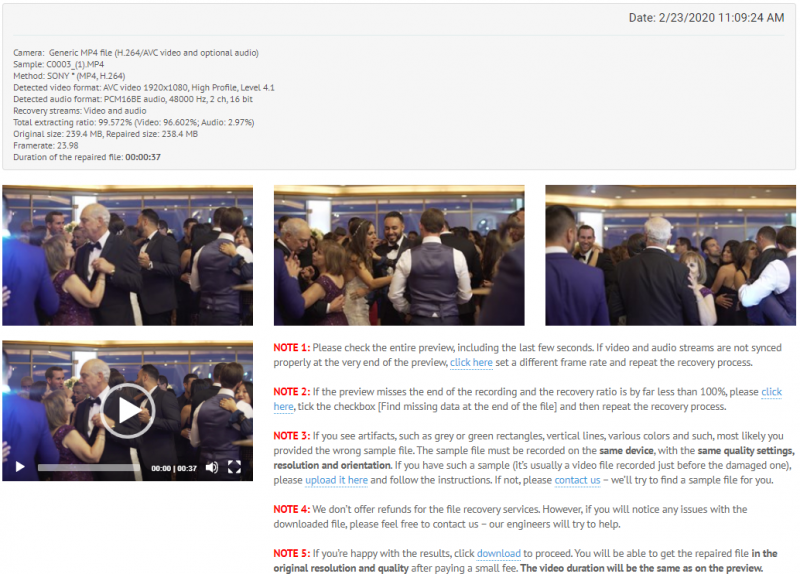 If everything is fine and your video is fully recovered, then go ahead and click on the Download button and finish your purchase. In case Restore.Media is unable to repair the video using the default method, then try adding a sample file as mentioned earlier. The final method is to ask for a manual recovery by an engineer. You will have to fill out a ticket and an engineer will personally try to repair the file.

Verdict
Restore.Media is an excellent website that helps you repair audio/video files that may have gotten corrupted due to scenarios such as a camera crash, battery failure, defective memory card and so on. Restore.Media is an online solution which means that there is no need to download and install any software. A simple process of uploading your corrupted file online and paying a small repair fee will get the job done.
Hi my name is Rohan Jadhav. I am a guy who loves to play games and a tech lover. I like to be updated on all the tech stuff. I enjoy watching movies and I am currently doing a specialization course in VFX.