Syncpod iTunes rescuer program allows you to sync all songs from an iPod, or iPhone to your Mac iTunes library.  This will sync all songs back from the MP3 player not just the songs purchased from iTunes and is a useful application if you have a new Mac or need to recover all your songs/video's and such off of your player back to your Mac computer.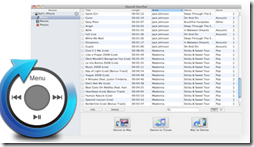 Syncpod also lets you recover photos as SyncPod bypass the iTunes one way syncing limitation by empowering you to transfer iPhone or iPod touch photos back to Mac.  This is also a useful program for people looking to transfer their iTunes library from old PC to new Mac with iPhone/iPod/iPad, or move old iPod content to your new iPod or iPhone in a few clicks.
SyncPod is a good helper for you to transfer iPod songs and movies to your Mac. This smart program also allows you to transfer all music and videos to Mac at a time having your iPod and iPhone connected to Mac simultaneously. SyncPod supports iPhone 3GS, iPhone OS 4.0, iPod touch 4 upgrade to 3.0, and the new iPod nano, new iPod classic, new iPod shuffle and new iTouch.
iSkysoft the makers of Syncpod have provided me with 10 full licensed versions of Syncpod to give away to my readers in a contest here on DragonBlogger.com.
To enter the contest all you need to do is the following:
Leave a comment on whether you own a mac and you think this software can be helpful for you.
Retweet this article by copying/pasting the following tweet:
Win a free copy of SyncPod for Mac OS, great tool for recovering iTunes library -> http://bit.ly/fyNS2b #dbsyncpod
Who owns a mac and wants to have a great piece of software for restoring their iTunes library or transferring the library from Windows to your Mac?
-Dragon Blogger