We are influencers and brand affiliates.  This post contains affiliate links, most which go to Amazon and are Geo-Affiliate links to nearest Amazon store.
There might have been several occasions where you couldn't get access to your PC. Maybe because it's an old PC and you forgot the password. Or if someone accessed it and changed the password just to trouble you. Anything can happen these days. And you are stuck in a situation where you can't access the important files that are on the computer thanks to a password that you forgot. At a time like this, you will search the internet on how to reset your password. Some of them will ask you to format your whole PC and some of them will be a scam and you will lose your money. Well, today I have a software which will help you reset your lost or forgotten Windows password. Be it a windows 10/ 8 / 7 / Vista / XP / 2016 / 2012 / 2008 / 2003 / or 2000, you will have access to your PC in less than 5 minutes once you have everything ready.
PCUnlocker is a bootable utility to bypass/reset forgotten administrator or other user passwords on Windows and Active Directory servers.  PCUnlocker is designed to help general users to remove forgotten Windows passwords by burning a bootable CD/DVD or USB flash drive. So here are the things that you will need to regain access to your computer.
CD or a USB drive
Another PC to burn PCUnlocker to a CD/DVD or a USB drive.
Internet Connection
Full version of PCUnlocker
Now that you have everything ready, let's begin by Creating a Bootable CD/DVD or USB drive.
I have also made a video regarding this. So those of you who aren't interested in reading this and would rather watch it can check out this video.
So you obviously don't have access to your PC so everything has to be done in some other windows PC. Once you have purchased PCUnlocker from top-password.com, you will receive a confirmation email with the link to download the full version of PCUnlocker. The downloaded file will be a zip file which you will have to extract to a directory. The file which you have to extract is an iso named pcunlocker.iso.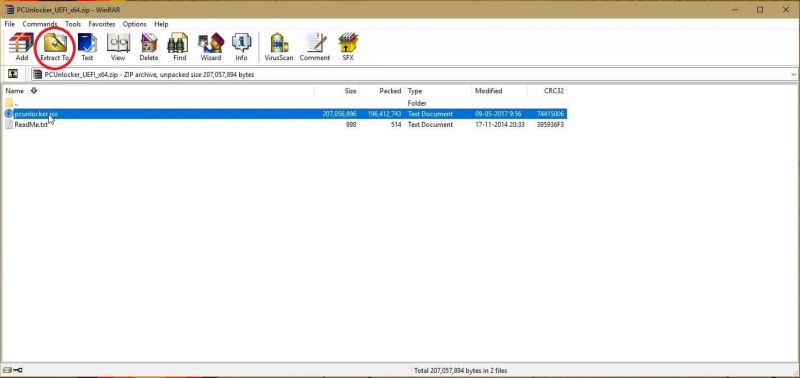 Once you have finished extracting, the next thing you have to do is insert an empty CD/DVD or a USB drive with a storage of at least 1gb. Once that is done, download and install the ISO2Disc setup.  Launch the ISO2Disc application. This software will let you burn the PCUnlocker iso file to your CD/DVD or USB drive. Click on browse and locate the directory to where you had extracted the iso file and hit ok.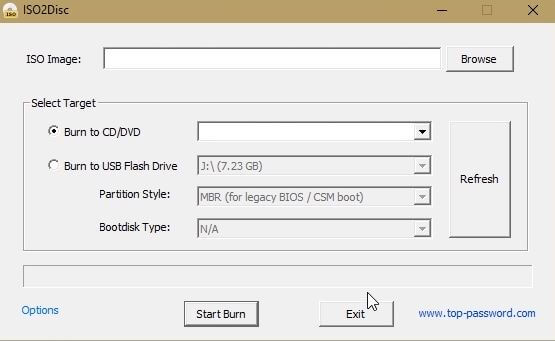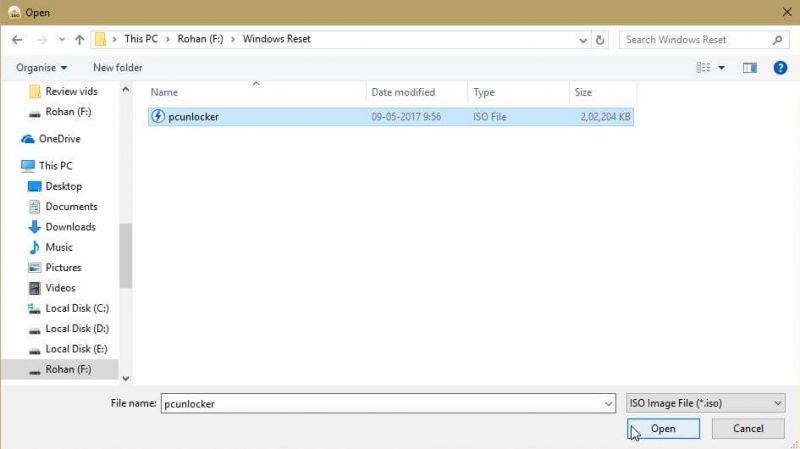 Once the iso file is loaded in ISO2Disc, select your target. If you have a CD/DVD, then select burn to CD/DVD. And if you have a USB drive then select Burn to USB flash drive.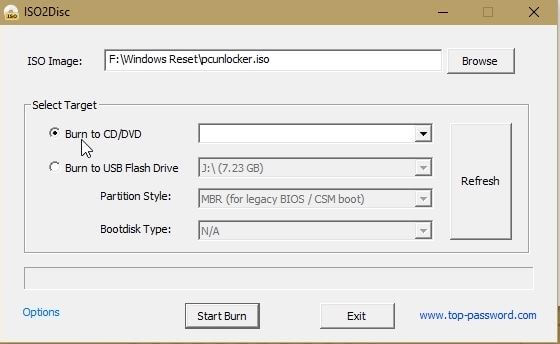 If you have multiple flash drives in your PC, then select the USB drive in which you want to burn the iso file. Like I want to burn the iso file in my 7gb USB drive so I will select it.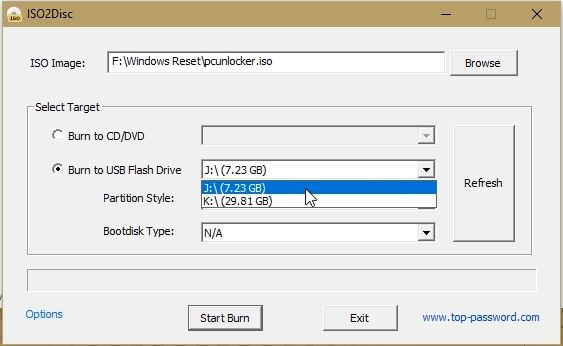 Select the partition style and start burn. Now if your PC has UEFI secure boot, then select the GPT option. The GPT partition option only works with the enterprise edition and won't work in the standard or professional version.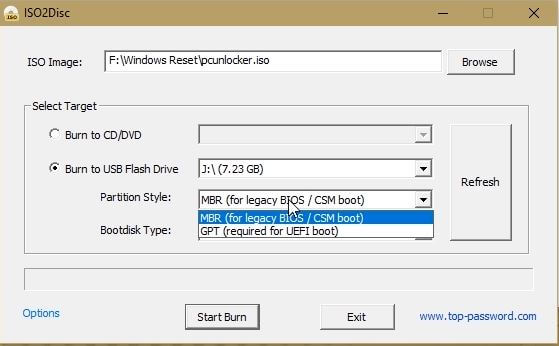 The process will take a few minutes.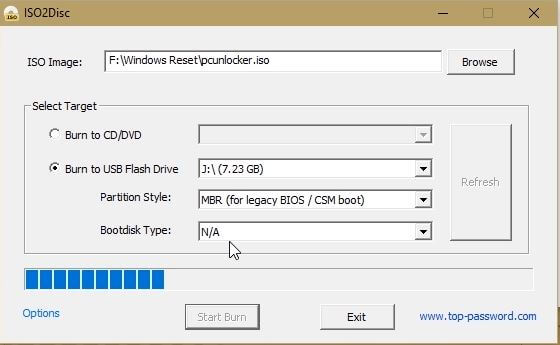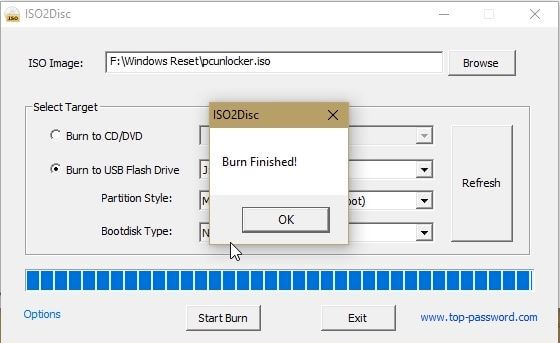 Once the burn is finished, eject the CD/DVD or the USB flash drive, whichever you used and insert it in the PC which is password locked and boot it up. While the PC is booting up, check the boot-screen for setup key (i.e. DELETE key, F8 key, F2 key) to enter BIOS Setup Utility.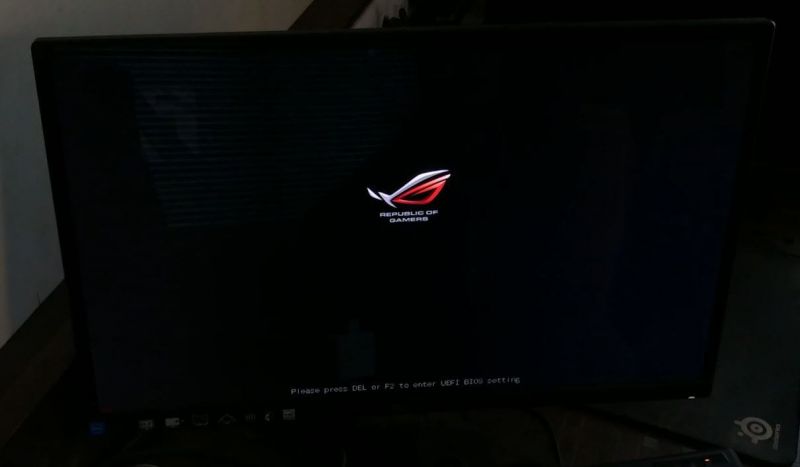 Now that you are in the BIOS Settings, head over to Boot Menu and scroll down to Boot Override and select your bootable CD/DVD or USB flash drive and hit enter.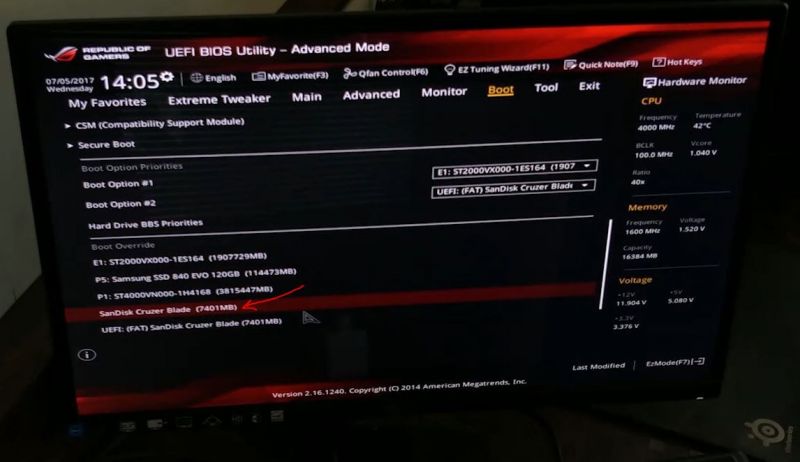 After you are done with the BIOS settings, you will be greeted with the PCUnlocker menu. The first option you see is the recovery mode. Here you can select if you want to reset your local Admin/User password or if you want to reset you Active Directory password. Down below, you can see all the user accounts.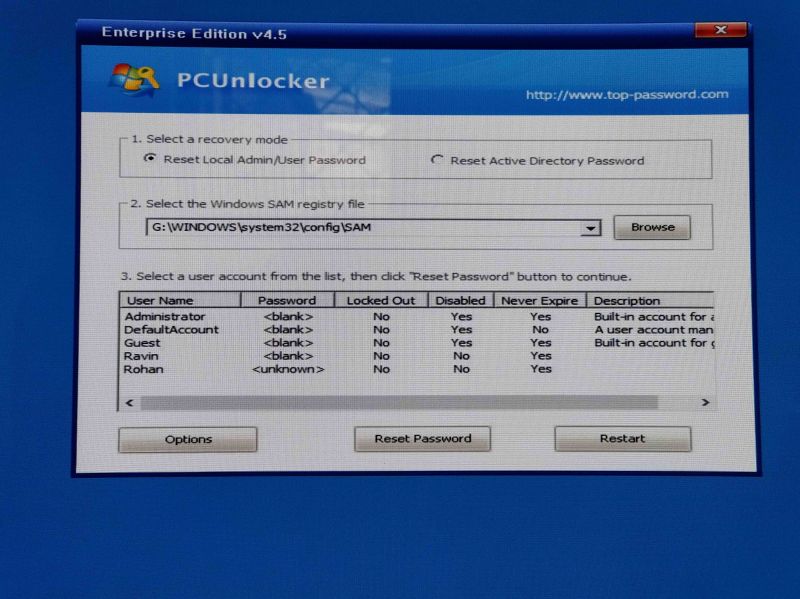 So I want to change the password of account "Rohan". I will select it and click on Reset Password. A popup will appear asking you want to enter a new password. If you leave it empty, then PCUnlocker will remove the existing password. Click on OK and you're done.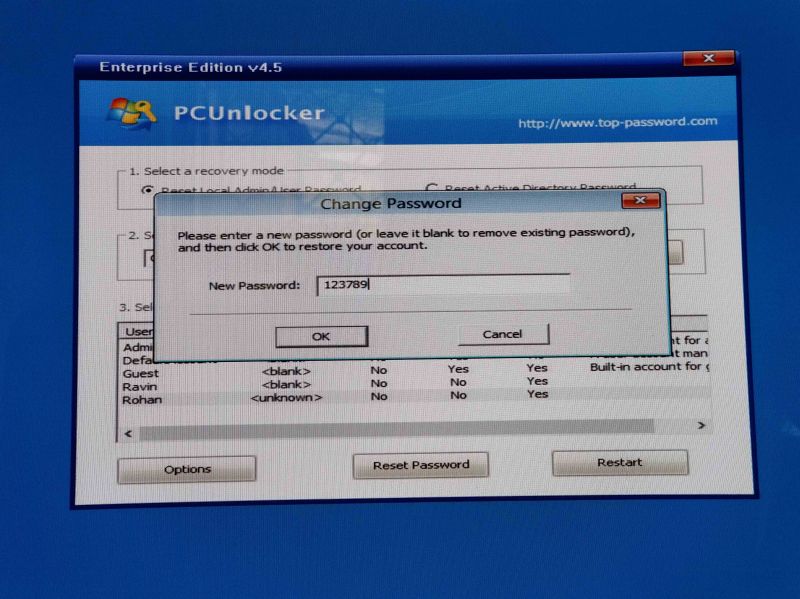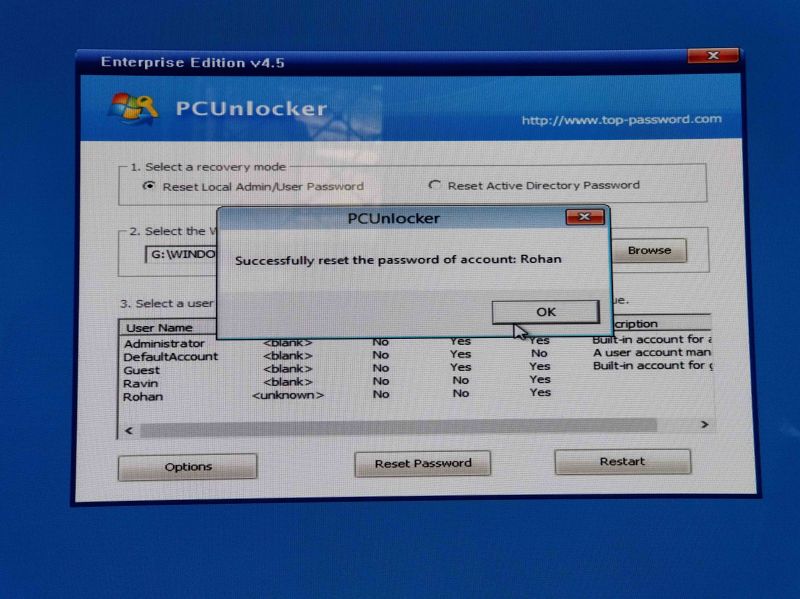 Restart your PC once the password has been reset and you are good to go with your new password.
What else can PCUnlocker do?
If you click on options, you can see a few more options there. You can Load IDE/SCSI/SATA/RAID Driver. So if your PC has a RAID server and  PCUnlocker does not detect the windows drive, then you can load the driver from here. Once you do that, you will be able to select your user accounts. You can also mount a virtual drive and launch command prompt. You can also access the PC without having to reset the windows password by selecting Bypass Windows Password. This will temporarily disable windows authentication subsystem while booting.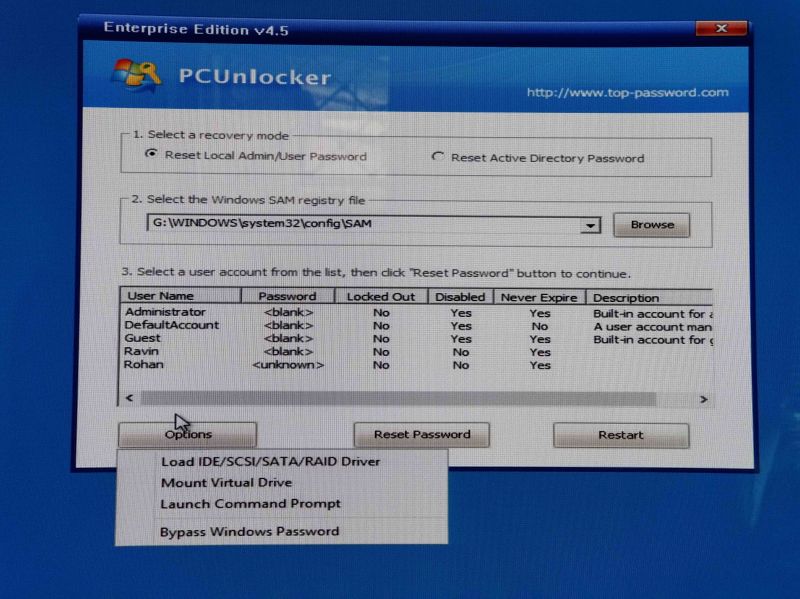 Here's a comparison between the Standard, Professional and Enterprise version of PCUnlocker.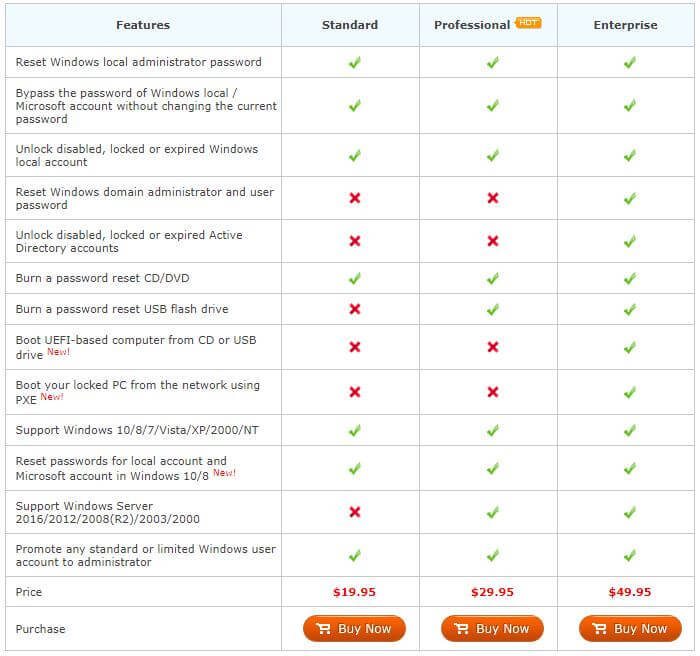 Conclusion
PCUnlocker is a really powerful tool which I bet will definitely come in handy for every PC user at least once in their lifetime. Come on, who doesn't forget their passwords. I usually keep a password and then keep the security hint to something random because I know that I won't forget the password. And after a month of not using my PC and coming back to it, I am like "What the hell was my password and what is this stupid password hint". So yeah, this is a really handy tool that everyone can try if you have a windows desktop with some valuable data on it. I think it's worth spending $20 rather than losing your important data. The Professional and the Enterprise version have way more options, but if you have just forgotten your windows password, then the standard version should do the trick as well. Resetting your windows password was never this easy.
We are influencers and brand affiliates.  This post contains affiliate links, most which go to Amazon and are Geo-Affiliate links to nearest Amazon store.
Hi my name is Rohan Jadhav. I am a guy who loves to play games and a tech lover. I like to be updated on all the tech stuff. I enjoy watching movies and I am currently doing a specialization course in VFX.