We are influencers and brand affiliates.  This post contains affiliate links, most which go to Amazon and are Geo-Affiliate links to nearest Amazon store.
Etekcity's Rover Beats line has a bit of an upgrade form the T3 I reviewed a while back.  It is larger, more powerful and has a larger speakers to boom your tunes around the room.
Specs:
This offers stylish design, portability, and exceptional audio quality (enhanced bass) with the convenience of wireless Bluetooth 3.0 connectivity; Features 2-channel stereo
It supports NFC (Near Field Communication) which can help you enjoy the convenience over different portable devices; Allowing memory of breakpoint
Easy Bluetooth connection works with a vast array of Bluetooth-capable smart-phones, tablets, laptops,etc; 3.5mm AUX audio jack for non-Bluetooth devices
Built-in rechargeable 2200mAH, 3.7V lithium battery; Charging 3 hours to play 12 hour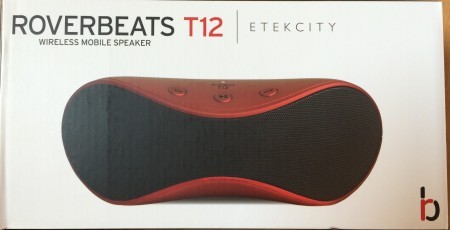 Paring the T12 with my devices was easy.  Turn on the T12 and listen to audible tones to verify it is ready.  View the status light to see it is ready to pair.  Search for the T12 in your Bluetooth setting.  Click, pair and play away.  The sound is pretty good.  For rock and podcasts I would give it a solid 8 out of ten for a device in this price range.  As with the T3 it does lack that deep base.  I would give that 7 out of 10 but I am not one who needs that deep base for most of the music I listen to so it didn't really dissuade me from the T12.  Having had and used the T3 for a while now I half expected it.  It is better than the T3 but I was hoping for a little more for the bigger more powerful speaker.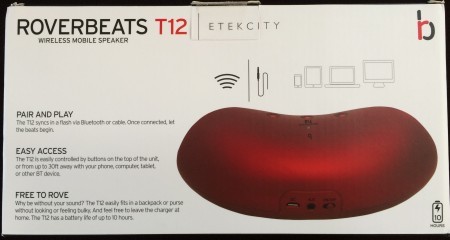 Coming out of the box the T12 looks and feels well built and the texture of the case it oddly soft.  Feels good to the touch, feels pretty solid in the hand.  It looks nice sitting on the table or on a shelf.  I reviewed the red colored one and it is a strong red but it works with the black front facing speaker grill.  It is sleek and clean in styling.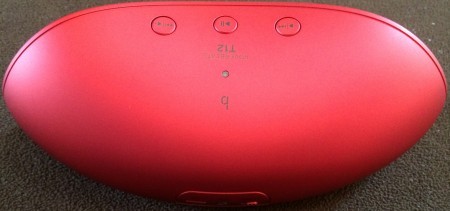 Charging it to get its full battery potential is time consuming.  But the result is 10 to 12 hours of pretty continuous play pretty consistently.   My wife used it for a couple days while she was camping and said she would charge it at night, full hook up camping, and then play it all day.  Her phone would run out then she would move to her tablet while the phone charged.  It was a solid 10 and close to 12 hours of constant play for the couple days she had it.

It paired up quick and easily with all of our Bluetooth devices.  We have an iPhone 5s, and Galaxy S3 and both versions of the Google Nexus tablets.  Sound was also consistent between the devices.  There is also the ability to pair via NFC which was a little tricky to begin with but once you got the hang of it it wasn't bad at all.  I couldn't tell with my tin ear if there was a huge difference between Bluetooth and NFC.  Sound was  comparable.  The distance allowed from the speaker from its paired device was pretty standard.  Clear line of sight was right in that 30 foot range.  in our house I could go up a level and down a level if I stayed towards the inner portion of the house.
In the box you get the speaker, instructions booklet, two chargers and one aux cable.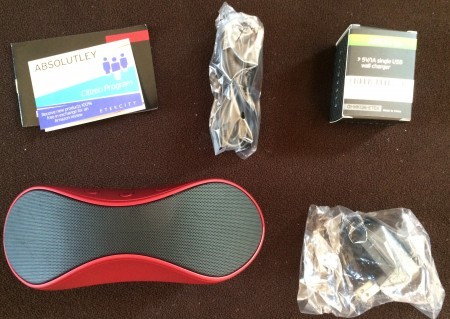 All in all a pretty nice little Bluetooth speaker.  Good bang for the buck and really good battery life.  Only draw back for me was the dual purpose volume up and down skip forward and back  buttons.  Sometimes when trying to up the volume I skipped forward.  Out of the couple we have purchased in this price range and the two I have reviewed this is my favorite, my wife's too, so far.  Fun little device not too rough on the pocket and keeps on playing through the night.
We are influencers and brand affiliates.  This post contains affiliate links, most which go to Amazon and are Geo-Affiliate links to nearest Amazon store.
I am just a geek getting older but keeping up.