We are influencers and brand affiliates.  This post contains affiliate links, most which go to Amazon and are Geo-Affiliate links to nearest Amazon store.
Considering investing in a 3D Printer? 3D printing is an extremely new technology and a rather interesting one. Using nothing but a spool of filament you can make some of your wildest designs a reality. Anything from simple things like figurines to complex pieces of furniture can be made all at the touch of a button and occasionally with a bit of assembly. In today's showcase, we'll be featuring the affordable, powerful MINGDA Magician X 3D Printer. We'll be discussing its key features in-depth, as well as why you'd want to purchase this particular 3D printer over other models due to some of its more unique aspects.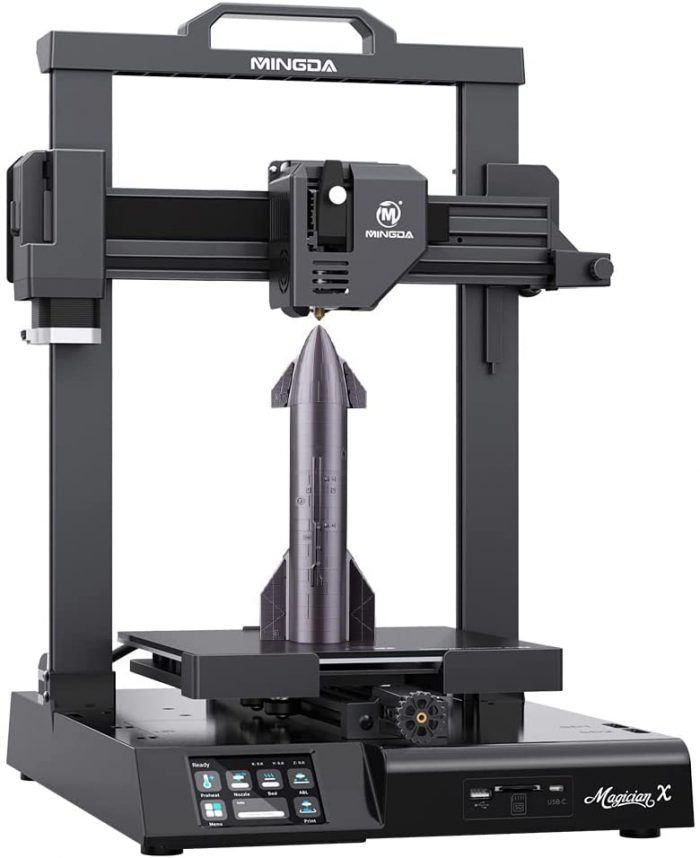 Technical Specs
Print parameters: FDM ( Fused Deposition Modeling)

Build Volume: 230(L)*230(W)*260(H)mm

Print Resolution: ± 0.1mm

Positioning Accuracy: X/Y 0.0125mm, Z 0.002mm

Nozzle Diameter: 0.4mm

Print Speed: <200mm/s (recommended 60 – 80mm/s)
Support Filaments: PLA, TPU, ABS

Software parameters: Cura

Input Formats: .STL, .OBJ, .AMF

Output Formats: GCODE

Input voltage: 100/240 V AC, 60/50Hz 

Output voltage: 24V/14.6A (350W)

Connection Mode: SD Card, U Disk, USB-C  

Ambient operating Temperature: 5℃ – 40℃  

Operational Nozzle Temperature: max ≤260℃  

Operational Hot Bed Temperature: max ≤110℃  

Machine Size: 460mm*415mm*546mm  

Machine Weight: ~7.4kg  
Key Features
Auto Bed Leveling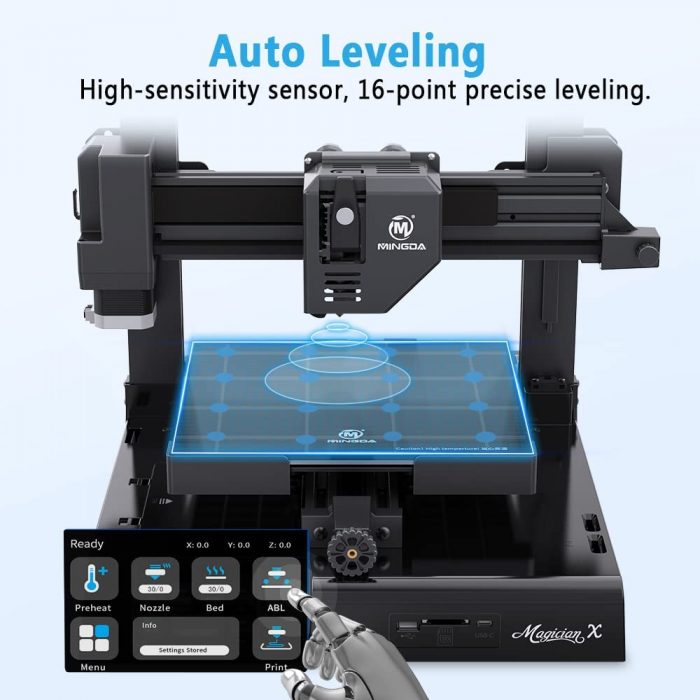 This Magician X comes equipped with a high sensitivity sensor that can automatically adjust the hotbed when it's uneven using the matrix sixteen-point measurement method. Say goodbye to manual leveling and goodbye to all the hassle that brings to the 3D printing process.
Ultra-Silent Motherboard with TMC2209 Drivers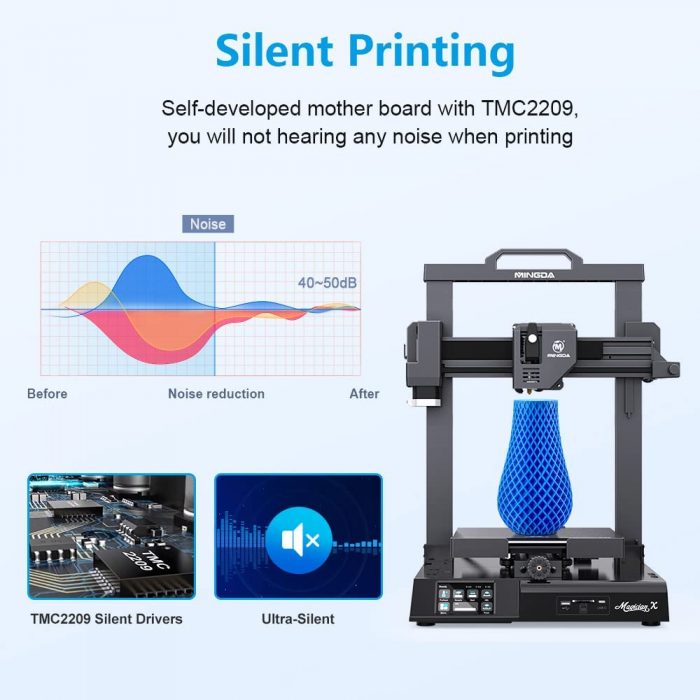 The Magician X is loaded with TMC2209 Silent Drivers, as well as sports an upgraded set of extruder fans and a modular mechanical structure. You won't hear a peep as you print, and the brand new UI system and 3.5″ color touch screen make the printing process extremely user-friendly.
Efficient Filament Feeding System
The Magician X builds using a double extruder system. The high extrusion force from this makes the filament feeding much smoother, and the upgraded modular extruder design makes them lightweight. This means that the Magician X prints faster and more efficiently than ever before. The double filament holder design supports flexible assembly on both the left and right sides.
Resume Printing Function
Like many recent printers, the Magician X is capable of resuming printing from the last recorded extruder position in the case of a critical failure (power outage, system failure, etc.) saving you both time, and filament. This is an extremely nice feature in any printer, as filament can be expensive, and who doesn't hate wasted time? I know I certainly do.
Carborundum Glass Platform
The fourth-generation glass platform enables the hotbed to heat up quickly, allowing prints to adhere better without warping. Super flat, strong adhesion keeps your model steady till the printing process is finished, while still making it easy to remove the finished product.
Merl provided hands on testing with the printer, created the videos and did final summary
Watch the Unboxing and Assembly of Mingda Magician X
Watch Auto Leveling the Mingda Magician X
Final Thoughts
The heated glass build plate is MORE than fine. A lot of builders like using glass. The fact that it is removable is great. Though personally I have grown to love my textured flex steel plates but again this is personal preference but overall this is the EASIEST assemble and first print I have ever had. Most manufactures include an SD Card with a test file. But MINGDA however is the first printer I have used that preloaded that test file in the root directory allowing printing right out of the box. As mentioned elsewhere, the fact that the Z axis was NOT attached to the base is a simple change that made unboxing SO much easier.
We are influencers and brand affiliates.  This post contains affiliate links, most which go to Amazon and are Geo-Affiliate links to nearest Amazon store.
I am just a 25 year old doofus who enjoys rpgs, sugar rushes, and passing out at odd hours.