One thing that I have found is that you can never have enough storage. Recently I was placed in the position of needing to move things to another location as I had filled my 1TB HDD, and I did not have a hard drive that would plug into my new motherboard. So I began looking for options. One was to buy a new SATA hard drive, but I was not sure if I wanted to just yet, especially since I had half a dozen old IDE drives lying around unused. So I went onto Tiger Direct, and found an inexpensive product that said it would take care of the problem just fine. And it did.
EZ-Connect by Kingwin is a low cost and effective tool. All you need is a USB connection and a place to plug in the power cord and you're ready to go. You can attach a SATA drive, a 2.5" and 3.5" IDE drive. The kit even comes with a SATA cable for the data transfer. Everything you need is in the box.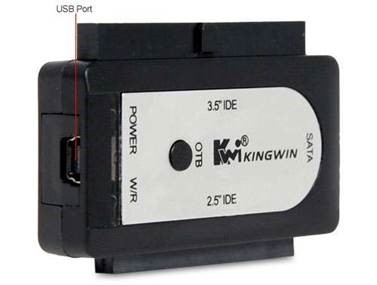 I was able to hook up all of my various hard drives and for the most part, read the data on them just fine. Well, almost everything was fine. I did have a few drives that did not read. And that is not a bad thing, because some of my drives are from the stone ages. Some had to be plugged in and unplugged a few times before they worked. In the end however, I was able to transfer my data just fine.
After moving the data around, I sat the old drives that worked to the side and life went on. Later, I was trying to transfer data back to my computer as I have now upgraded to 5 TB's of space, 2 of the 4 drives did not come on and I lost the data on them. The other two again had to be plugged in and unplugged a few times to get things going.
While I kind of like this product, there are also a few things I do not like. Even though the adaptor is not very big, it comes in two parts. One is the adaptor, and the other is the power. Having 2 separate pieces to keep track of just adds to clutter and frustration. An example is setting one part down, the power, and coming back and noticing it has moved. That isn't fun for me. Another problem is that the plastic casing is not well constructed. I dropped it from the height of my desk, onto a carpeted floor, and it popped open.
That ordinarily would not be a problem except there is no reason for me to need it to be opened, and now I will probably have to tape it shut to keep it shut. Also the data cable detaches, making one more tangling cable to keep up with.
Over all, I cannot complain too much. For less than $20.00 it did what I needed it to do, but perhaps it would have been better to have spent a little bit more money on a unit that is more together than separate. Still it is a good buy and worth looking into.