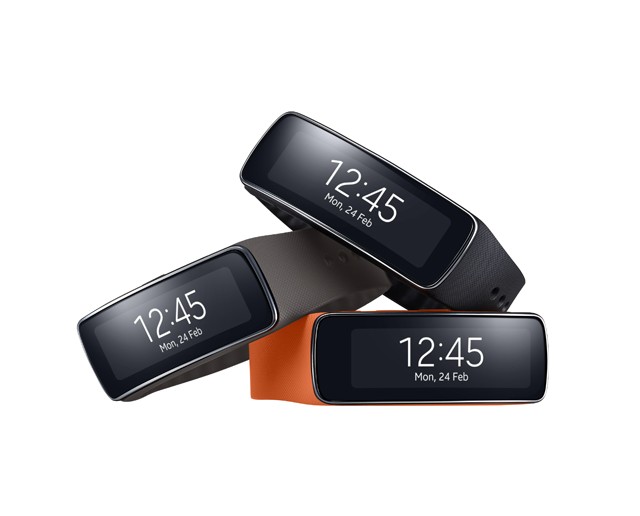 Samsung has recently announced Gear Fit in the Mobile World Congress in Barcelona. It's not a 'superwatch' which can allow you to shoot videos or make calls, instead, it acts more like the Nike FuelBand, it is focused on fitness tracking and less for recording HD videos right from your wrist. In short, it's a wearable health tracking band which will track your heart rate and count your steps and with many more improved functions, and that would get the functionality and syncing with the new Samsung Galaxy S5.
The Samsung Gear Fit features a curved AMOLED touchscreen display. This curve display is very impressive and is exceptionally bright, and you won't face any difficulties using it outdoors. The curved display also allows the users to easily use the screen giving a better view and easier handling. The device also sits perfectly on your wrist and making it easier to wear when or where ever you go without much difficulty. The Fit weighs only 27 grams which adds up to the comfort.
The Gear Fit doesn't have a speaker, mic or camera unlike the other smart watches from Samsung, but will however alert you with all the notifications from your smart phone, making it the best smart fitness tracker till date. The Gear Fit is mainly targeted on fitness of the users and it even includes a real time fitness coach to help the user to know their fitness regime better and encourages them to speed up or slow down accordingly. All these data will be measured in real time and the heart rate results will be synced with the S Health app found on the newer Galaxy Smartphones.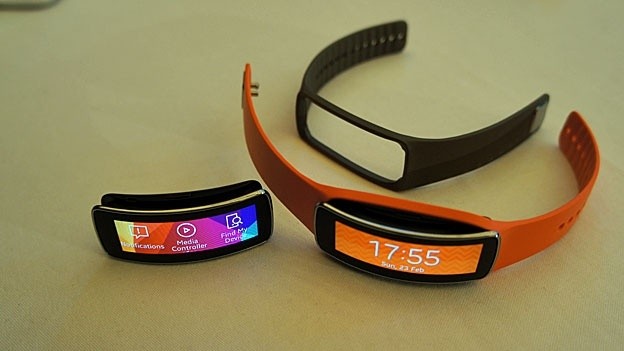 The Gear Fit comes with swap-able bands in Orange, Black and Mocha Grey and the battery can last up-to 3-4 days, and the band is also water and dust resistance (IP67) just like other smart watches and the SGS5 from Samsung. The Fit, according to Samsung will be compatible with 1 7 Galaxy devices. The pricing is not announced officially but it should be wallet friendly as it lacks in certain features like S Voice support and the ability to make calls, or capture photos.
---
Specifications
Display

1.84" Curved Super AMOLED (432×128)

Additional

Features

Pedometer, Exercise, Heart Rate, Sleep, Stopwatch, Timer

Notifications (SNS, Call, E-mail, Apps)
Schedule, Smart Relay, Media Controller

Changeable Strap

IP67 Dust and Water Resistant,

Connectivity

Bluetooth® v4.0 LE

Sensor

Accelerometer, Gyro, Heart Rate

Dimension

23.4 x 57.4 x 11.95 mm, 27g

Battery

Standard Battery 210mAh
Typical Usage 3~4 days, Low Usage up to 5 days
---
Hi, I am Ishaan Farooq, let me introduce myself. I am a Tech Blogger from Lucknow, India and am a big Techo Freak who loves to Surf Internet the whole day and is a Modding, Programming and Customization Enthusiast.