Recently Tablet Express sent me the Dragon Touch A97 to review and I have been spending just around 3 weeks with this impressive budget Android tablet and will be doing a small series to cover honest opinions of this Android 4.2 Jelly Bean tablet that is 9.7″ and is priced at under $120 on Amazon right now.
Here is my unboxing video of the Dragon Touch A97 Android Tablet.
The tablet itself is actually very similar in size to the 2nd generation iPad, though still is a little thicker, it has a solid feel to it and does not feel like a cheap tablet by any means.  It has a responsive touch interface and after working with the Kindle Fire HDX for months it is refreshing to have full access to the Google Play store on the Dragon Touch A97.
While unboxing you notice the tablet definitely has a lot of ports compared to typical Tablet models, you have your Micro HDMI port for being able to output to your display screen, your MicroSD card slide, your MicroUSB port for plugging in a USB device into your tablet (not for charging, this tablet uses a small round pin plug and A/C adapter and does not charge via USB).
The tablet boots up pretty fast and came charged at 87% out of the box when it first arrived, it charges fairly quickly and setting up with your Google account takes no time at all thanks to the tight integration between Android OS and Google systems.
This 9.7″ Android tablet has a 1024×768 resolution which is decent and gets the job done, is not a pixel powerhouse it has the same resolution as the 2nd generation iPad and holds up well next to one side by side.
Here is a picture showing the iPad 2 next to the Dragon Touch A97.

Here is another picture showing them rear facing side by side.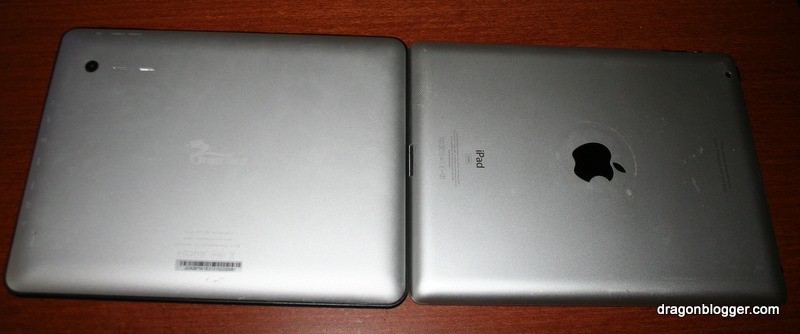 The Dragon Touch A97 features an Allwinner A20 Dual Core Processor with 1 GB DDR3 Memory and in the next review during my benchmark testing this produces performance in line with tablet models that still cost $100 more than the Dragon Touch A97 which make it a great value in my opinion.
The tablet does only come with 8GB of storage space which is around 6GB available due to the Android OS, but it includes a MicroSD Card slot which allows you to put a 32GB MicroSD card into it for added storage and capacity so the dead lock limitation of storage is not nearly as much a handicap as other tablets which don't have MicroSD card support.
My first and initial impressions of the Dragon Touch A97 Android Tablet were very positive, I immediately had installed all my essential apps from Google Play like Dropbox, Facebook, Hootsuite and my latest games like Elemental Kingdoms.  The Dragon Touch A97 also comes with the recommendation on using a really decent application called AppKiller which helps kill processes in the background and keep the Android tablet running smoothly when you have gone through a bunch of applications where they are left running the background.
My performance and battery life review of the tablet will come up in a separate article later in the week.