We are influencers and brand affiliates.  This post contains affiliate links, most which go to Amazon and are Geo-Affiliate links to nearest Amazon store.
In the age of the Mechanical keyboard, we are bombarded by the loud clickety clack of Cherries and Kiehl's but what if I told you they didn't have to be loud to be good? What if I told you that a relatively quiet keyboard can actually be pretty good and what if I told you it came from our friends at Perixx?
This review is of that keyboard, more precisely the Perixx PC5200-BR Mechanical Gaming Keyboard that rocks the Cherry MX Brown switch. This keyboard has the makings for a great keyboard and the potential to not be so great, but which is it? Well, I will go through the complete workings of this keyboard.
Here are the features and specifications
117 Keys
Full size key layout
Blue backlit Illuminated Feature
N-Key rollover (PS2 mode) / 12 key Anti-Ghosting (USB mode)
Windows and Desktop lock key
7 Programmable Macro Keys
Let's start off with the unboxing.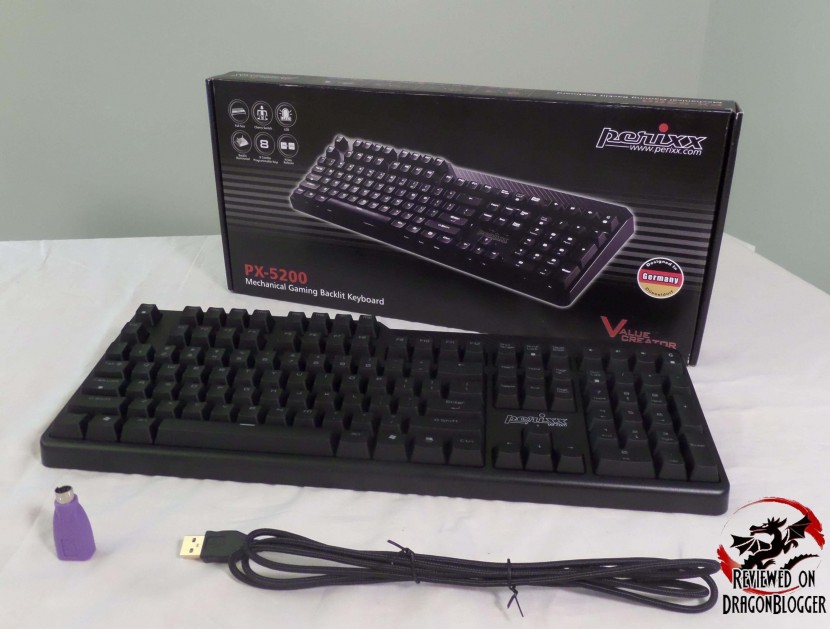 If you look at the picture or watched that unboxing, you will notice a few odd things and a few very nice features on this keyboard.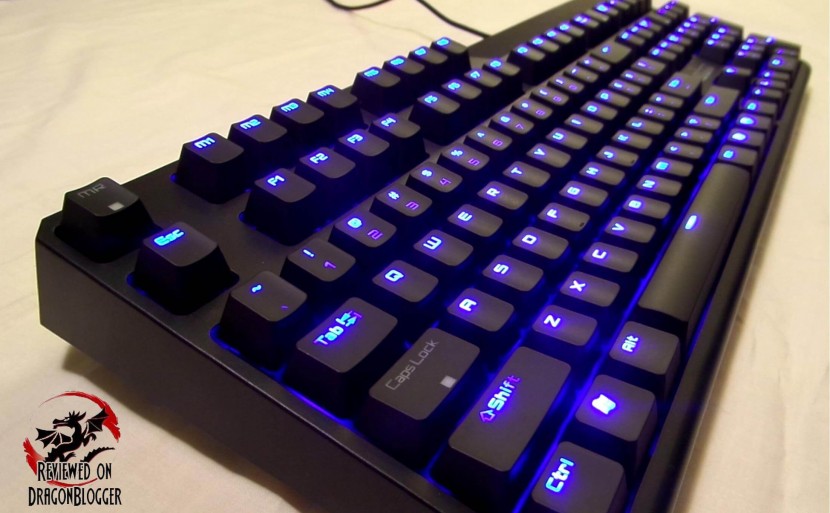 One of the things that was a quick turn off about this keyboard for me was the plastic, the keys, base and all were plastic, but that actually may be the thing that helps this keyboard, but I will get into that a little later in the review. Let's get to some more of the features.

Right away you notice that the cable comes with a nice braiding to keep the cable from easily tangling and breaking. You know, if a USB cable for a keyboard breaks, you are stuck with a paper weight, unless you feel daring enough to piece it back together. Well, that won't happen with this keyboard, and it's not the braiding that helps it.

If you notice, the cable is not connected to anything. "I've got no strings to hold me down". Pinocchio might have actually known about this keyboard years before it was even thought of.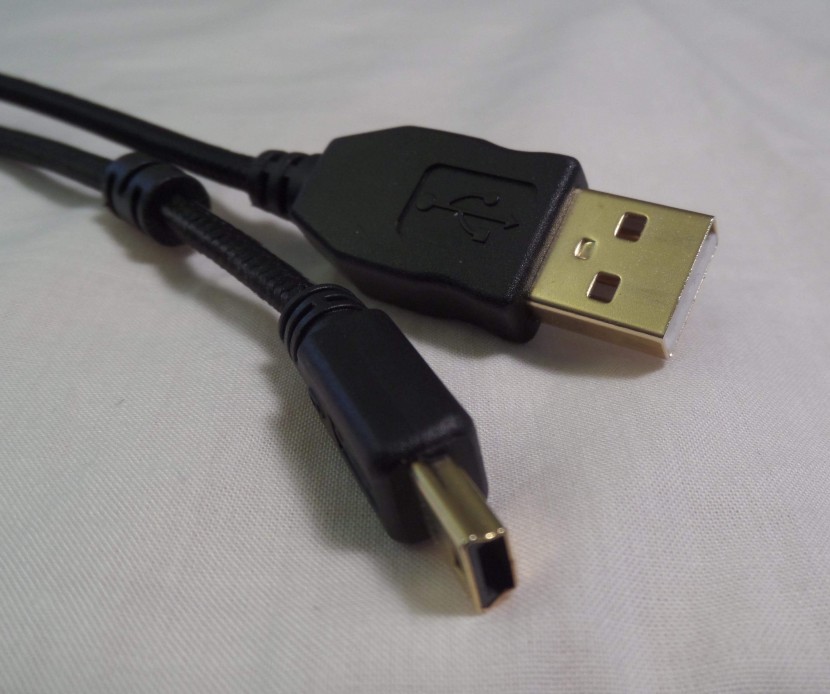 A little closer look reveals that this has a full size USB end but then a micro-USB end as well, not to mention that they are gold plated. So where does this go connected then, well funny you ask.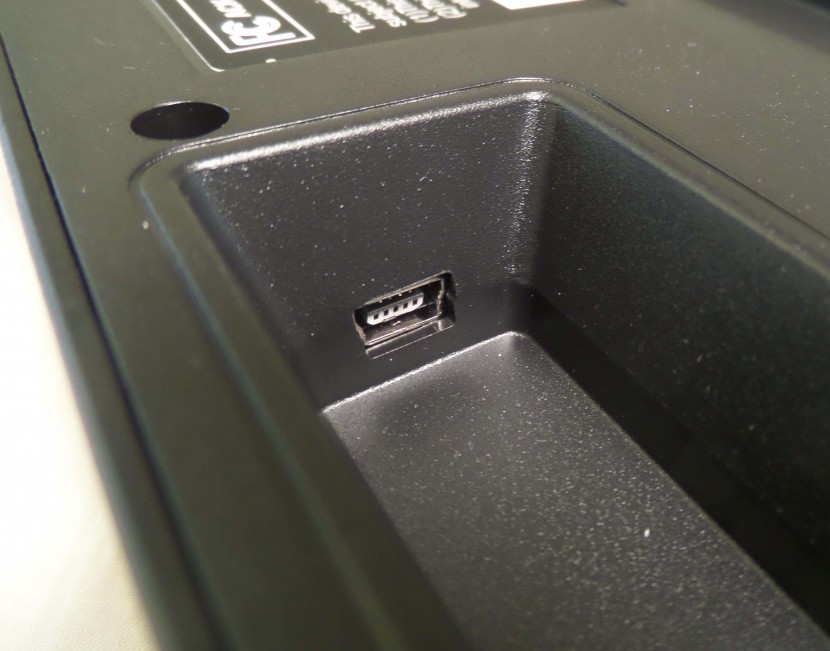 This little pocket is on the underside of this keyboard and in it rests a female micro USB end. So if your cable were to get cut, frayed or in any way damaged or maybe you just want a longer cable, you can just switch the cable out with one that suites your needs. That's a nice little touch I have not seen before.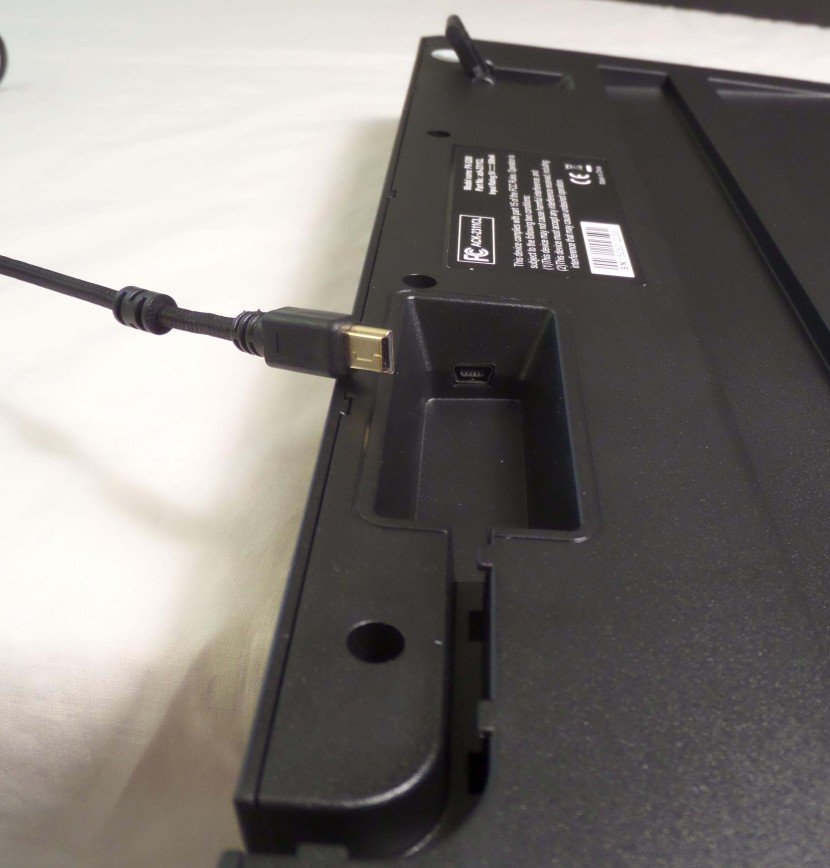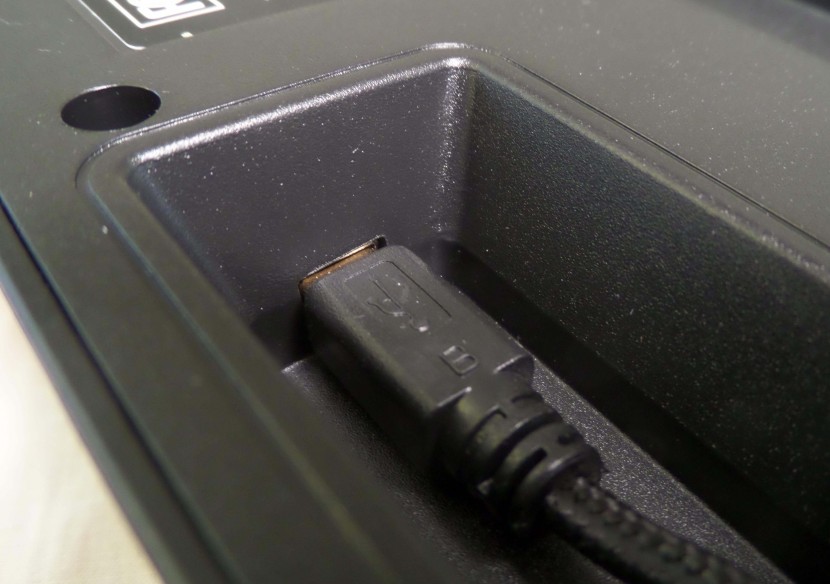 Here is how it looks like plugged in.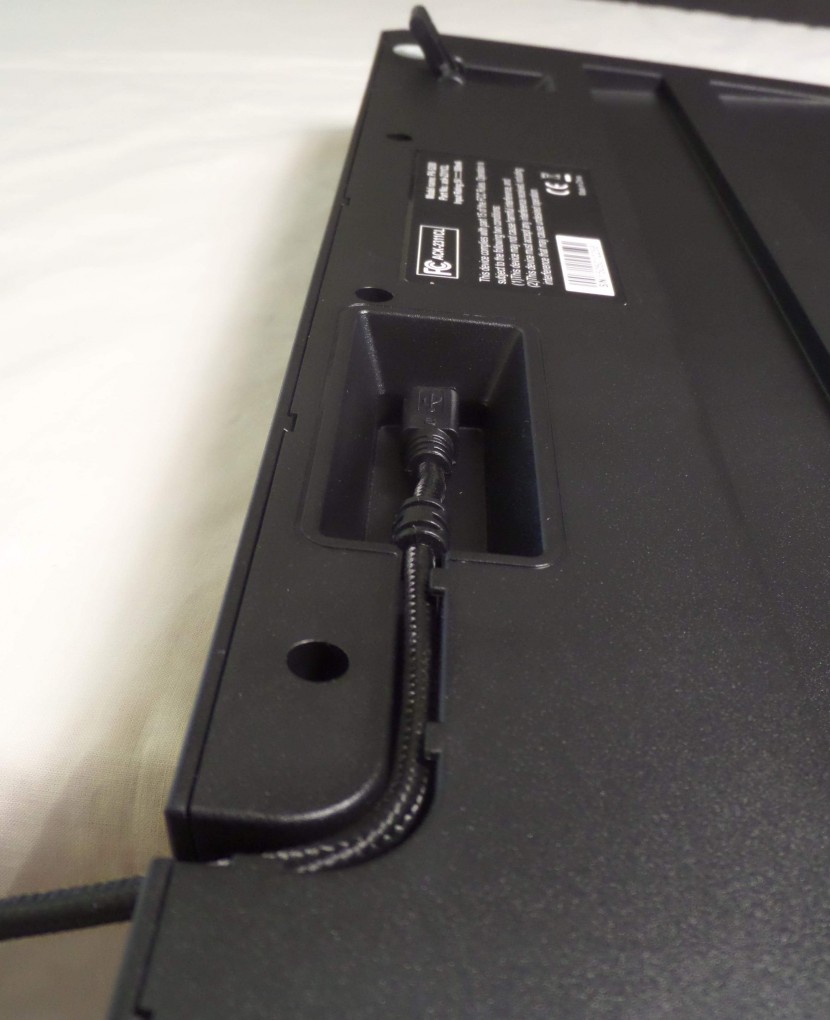 The bottom of the keyboard also has an indentation to keep the cable nice and snug so that it won't easily get pulled out and also to hide it.
So this is the USB portion, but if you have an older PS/2 port, you can still actually use this keyboard; it brings with it a USB to PS/2 Adapter.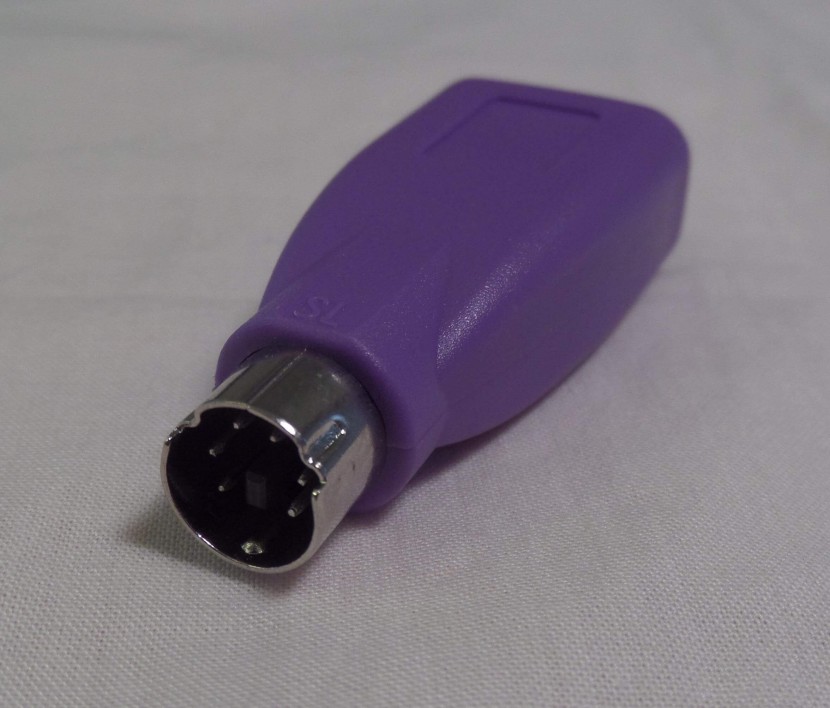 You may think "Who still uses PS/2", well, not many people I would think but people that don't feel the need to update won't get any more left behind than they already are.
In the unboxing, Perixx does not include a manual and that's not a bad thing, it's better for the environment and for a keyboard, do you really need a manual? Well, if you did, they have it available on their website under the "Gaming series" keyboards.
http://www.perixx.com/en/service/manual.htm
it's not a very detailed manual, but it does show you how to use the Macro keys, Windows/Desktop lock keys and even control the lighting effects, yeah you can change up the lighting a bit. Let me show you.
It's a gaming keyboard, so yeah it has WASD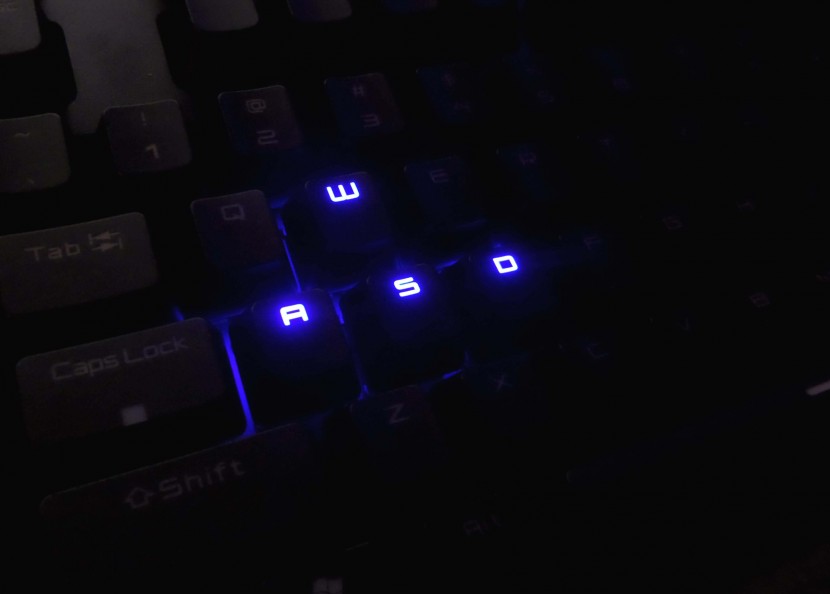 But also, some of you like to use the arrow keys, it's got them too.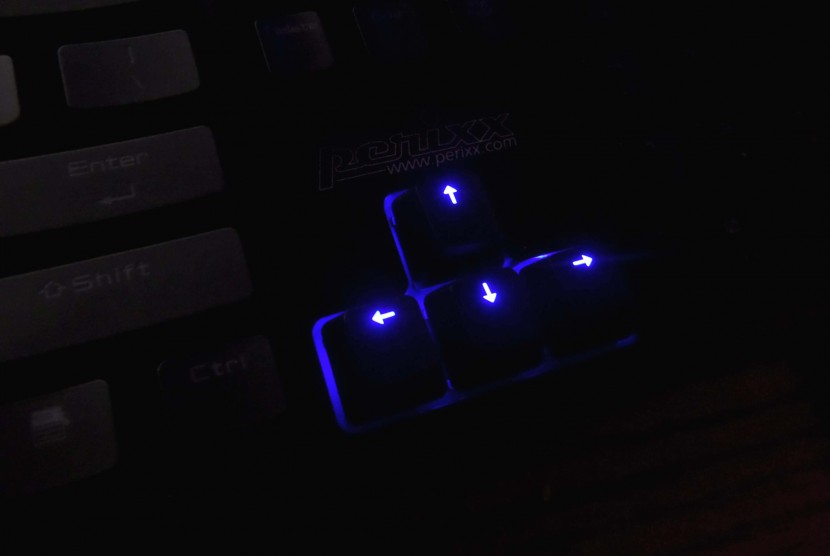 You can turn them all on, like you saw before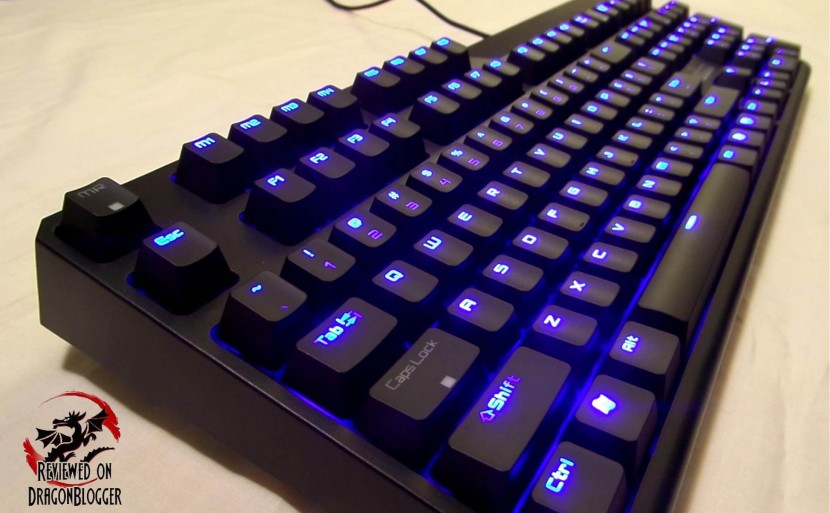 Or you can turn them all off, but who would want to that right? Let me show you some of the keys it has.
So, as I showed you in the video, it has the Macro keys, and of course the MR key (Marco Recorder). M1 though M8, 8 Macro keys, which is something many mechanical keyboards don't have.


You guys know how Macro keys work, press and hold the MR key, then tap an M key and enter the long string of characters that you would normally use during a game, or something that you use often then hit MR again. Afterwards, you can tap that M key again and the functions you typed in will play out for you.
The MR key along with the TAB key, allows you to change the lighting effect's of the keyboard. You can chose from completely On, Off, WASD or the Arrow keys, like I showed you above.
The G key when pressed disables the Windows key so that you don't accidentally hit that key during a game and get your game minimized, or sometimes even causing the game to crash. This key also allows you to take advantage of the USB 12 key rollover/Anti-ghosting feature or if your using PS2, the NKey Rollover.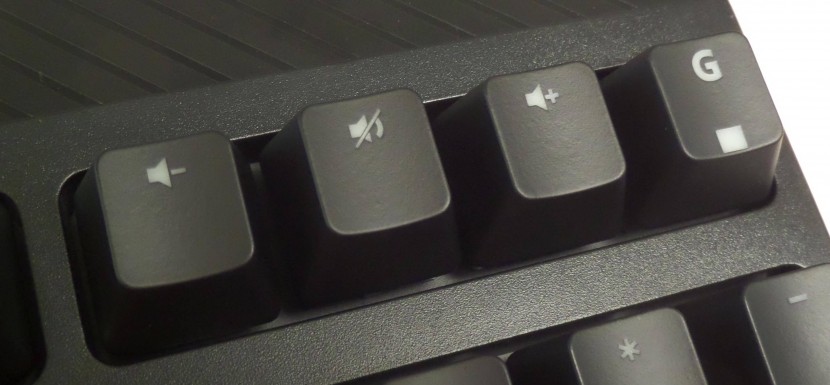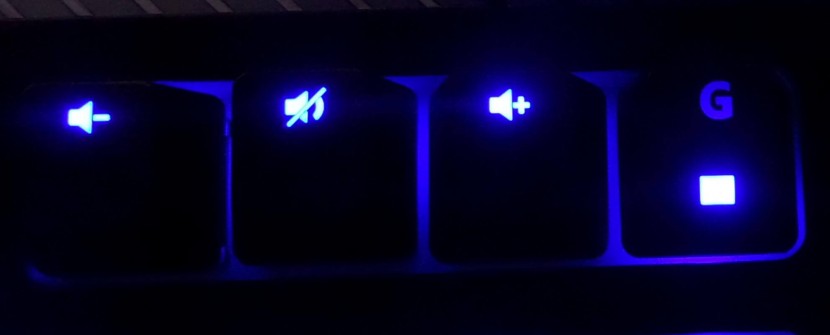 Right next to the G key, you have Volume Down, Mute and Volume Up.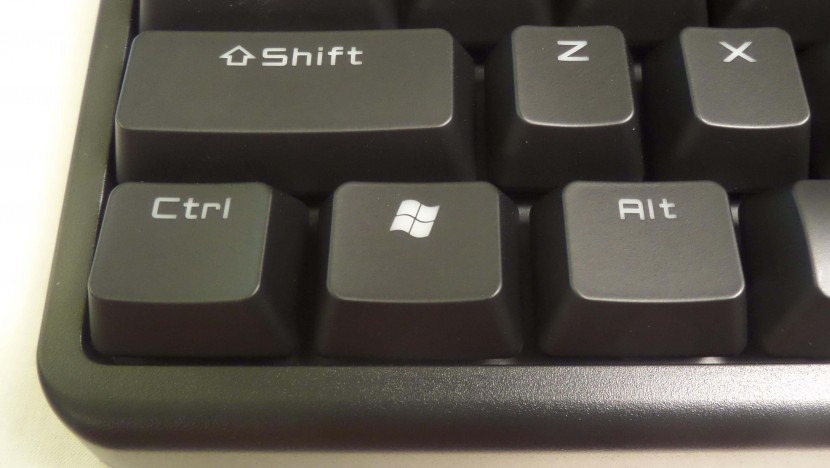 On the left of the keyboard, you have your standard Windows key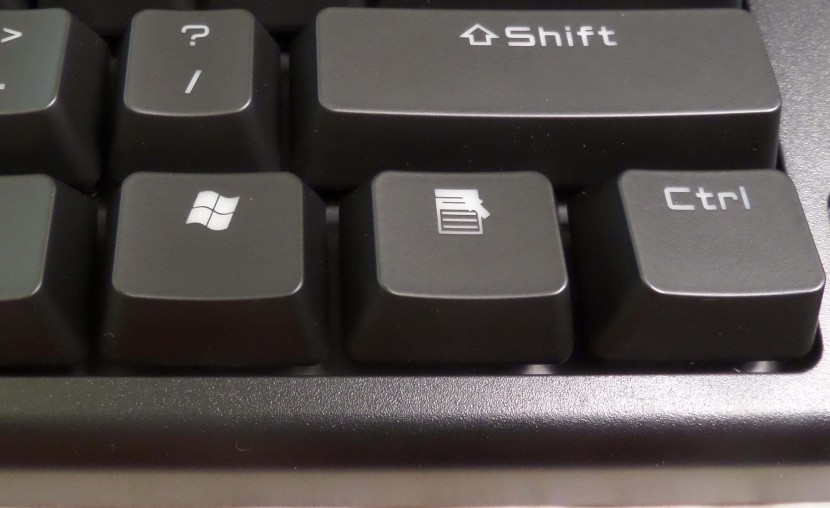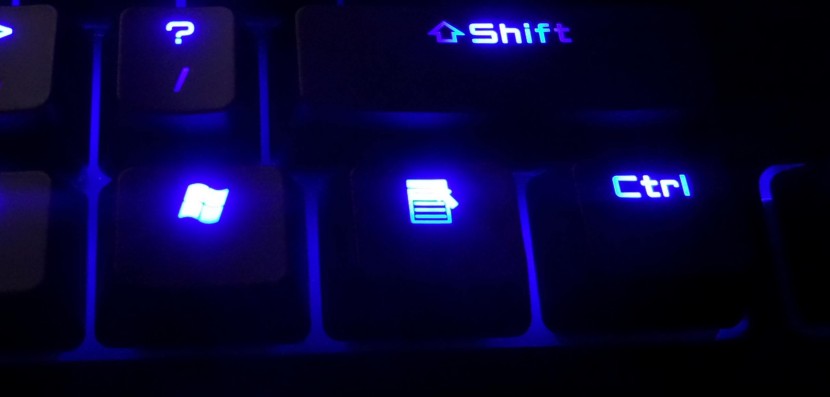 On the right of the keyboard, you have your standard Windows key and the properties key. The properties key is like right clicking on an icon, but you can do that on your keyboard.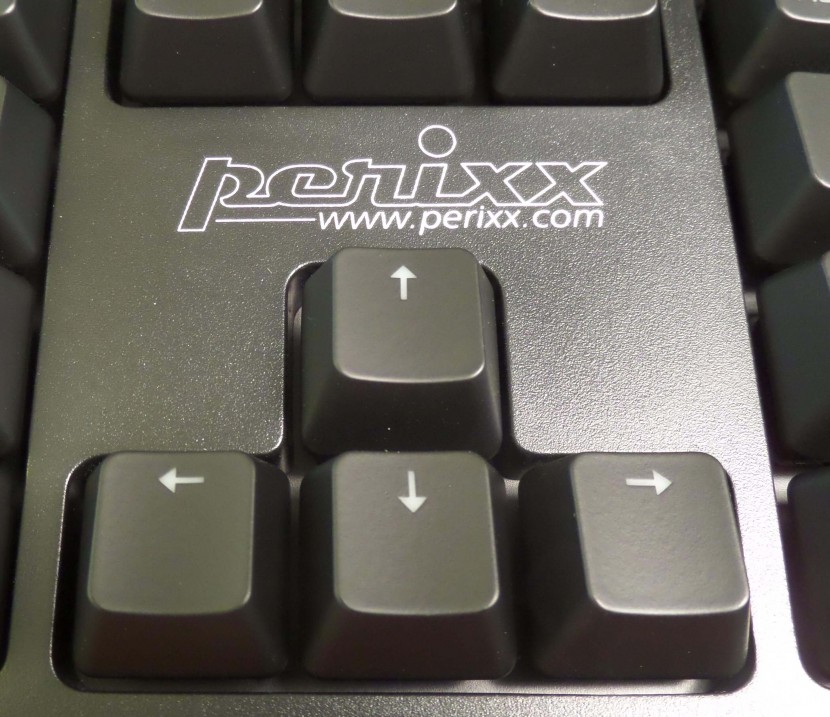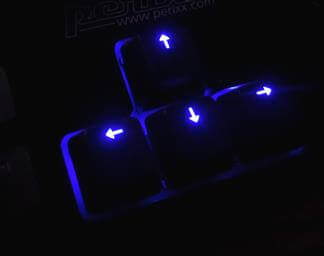 Just above your arrow keys, Perixx has their name and website silk screened. You can't forget who makes your keyboard right?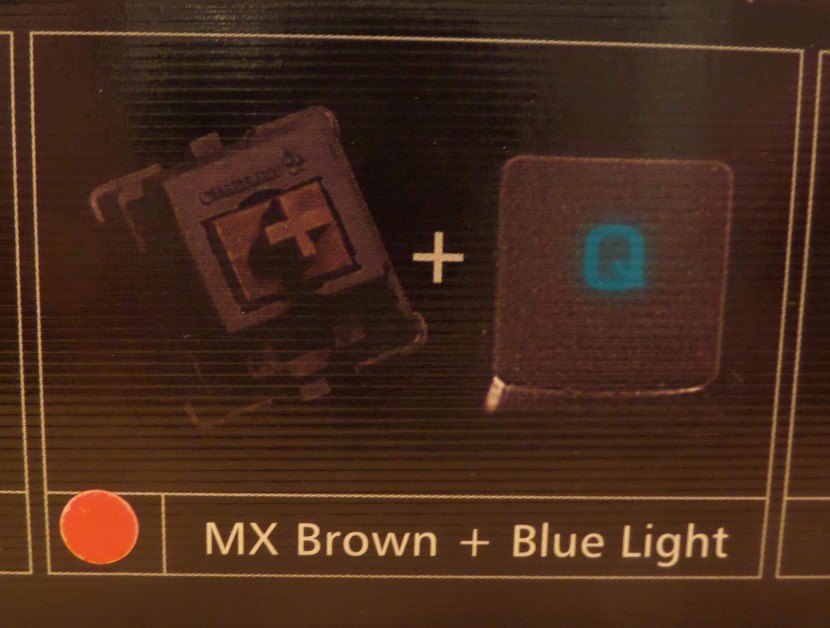 The box comes labeled to make it easier to find that it comes equipped with an MX Brown switch and Blue lighting if you were to buy this in a retail outlet.  Surely this is also there to make it easier for online retailers to quickly and easily find the right keyboard for you.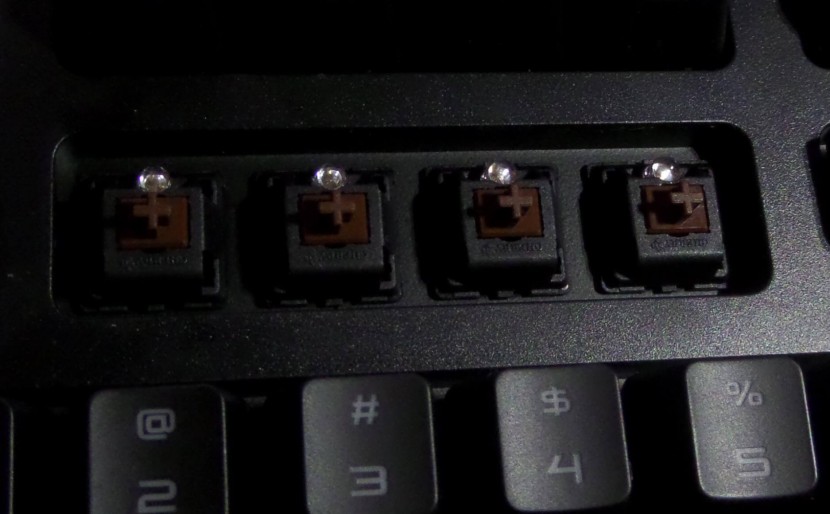 Here are the switches, but maybe you want to see it a little closer?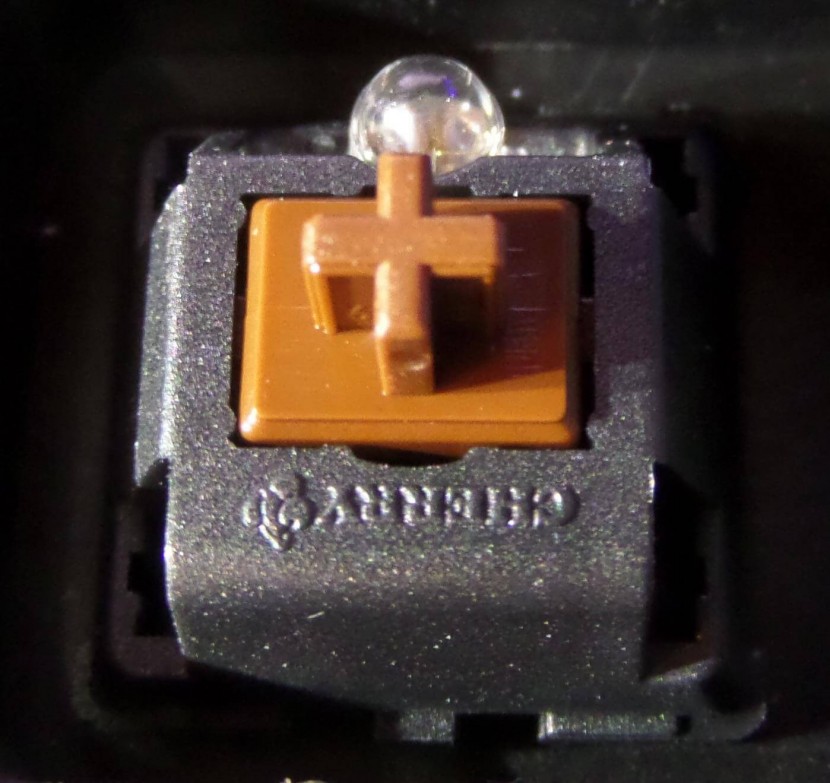 That blurry stuff actually read Cherry, and you can see right above the light.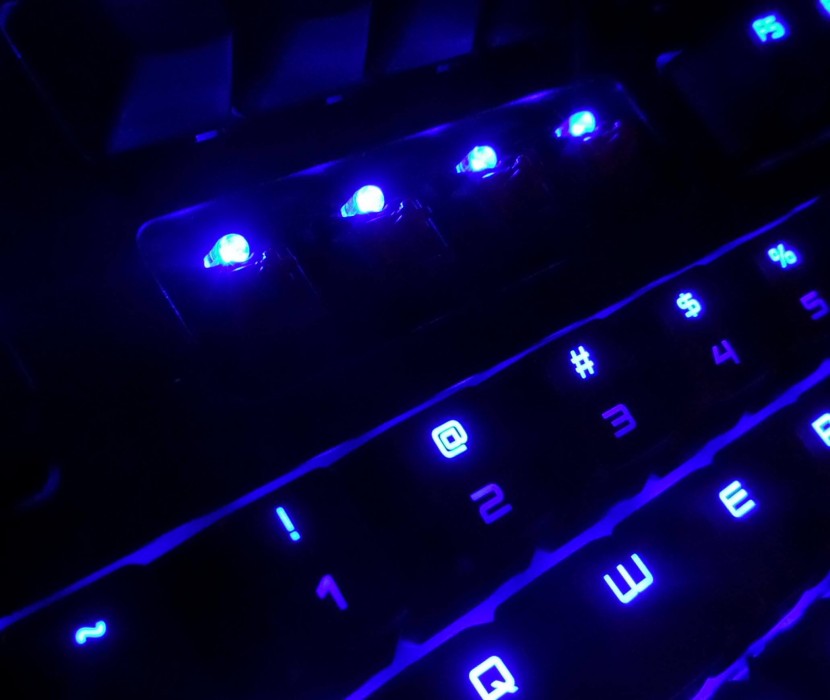 Here is how they look without their key caps on, but here's a little closer view.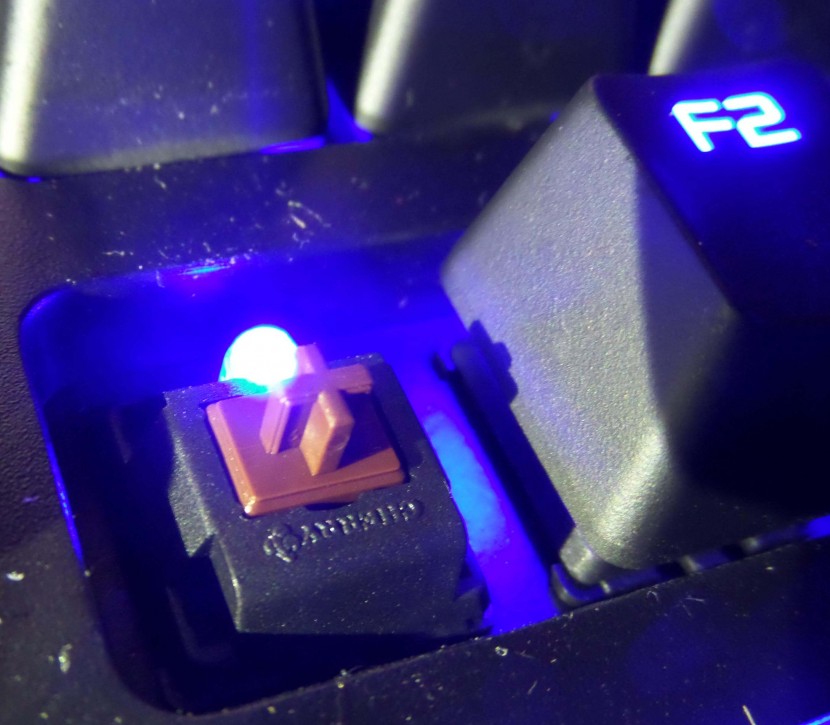 I recorded a video of how the Cherry MX Brown switches sound while I typed, check it out.

It doesn't have the clicky sound, but it feels right. I mentioned before how the plastic might actually be good, well if this keyboard were metal, it might sound a little more clicky, the plastic helps it feel so much softer.  My wife hates when I type with the loud clicky keyboards, your significant other might appreciate this keyboard for its added sound benefit or maybe its lack of sound benefit.
I think they actually chose the right material for this keyboard. You might also expect this keyboard to be a light and flimsy build, it's not, it actually weighs 3.6 pounds, so it's pretty beefy.
Just because it is soft, doesn't mean you can't type fast, I actually type a tiny bit faster on this keyboard than I did with a prior keyboard review. Yeah, it could have been chance, but I did type faster with it. Check it out.

So I know, I have only talked about the Pros of this keyboard, but there are actually some Cons. This keyboard does not have a USB hub, not even one additional port; I think this is a needed feature now a days with everything being USB though there are still plenty that don't have a USB hub. Another thing is that it does not have a 3.5mm jack for audio pass through, that's not a biggy for me since my headphones are USB but I thought it right to mention it. Another con, for the price, I would have expected multiple color options for lighting, but there is only blue. I love blue and all, but it is nice to have all those colors.
One other con that bugs me about most keyboards that have Macro's, the MR key is right above the Escape key, I have many times already hit MR when I tried to hit escape, maybe something along these lines? They could have moved that silk screening in the newly opened space.

To be clear, the image above was just an artist's rendering of his perfect keyboard (me being the artist). The keyboard on paper looks like this below, still a very nice keyboard.

Perixx PX-5200BR Pro's
LED lighting

Blue lighting
Multiple lighting effects

Windows/Desktop Key lock
8 Macro Keys
Anti-Ghosting/N-Key Rollover
Detachable USB Cable
Braided USB Cable
Cherry MX Brown Switches
Heavier than expected
Volume Toggle keys
PS2 adapter for older systems
Perixx PX-5200 BRCons
Only 1 color LED
No 3.5mm headphone jack
No USB Hub
MR Key right above ESC key and easily to hit accidentally.
All in all, I have to give this keyboard a 4 out of 5 award. I feel that the pros outweighed the cons, it is a sturdy, well-built keyboard with tons of nice features, but it just needed a little more. So I judged it as a 4 star recommended buy because it did not have a 3.5mm jack or a USB hub which would have made it 5 stars.  I find those very important, but it could have potentially driven the price up too. The price was not good or bad, it is about right for something of this caliber with features and all, and maybe slightly cheaper than most, so I will not list it as a pro or a con, it cancelled itself out.
Finally, I do recommend this keyboard to anyone and everyone if you want a solid mechanical keyboard that is more quiet than your traditional Blue or Red MX Switch keyboard.  But if you do feel the need to have a 3.5mm jack, USB hub or multiple color LED options, you might have to look elsewhere.
Do you agree with my results, if not, please let me know.  I would love to hear your opinions.
We are influencers and brand affiliates.  This post contains affiliate links, most which go to Amazon and are Geo-Affiliate links to nearest Amazon store.
I have spent many years in the PC boutique name space as Product Development Engineer for Alienware and later Dell through Alienware's acquisition and finally Velocity Micro. During these years I spent my time developing new configurations, products and technologies with companies such as AMD, Asus, Intel, Microsoft, NVIDIA and more. The Arts, Gaming, New & Old technologies drive my interests and passion. Now as my day job, I am an IT Manager but doing reviews on my time and my dime.