We are influencers and brand affiliates.  This post contains affiliate links, most which go to Amazon and are Geo-Affiliate links to nearest Amazon store.
If your like me you have been hearing about the new Steam machines and controller for a while. Valve has a great vision to simplify PC Gaming and take it into the living room to compliment your PC environment, compete with consoles and give you the flexibility to access all your Steam games from the living room.  Well as it so happens our friends over at Alienware sent me the new Steam Machine that will be releasing very soon (November 10th). I will be the first to admit that I'm hesitant on the idea of a small form pc connected to my TV. I am very fond of my large PC that I game on daily.   Just the other day I fell asleep on my couch and woke to a door bell. Not expecting anything this soon I was shocked to see the little brown cover with an alien face on it arrived less than 48 hours after they said I would be getting one to review!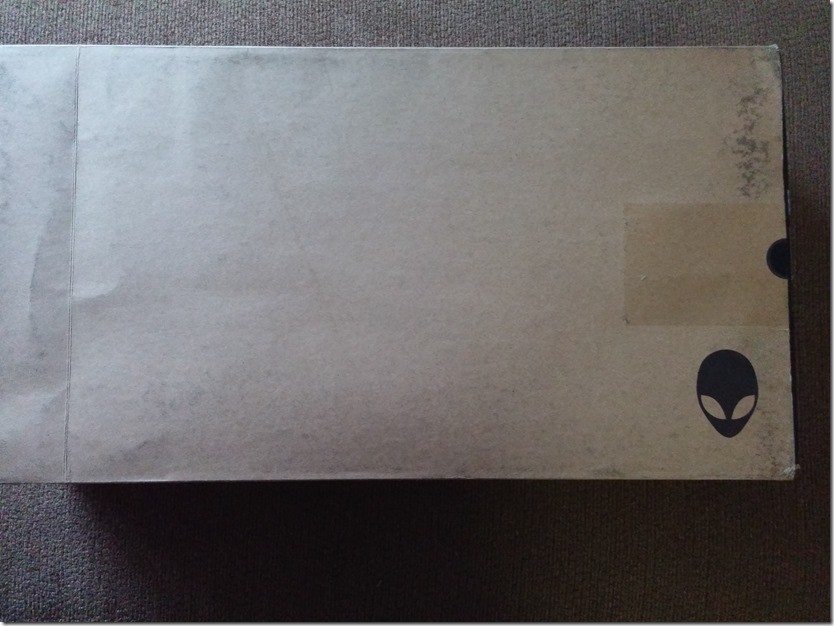 As you can see you cant tell much except for there famous little alien face for there logo. If you don't know that face then aliens may have swiped your memory clean.
Once you peel that first layer back you are shown what is really in the package, the Alienware Steam Machine in all it's glory!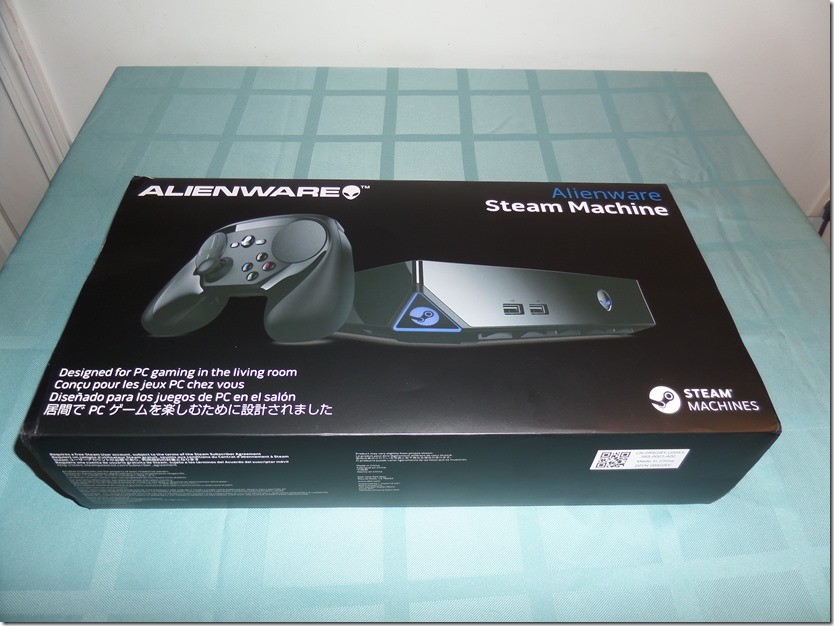 That right it their new machine that is soon to be released in just over a week (November 10th). There are several models starting from $449 and mostly they include CPU upgrades from the starting with an Intel Core i3, Core i5, to the heavy hitter the Quad-Core Intel Core i7 model. As mentioned the base model starts at around $450 dollars and includes the Core-i3 and 4GB of RAM. There top model is around $750, and the model they sent me is the $549 model with the Intel Core-i3 but 8GB of RAM.  The best bang for the buck price however is probably the $649 dollar model.
Video Unboxing the Alienware Steam Machine 
The price ranges are not to bad for what comes included, and as mentioned the model they sent me had the Intel Core-i3 with some upgrades like a 1TB hard drive and 8GB of ram. The Intel Core-i3 is a 4170T (3.2Ghz) processor.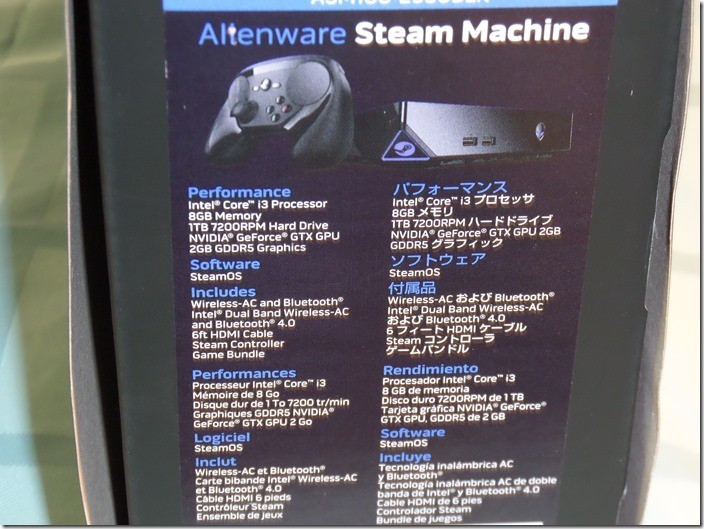 Now, Alienware worked with NVidia on a "Custom GPU" designed for the Steam Machine.  This is why you don't see a model or card number associated with the Nvidia Geforce GTX GPU.  What I have read and am told is that you get an equivalent GPU to the NVidia 860M GPU with this one.  The device has 5 USB ports, 4 are always accessible and you get two USB 2.0 on the front plus two USB 3.0 on the back. There is also on included on the very bottom of the device which has a pre-installed dongle receiver for the Steam controller. Alienware confirmed that bottom USB in a very tight are which is very nice. You can see the dongle in the next picture.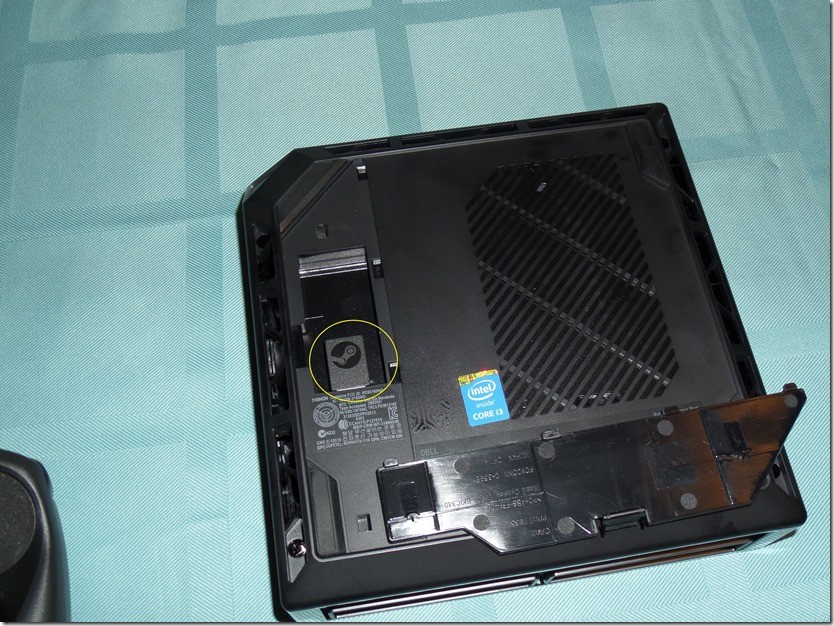 NOTE, the Dongle Receiver supports up to 4 Steam Controllers wirelessly from the same dongle, so you don't have to worry about tying up your other USB ports.  And with this placement it free's up the Front USB ports for other devices, like an Xbox 360 controller, USB Keyboard,  a USB Headset or any other device you want to plug in.  Note:  Xbox One controllers don't work with the Steam Machine, only Xbox 360 controllers.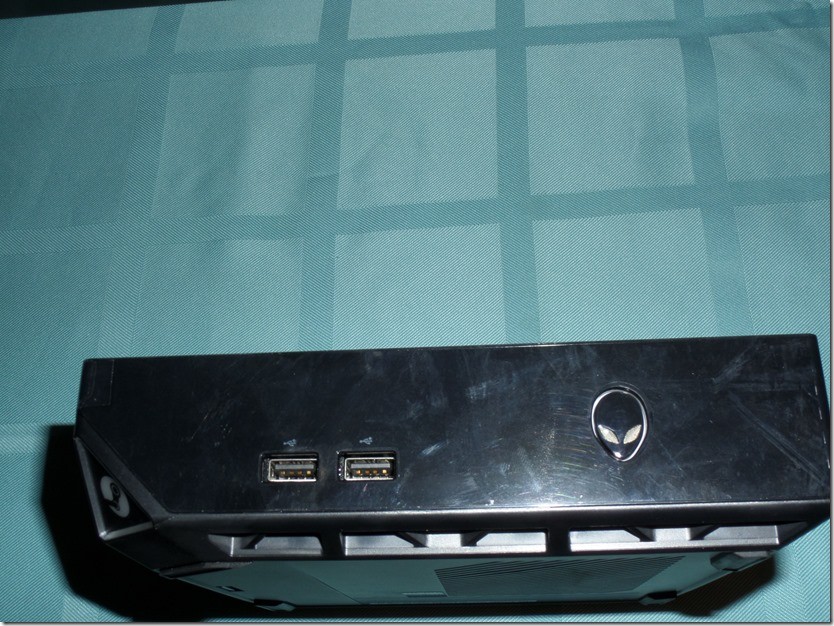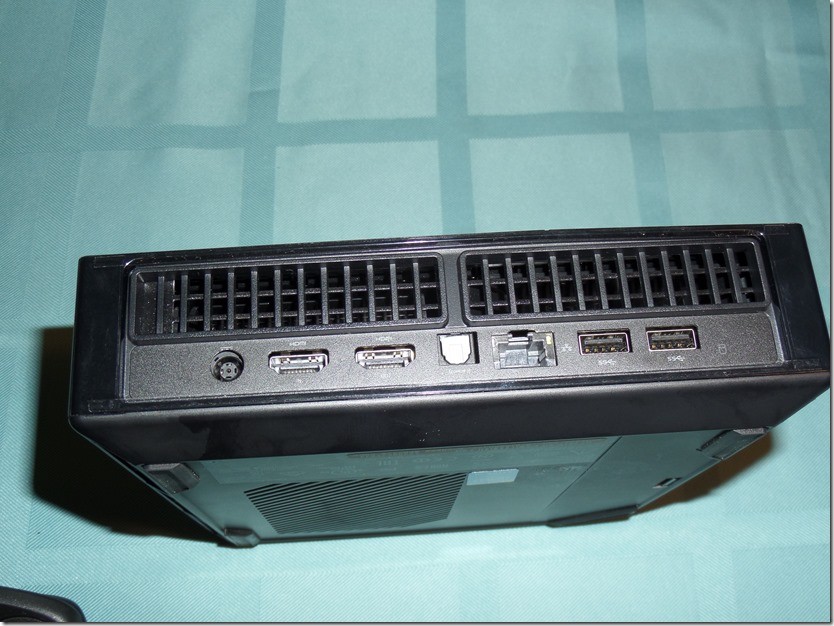 In the first picture above you can see the front two USB ports. In the bottom picture you can see the two USB 3.0 ports. You can also see the Ethernet port, Digital Audio port, Two HDMI ports (IN and OUT), and the power plug port. They give you the option of having one HDMI port coming in and one HDMI port going out to like a blu-ray player or some other device like a game capture card which you will need if you want to record or stream video game footage. 
Now with the Alienware Steam machine know it is using Valve's SteamOS operating system. The operating system seems fast and easy to use and is extremely responsive. As you can see in the next video that I will post, just remember Alienware makes the hardware, but the SteamOS is made by Valve.
Watch my SteamOS Operating System Walkthrough Here! 
As seen in the above video you can set the front panel to any color you would like. It is a very nice touch and you can also adjust the brightness. You can also set your screen to Bubbles or TrailerTV.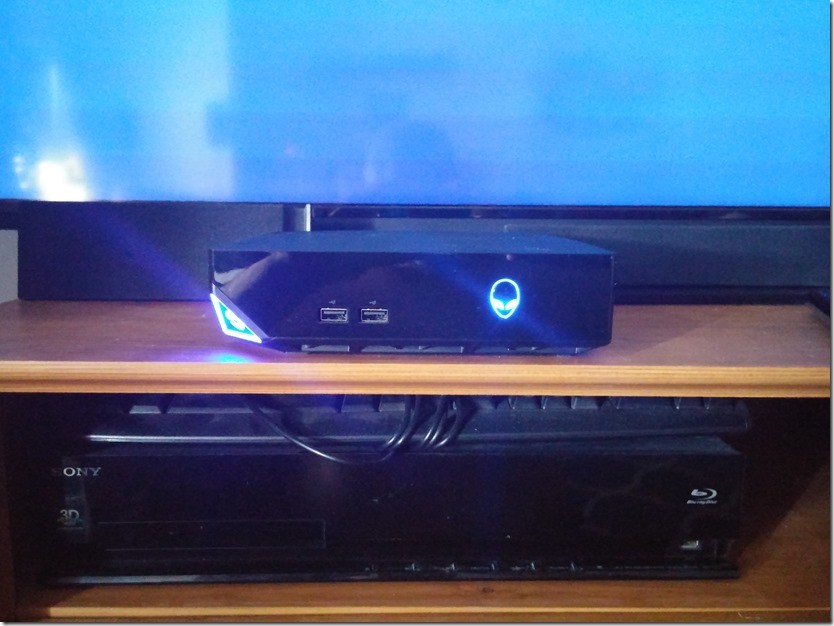 In the above picture you can see I set the color to blue for now. It  will be changed many times as my mode changes. I like the option of that. You can also see the Alienware face on the front. On the side is the steam logo in a triangle.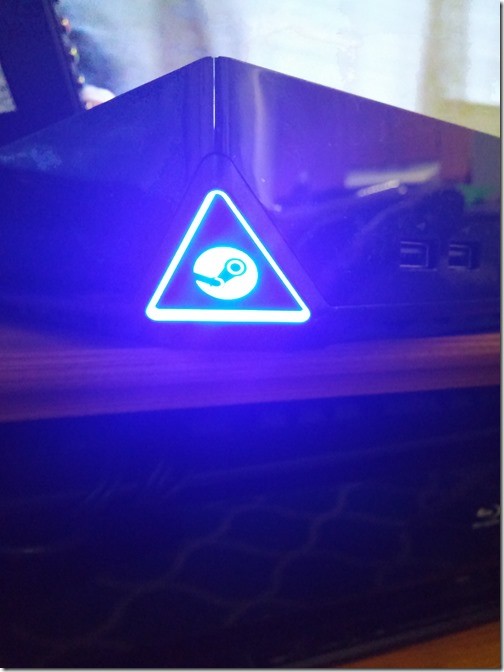 The steam logo looks real nice light up. Now one other thing that lights up that shocked me is the power cord. It has bright blue ring around it. You can see that in the next picture.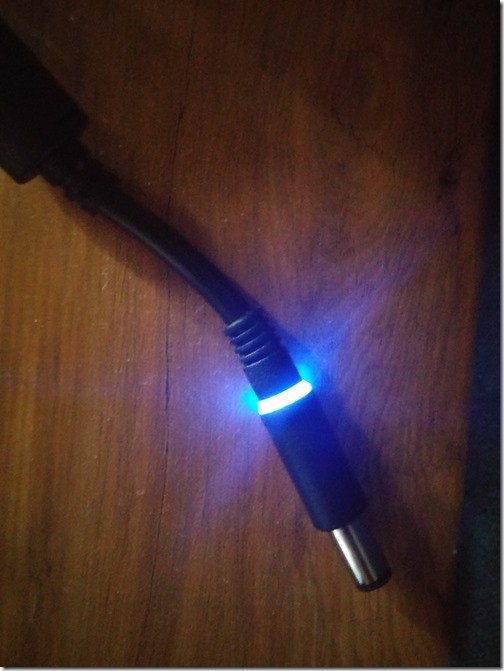 It the simple things from first glance that make me a happy man, and this is a great way of confirming your cord is plugged in. 
One thing I will gladly point out is the size of  the Alienware Steam Machine. I did a little comparison to the PS4. I also weighed both. You can see in the next  picture the difference in size.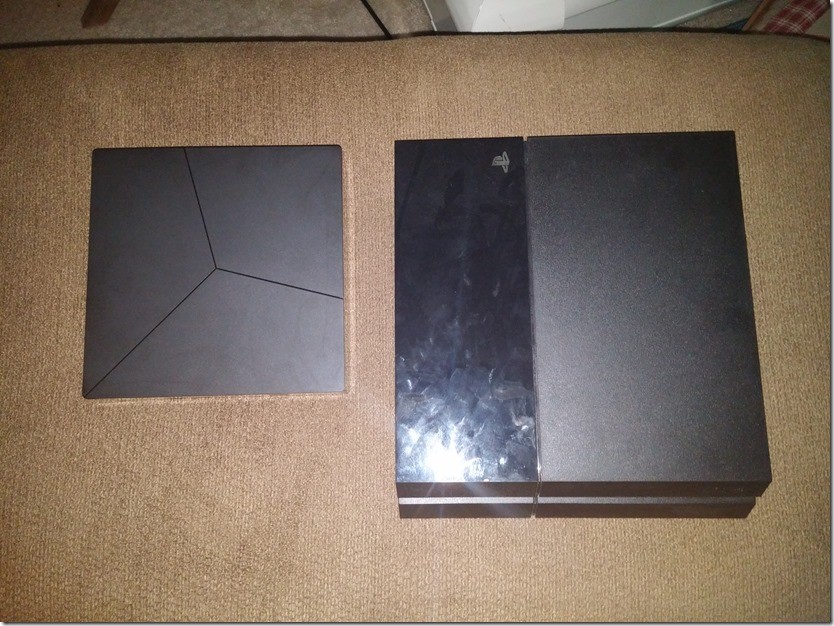 The Alienware comes in at 8 inches by 8 in by 2 inches thick. The PS4 comes in around 12in by 11in by 2in thick. By that comparison Alienware  is saving you some Desk or TV stand space for sure!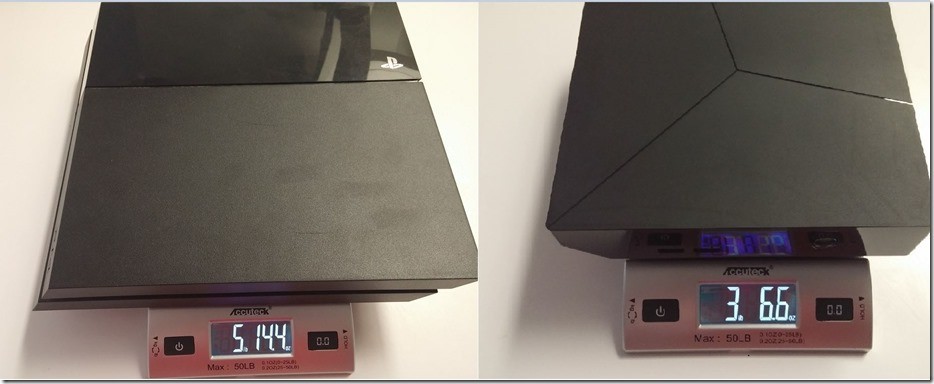 From the above picture you can see the Alienware Steam Machine comes in at 3.6 Pounds. The PS4 comes in at 5.1 pounds nearly a pound and half heavier. So their not just saving you space but it is even lighter than the the PS4 by comparison which is quite the feat considering it packs more powerful specs.
The controller for the Alienware Steam Machine as with any SteamOS box is of course the Steam Controller designed by Valve. It's nothing what most gamer's are use to. It has dual track pads on it. They did however add a analog stick on the left side. The also added four buttons that most have come to know that is X,B,Y,and A. Now those buttons are placed where most controllers have the second analog stick.  However they added one of the track pads above the four buttons and to the right. You will need to retrain your brain to remember this. They also have six paddles on the backside. The Steam Controller's power button is in the middle with two arrow buttons. They also made it a nice sleek black color. The design is definitely different then most are used to that is for sure.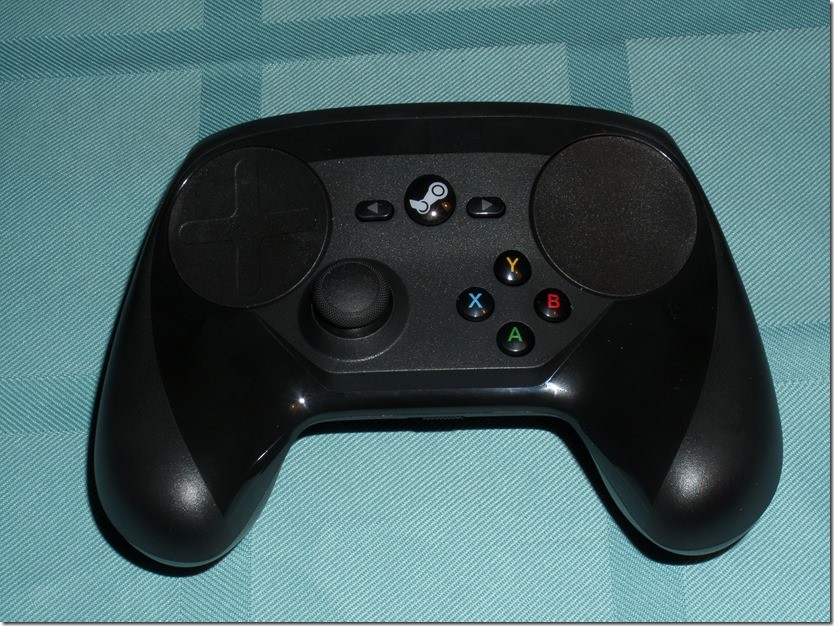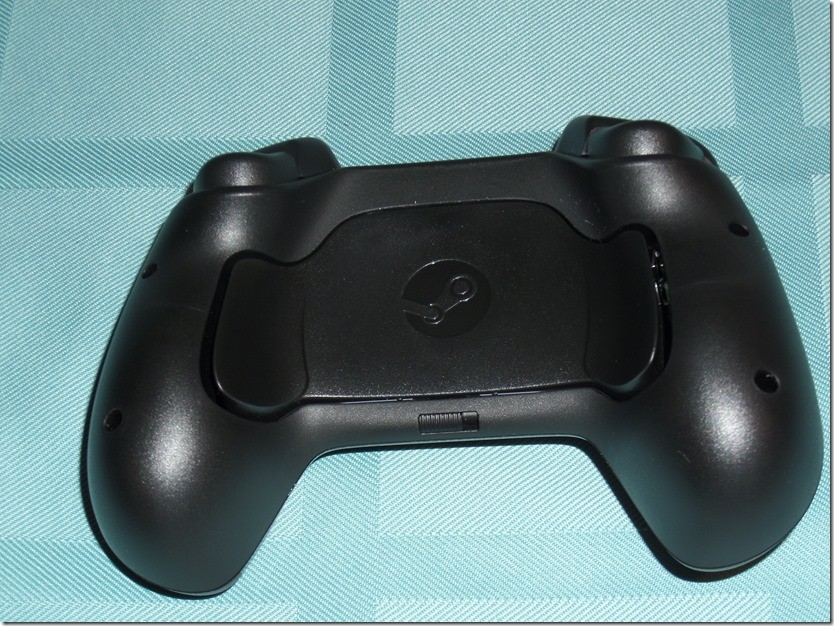 The one thing that threw me of was when I opened the box I had seen two AA batteries. Not a bad thing since you can use the Steam Controller wired or wireless. The batteries included will last up to 80 hours they claim, and if you get rechargeable batteries you can always have 1 set charging while the other set is in use. The battery life will be different for each brand of battery out there as well. You can see in the picture above there a little button on the bottom of the controller that opens the controller for placement of the batteries. I will post a picture of the Steam Controller open for you.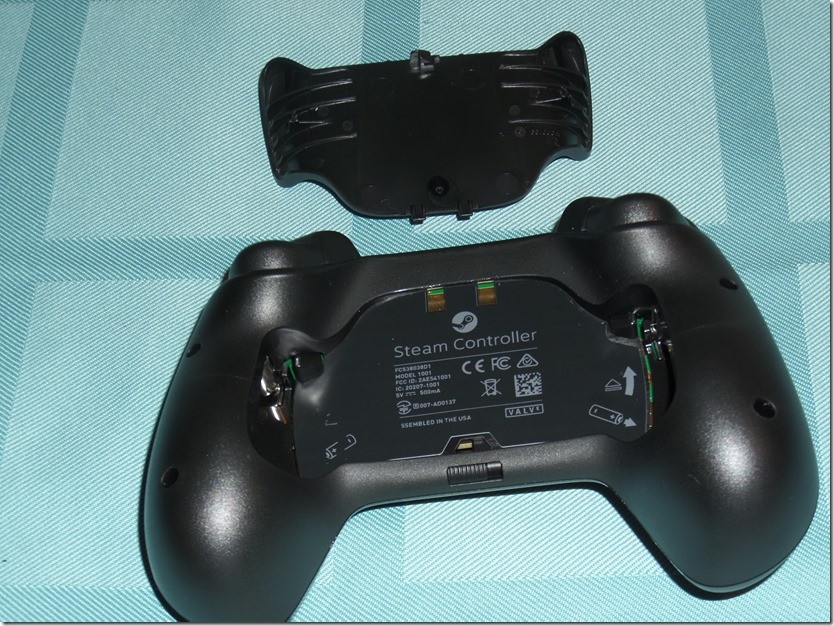 As you can see one battery goes in each side of the controller. This cover is also two paddles. Now with the Alienware Steam Machine you can use an Xbox 360 controller. They say you can use almost any USB compatible device that has Linux drivers, SteamOS is based Debian so any drivers for Debian 7 should also work on SteamOS. I have yet to try any other controller but will throw that in the next and final review for you guys. I will test my PS4 (via USB) and Xbox controllers along side some PC keyboards and mice.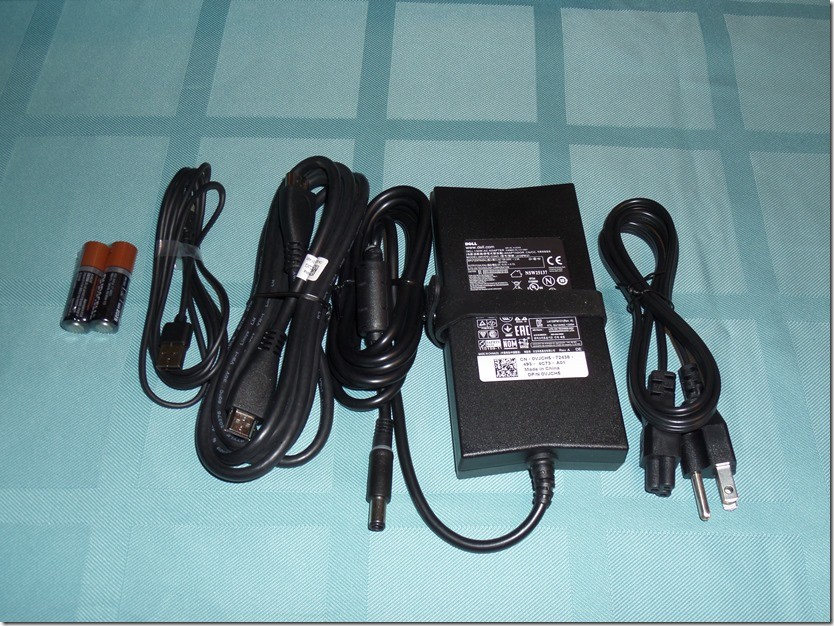 They include one set of batteries and a USB cord in the box. As you can see in the picture above.
Some other pieces that are added in with the SteamOS is Web Search. They also included YouTube, Reddit, Facebook, and Google search. You also get Steam Store of course, that is the primary app store for the Steam Machine. The Steam store is where you can download or buy any game that your heart desires compatible with SteamOS, now they have over 1500+ titles available for SteamOS and more being made available every month. But if you have PC Steam games that aren't available for SteamOS don't worry, The Alienware Steam Machine also lets you stream games you have on your PC to this device and you can also see your friends list and chat with your friends just like you where on your PC.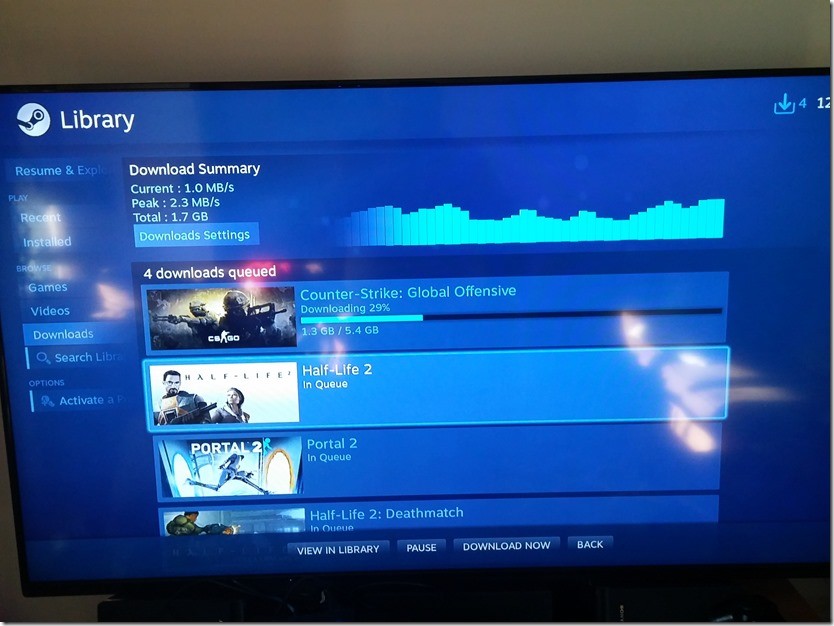 Now you also have a few options for the the Internet connection as well in that you can go wireless or with Ethernet cord.
Note:  The different Alienware Steam Machines have different Wi-Fi capabilities, it is highly recommended you get the Dual Band Wireless AC models $649 or $749 which will give you great wireless stability and speed.  Or of course Ethernet is an option, but even the base model and $549 model support Wireless AC they just have 1 antenna.
Alienware also makes their Steam Machines upgradeable, they allow you to upgrade the CPU, Memory and Hard Drive. Meaning you can put in an SSD, larger capacity drive, and if you buy the lower end model you can drop in a higher powered CPU and more RAM later on if you don't have the extra cash for a higher end model up front.  The only thing that doesn't appear to be replaceable is the GPU which is fixed as the same GPU for all 4 models listed.
Final First Thoughts of the Alienware Steam Machine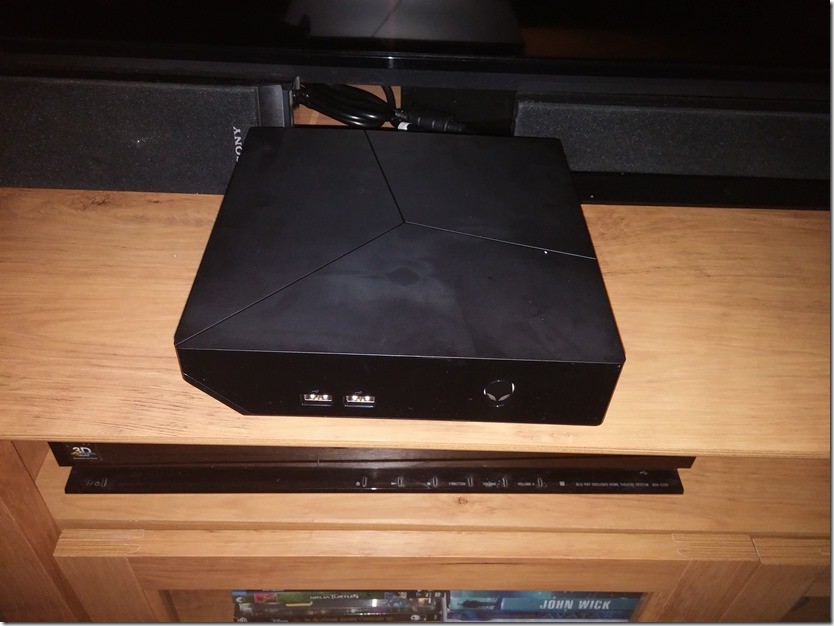 Even though I'm still hesitant to leave my PC the Alienware Steam Machine has my attention for sure. With the sleek design and small form this will for sure take over the area that my PS3 sits in. So my kid may have just scored a new device to play with. I think they have made some nice advancements in both size and weight while offering a nice power packed performance.
Note:  The Steam Machine promises smooth 1080p and higher frame rate than Xbox One or PlayStation 4.  I nice feature is to stream your games from your steam on your computer, can save you hard disk space on your Steam Machine too.  I also so far love the next gen controller and will be covering that more as well. With the invention of track pads and buttons that give you  the chance to model and customize it to your own liking you can play games with this controller than normally you can't play with a controller.  In our meeting with Alienware they also talked about "controller profiles" unique to each game and how you can download popular button layout profiles that are best mapped with games, letting the community find the most optimal controller layout and saving you time from having to experiment setting each button manually.
When all said and done Alienware really has my attention with the Alienware Steam Machine and controller. For the prices around $450 to $750 dollars for the Steam machine I see some big sales this Christmas.  I should also point out that you get $200 in games and DLC with the purchase of a Steam machine, so the $449 model ends up being like $650 value worth of stuff!
The Steam Machine from Alienware is designed for console gamers who want to migrate close to PC gaming experience while keeping the familiar console in the living room.  It also is for PC gamers who want to take a sizeable inventory of their games to the living room.  Now, one thing that all console's boast is the old school Game Party, instead of a LAN party where you have to bring your rigs with you, the console lets everyone just have a controller and all play from the same machine in local Co-Op, this is a great way to get social with your gaming in person, and the Steam Machine is far less expensive than buying 2 even budget PC's that can game for the same house.  It is actually a better ROI than virtually any budget Gaming PC that we priced out from all the major brands.
The only limitations we see so far in the SteamOS (not a fault with Alienware as they make excellent hardware) is that there is no native Live Streaming Apps for gaming, so no Twitch or YouTube Gaming integration which it's competing consoles have.  This is where a video capture card that can stream comes into play however.  Also for pure PC Gaming enthusiasts the Steam library itself doesn't contain many great titles, like you won't see Battlefield 4, Star Wars: Battlefront, Blizzard's Overwatch….etc come to the Steam ecosystem at all.  You will see Call of Duty Black Ops 3, but the lack of being able to use other game services like Origin, EA, Battle.net are going turn off hardcore PC gamers on Windows who have that flexibility.
More video and reviews coming, stay tuned as this is only the initial impressions and first look not the full and final review.
Also join Alienware Arena to get more videos, information and join the Alienware Steam Machine community!


Disclaimer: Alienware sent us their Alienware Steam Machine ($549 model) to give a honest opinion of the device and functions. All opinion's are mine and mine alone.
We are influencers and brand affiliates.  This post contains affiliate links, most which go to Amazon and are Geo-Affiliate links to nearest Amazon store.
Hi everyone I'm James Braga. I was born in Oregon and moved to New Hampshire a few years back. I love most things that have to do with video games and electronics, It doesn't matter if it for a car or a house, if it has electricity in it i will love it . I'm also in school for Information Systems Technology.