Hey guys, today's review might help a lot of you out.  Whether you are struggling trying to repair your video card because the fans are dead, don't cool well enough or want to overclock a ton because you can't afford a new card or the stock cooling solution is not good enough but don't want to use liquid cooling.  This has so many things right with, though like with everything else, there are some negatives, check it out and tell me what you think.
First off, let's check out some of the specs
Specifications:
Cools up to 135 Watts Passively
Cools up to 200 Watts with the Turbo Module
Heatpipes: 0.6mm x 4
Aluminum Fins: x 32 at a 0.4mm thickness
Noise Level: 0 Sone (if not using the Turbo Module, with Turbo only 0.25 Sone at full speed which is 1,000RPM)
Dimensions of GPU Heatsink: 230mm Lenth, 135mm width, 42mm depth
Dimensions of GPU Backplate: 218mm Length, 98mm width, 23mm depth
GPU Compatibility Matrix:
AMD Radeon Compatibility without Turbo Module: 250X, 240, 260, 8740, 7750, 7730, 6750, 6670, 6670LP, 6570, 5750, 5670, 5550, 5550 OEM, 4770, 4730, 4670, 4650, 4550, 4350, 4350 LP, 3850, 3690, 3650, 3470, 3450
AMD Radeon Compatibility without Turbo Module and a properly ventilated Case: 260X, 8760, 7850, 7790, 7770, 7770GHz, 6850, 6770, 5770, 4850, 4830, 3870. Though I will say it is difficult to gauge what their definition of a properly ventilated so, with that, if it is listed here, I would go with the S1 Turbo Module
AMD Radeon Compatibility with Turbo Module: R9 280, 270, 290X, R7 265, HD8950, 8870, 7870, 7870XT, 7870GHz, 6950, 6870, 6790, 5850, 5830, 5890, 4790, 4870
NVIDIA Geforce Compatibility without Turbo Module

: GTX 960, 650, GT640, 630, 440, 340, 330, 320, 220
NVIDIA Geforce Compatibility without Turbo Module and a properly ventilated Case

: GTX 650 TI, GTX 550 TI, GTS450, 240, 240OEM. Though I will say it is difficult to gauge what their definition of a properly ventilated so, with that, if it is listed here, I would go with the S1 Turbo Module
NVIDIA Geforce Compatibility without Turbo Module

: GTX 760, GTX 680, GTX 670, GTX 660 TI, GTX 650 TI boost, GTX 560, GTX 560 TI, GTX 560 SE, GTX 465, GTX 460, GTX 460 SE, GTS 250
Yup, tons of cards supported with this version, so of course there will be lots included in the package, lets check out the unboxing.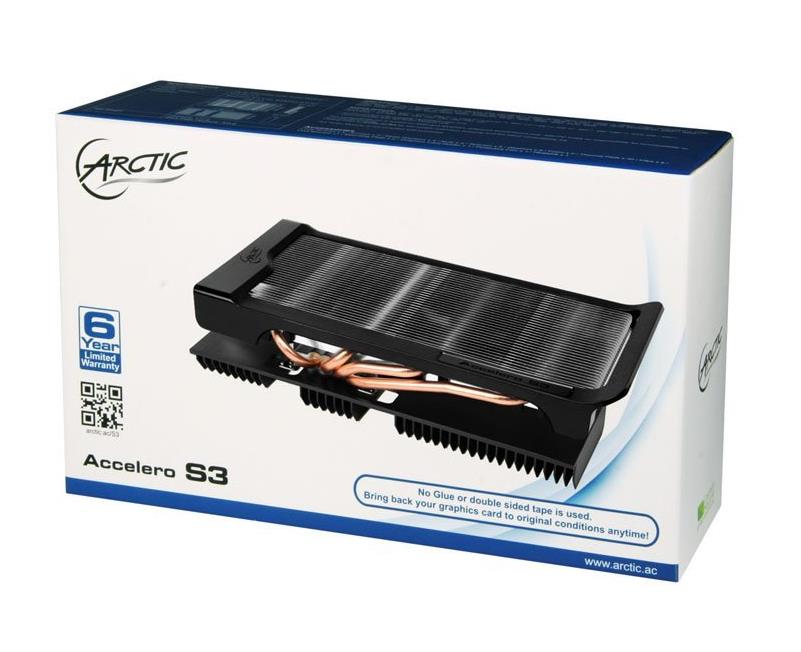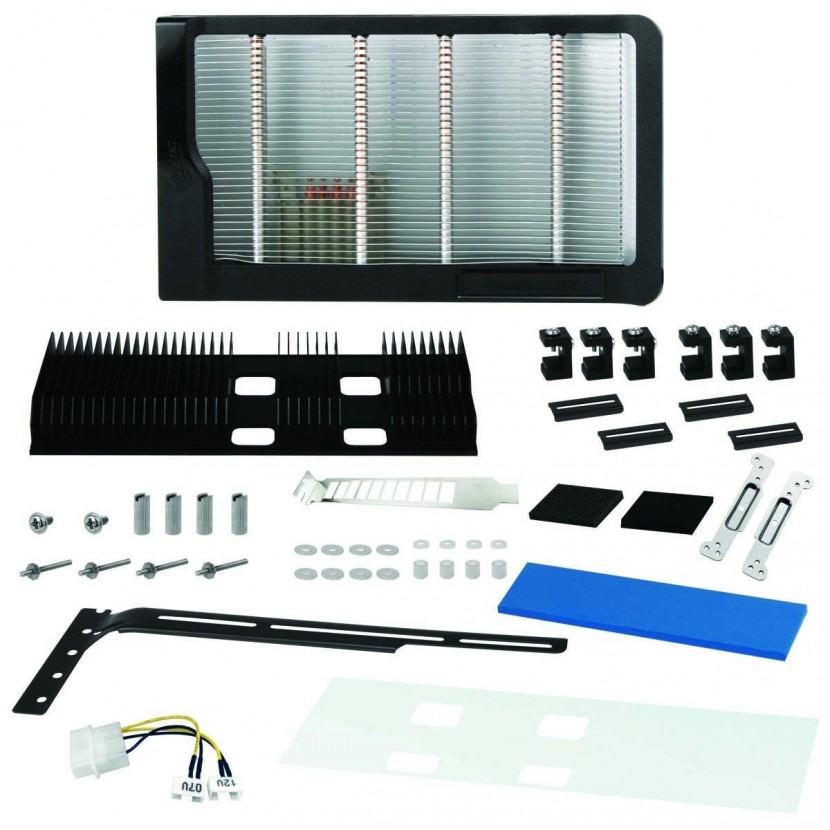 It brings a ton of stuff, and they all look like quality parts, but how do they stack up?  Well, here are a few tests I have put together to give you some idea.
First off, so that you know what we are working with, the tests will be run with an EVGA GTX660TI.  This is from the very first run of cards, this is reference NVIDIA cooling, so you cannot expect much, and yeah, it's pretty old but the perfect subject.
Here are my system specs, add to that the EVGA GTX 660TI of course.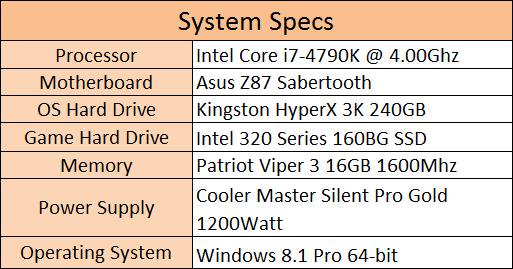 And here are the GPU-Z read outs.  I am using the 347.88 Driver package from NVIDIA.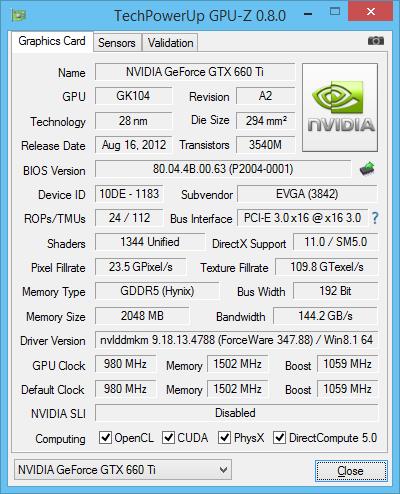 The list of games I will be benchmarking is Metro Last Light, Tomb Raider and Thief and the Synthetic test I will be running is Futuremark's 3DMark.
First off is 3DMark, this is one of the staples of benchmarking for many years.


And for such an old card, it comes in 57% better than all of the results, so it can still hold its own pretty decently.  This benchmark maxed out at 276 Watts and came in at an average of 170 Watts.  It peaked at 87°C.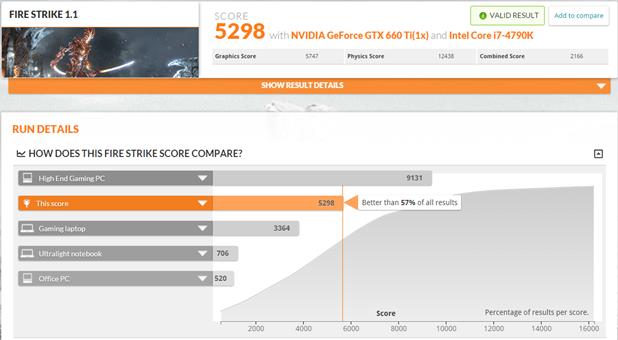 Next on my series of test is Metro Last Light.  One of the most taxing games I have the pleasure of testing, please let me know if you know of another and I will see if I can add it to this list.  This game is not only taxing on stock cards, but amazingly taxing on overclocks.
I have 3 Presets that are all the same, the only difference is in the Resolution, so here you can see my presets, also notice that each preset is set to run 3 times.  Let's start the race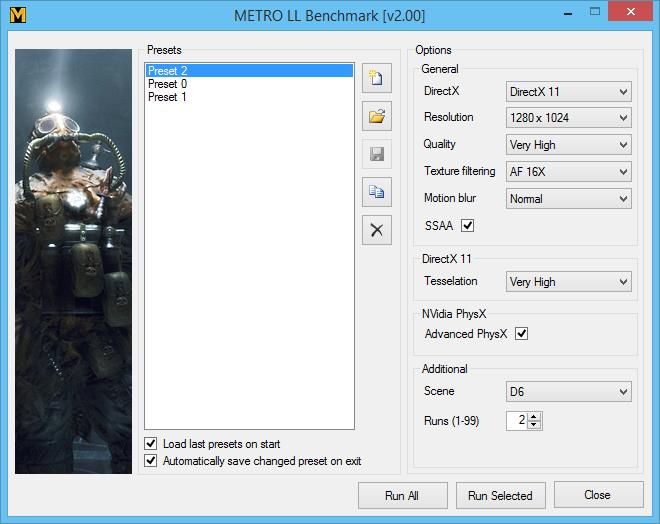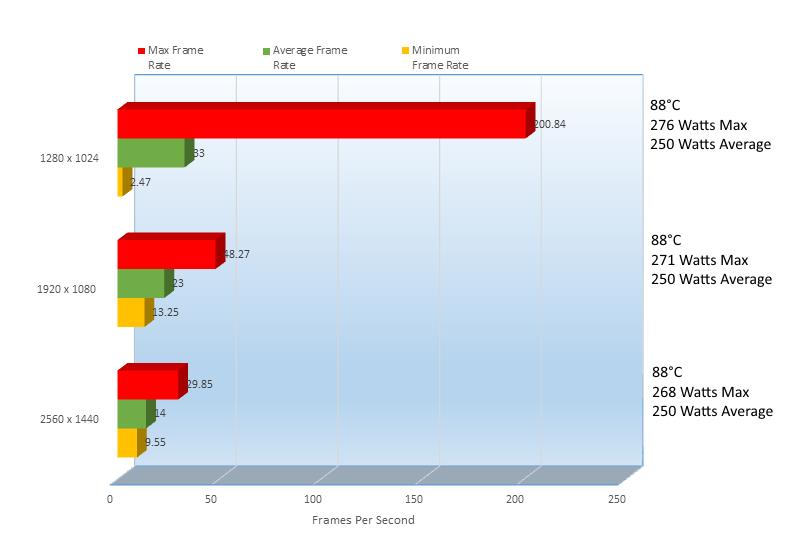 The cards struggles a bit in this game, but I do have the settings maxed out but this is only to bring up the temperature and wattage to give you an example.  Odd how the card maxed out at 200.84 frames per second at 1280 x 1024, but these are spurts and are not to be taken for performance.  Performance should be measured at the average FPS.  This card does pretty well even at the 2560 x 1440 resolution with some of the eye candy like AF, Quality and Tessellation turned down tons.
Leaving max framerates out of the equation, there was a 35.71% difference between 1280 x 1024 and 1920 x 1080 and a 48.65% difference between 1920 x 1080 and 2560 x 1440.  There is about 10 frames difference between each, still not very playable though.
For Thief, I pretty much followed the same settings as Metro and like before, only changing only the resolutions.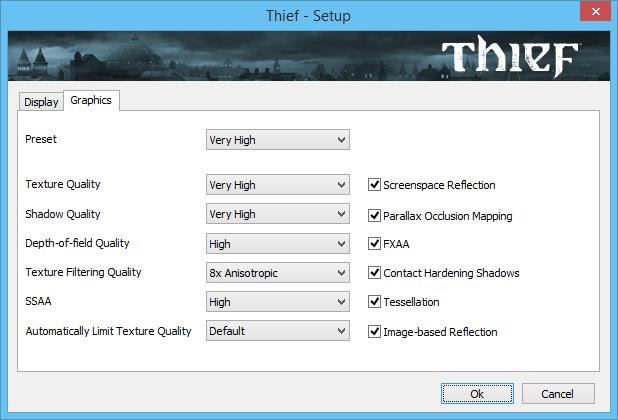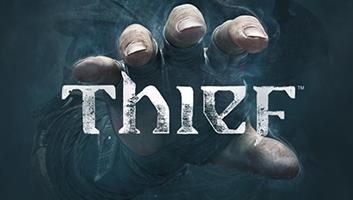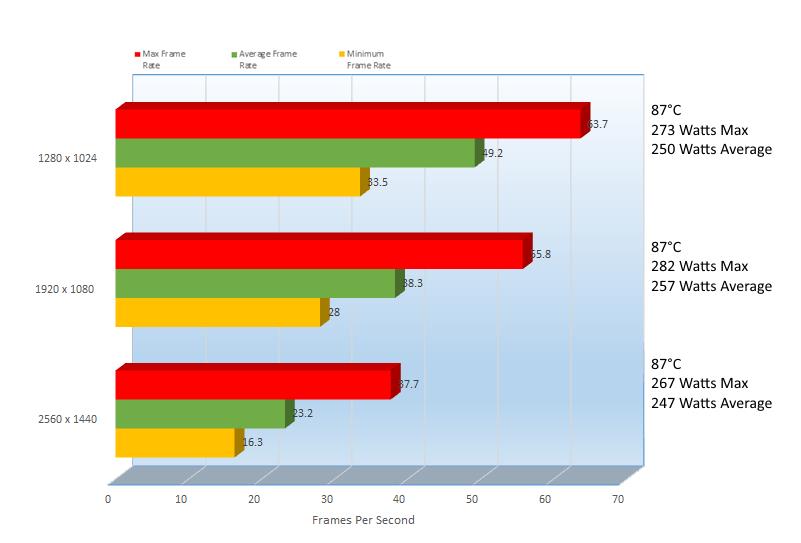 With these settings, even maxed out, the game was much more playable though the temps still a bit high.  The margin is a little closer between 1280 x 1024 and 1920 x 1080 at a difference of 24.94% and 50.56% difference 1920 x 1080 and 2560 x 1440.
Last but not least on the benchmarks is Tomb Raider.  Like Metro and Thief, it has a built in benchmark and with that I benched with the same settings, again only changing the resolutions.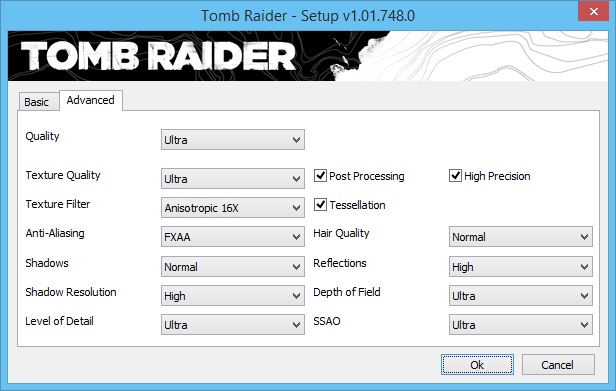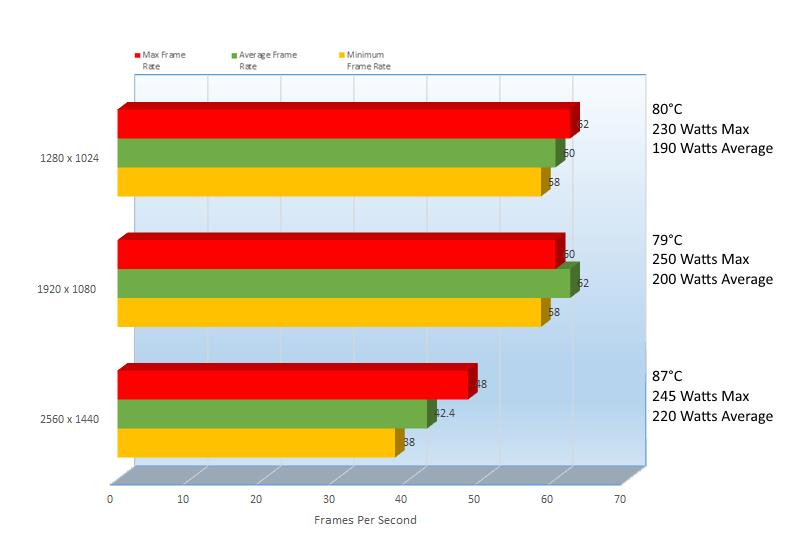 There was almost no difference between 1280 x 1024 and 1920 x 1080, anyone playing either of those 2 settings would have been happy.  Even still at 2560 x 1440, the settings still playable at an average of 42.4 frames per second, a 37.55% decrease from 1920 x 1080 coming in at 62 FPS.
OK, so that's pretty much it for the standard card, now lets pump it up just a bit.  I did not want to get too crazy since the card is already 3 years old, released in 2012 and the fan has never been replaced.  This is the cooling solution this card comes with.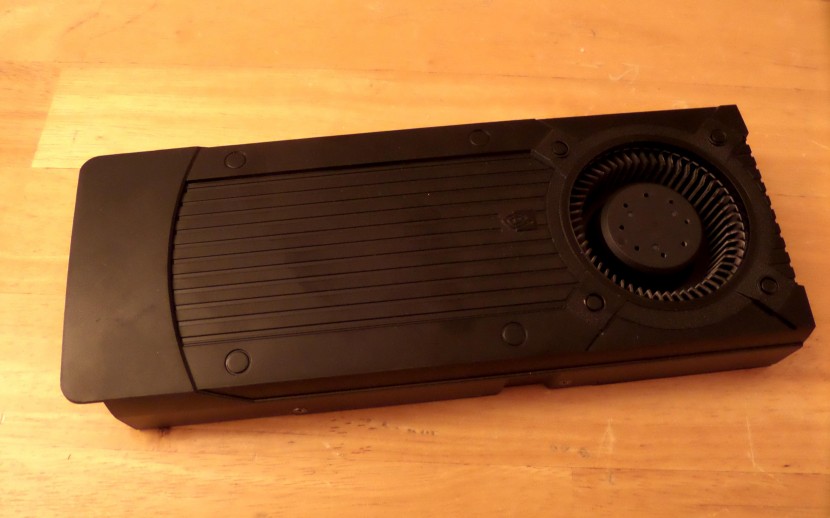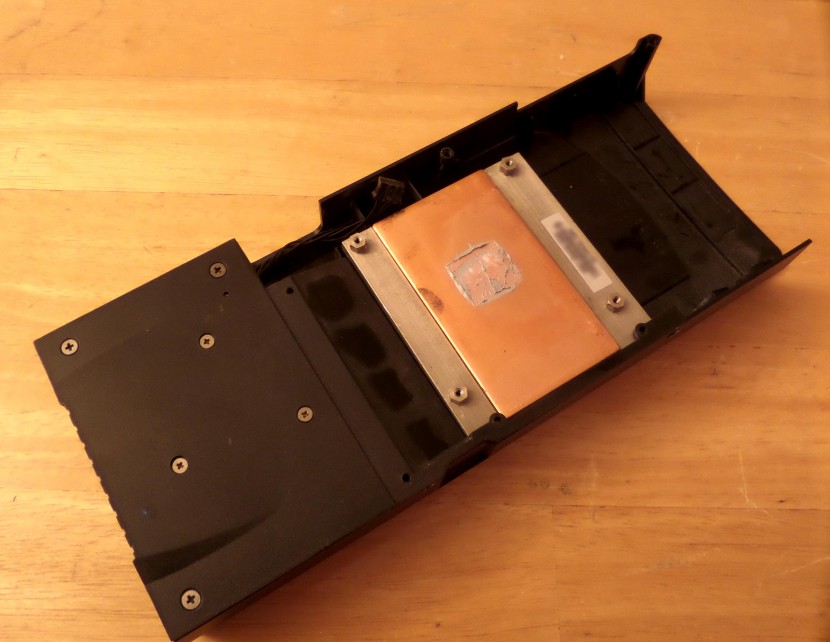 Base reference card is what NVIDIA puts out; it's up to the board partners to come up with their own cooling solution if the feel like it is not adequate.  So yeah, not much of a heatsink and that little tiny fan generated some noise.  At the stock speeds, it screamed loudly with this fan, but I overclocked it some and the noise didn't stop there.
On to the overclocking.
I overclocked the card using EVGA's Precision X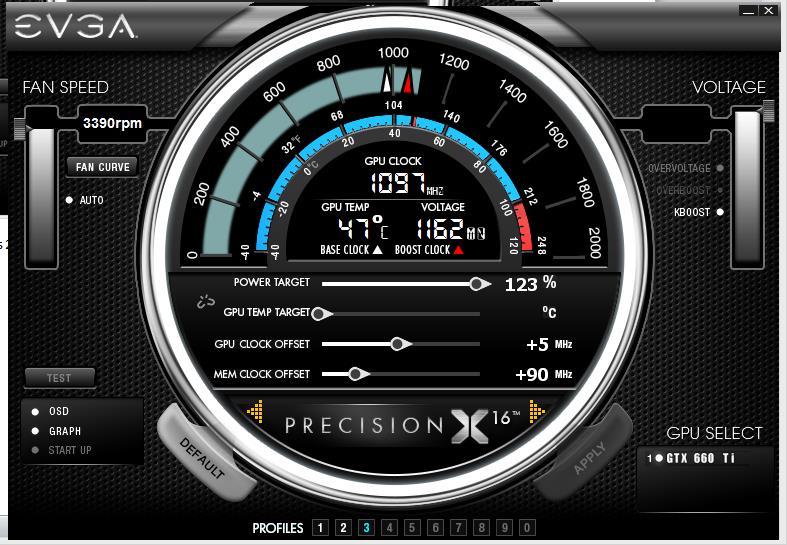 Again nothing crazy, but here are my speeds now on GPU-Z.
With that, I had to improve the Fan speed, here comes the noise.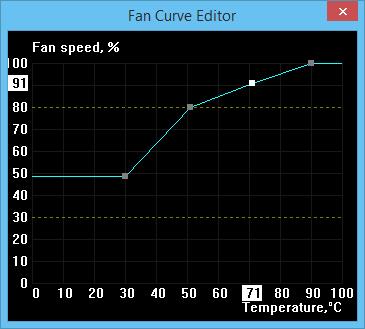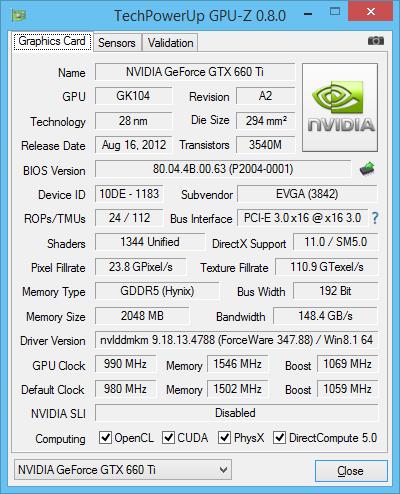 I went from 980MHz and a Boost of 1059MHz on the GPU to 990MHz with a Boost of 1069MHz.  For memory, I went from 1502MHz to 1546MHz.
If I would have spent more time on it, I know I could have gone much higher but with this heatsink and cooling solution, there was not a ton of room. So on with the testing.


Well, with the overclock, it still comes in at 57% better than all of the results.  A run of 3DMark maxed out at 296 Watts and peaked at 86°C, though the score did improve a tiny bit.  There was a 4.86% improvement from the stock speed and the overclock.  The Graphics score went up 6.57% and 4.38% respectively though the Physics score went down 0.61%.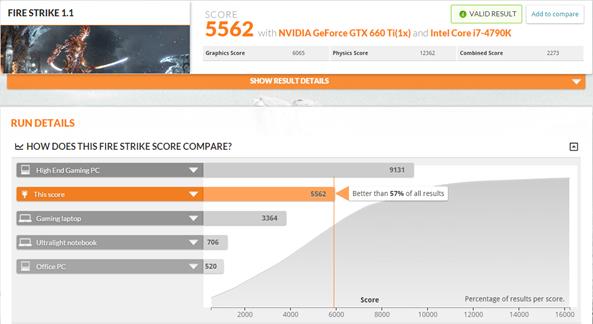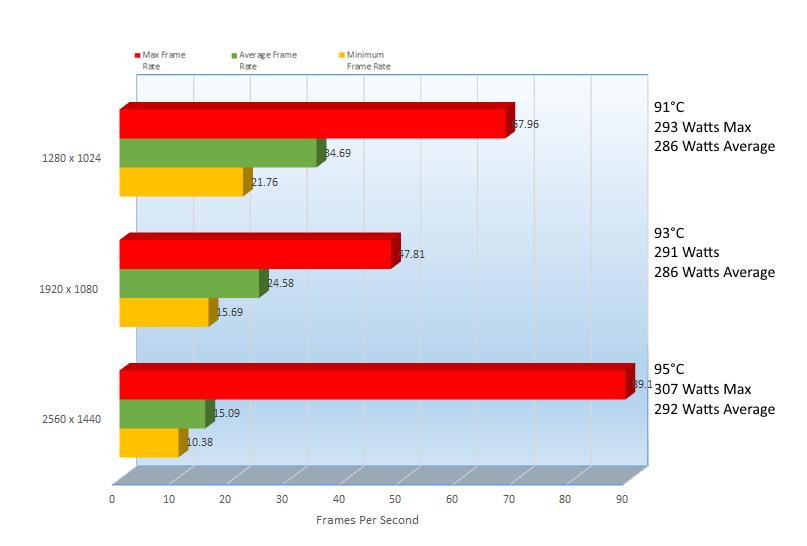 So at 1280 x 1024, the average improved by 4.99%, at 1920 x 1080 and improvement of 6.64% and finally at 2560 x 1440 came in the best improvement of 12.71%.  The problem is the temperature peaked by as much as much as 7.65% and wattage skyrocketed to 11.72%.  Well, let's jump to the next test and see if anything improves.  This GPU is rated to have a max temp of 97°C, it looks like it almost hit it too.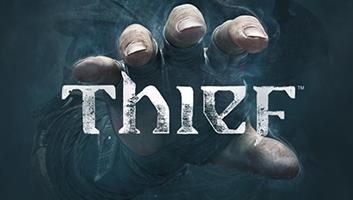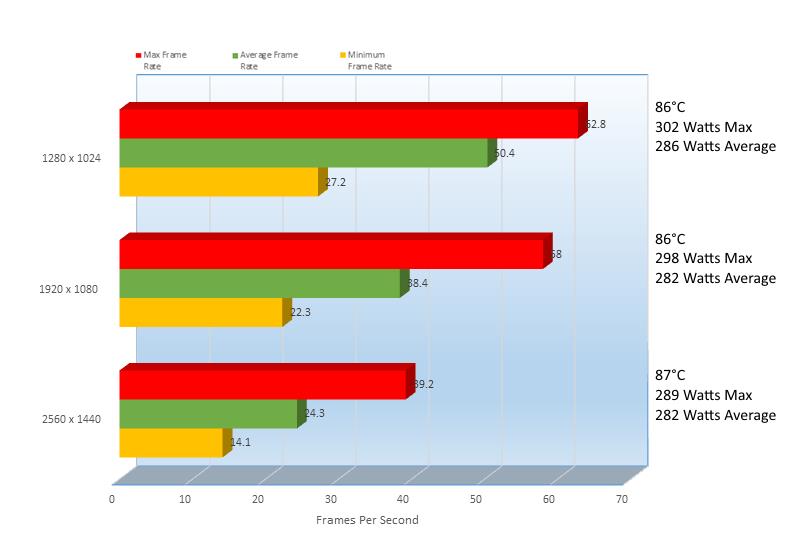 On this test, the temperature stayed around the same, only maybe a 1 degree difference, but the wattage jump up and the scores went up too thankfully.  At 1280 x 1024 the score jumped a measly 2.41%, 1920 x 1080 a micro 0.26% increase and at 2560 x 1440 a hefty 4.63% increase.  In most cases that would be a small increase, but as minuscule as these increases have been, that was the largest increase, well aside from power.  Both Max and Average wattage jumped up bit to 7.91% on 2560 x 1440, 5.52% at 1920 x 1080 and 10.09% at 1280 x 1024.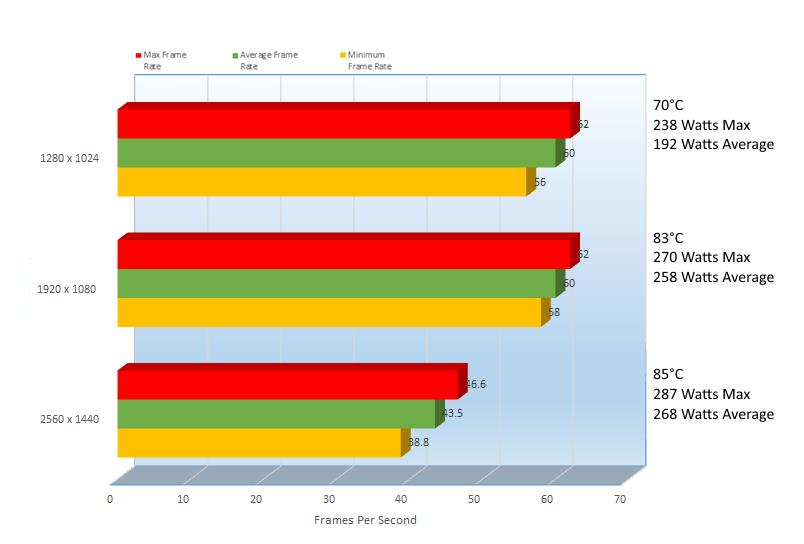 This was an odd one, 1280 x 1024 saw no improvement in the average FPS, and the temperature dropped by 10 degrees, though it went up 8 Watts.  1920 x 1080 saw a 3.28% dropped in FPS while the temps went up 4 degrees and wattage up by 7.70% increase. 2560 x 1440 saw a 2.56% improvement in FPS though 15.79% increase in wattage.  Tomb Raiders performance here was a big letdown, though all for the frame rates were still very playable.
Now comes the reason we are here, the unveiling of the Arctic Accelero S3.  Well, you already have the unveiling, now it's just the tearing apart of the GTX660TI's stock cooling solution, putting the Accelero S3 together, then popping her into the PC.
For this project, we will need a precision Philips head screw driver, some paper towel and some rubbing alcohol.
In this video, I tear apart the GTX660TI and get a bit of ahead of myself.  A little later in the video we need a standard flat head screw driver, a sharpie, X-Acto knife or a pair of scissors and lots and lots of patience.

Yup, made a few mistakes but going well so far.
So in this video, I basically had to redo all of the work I did.  Since I have a GTX660TI, it requires the S1 Turbo Module, and it has to feed through the heatsink, which means the card is in the way.  You can get 2 Turbo modules if you like.
Ok, I survived, but man I was frustrated.  In this video I show you how to install the card in the case and what that retention bracket is for.
Yup, it takes up 5 slots, 1 above the card for the huge heatsink and 4 from the top of the card down, but you can see it in this picture too.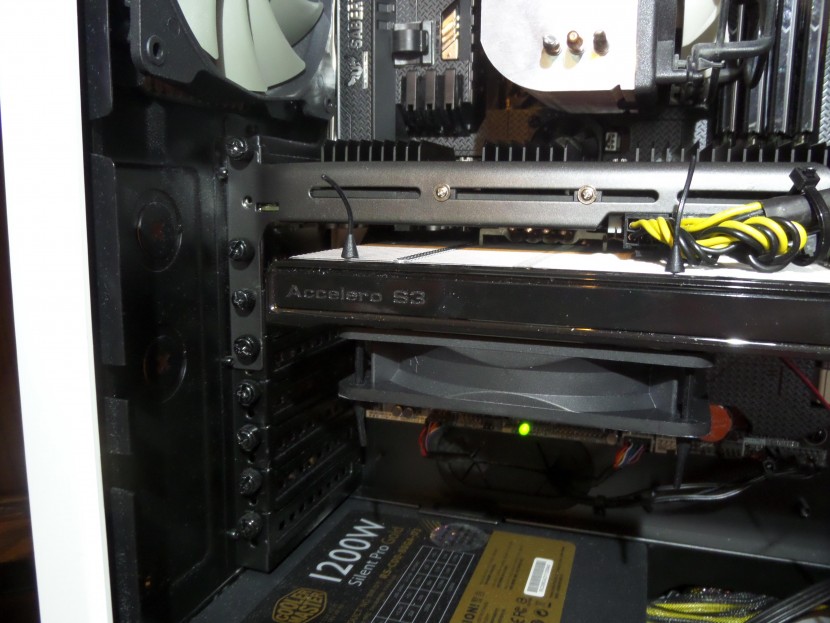 Here you can see how the retention bracket screws into the card with these little guys (insert picture of the retention mechanism).  The fan leaves a little space so that you can have a card right under it.  My case, the Corsair 780T has 9 PCI slot bays, so it leaves you with 4 more slots with this card in it.
So now let's get to the benchmarks with the Arctic Accelero S3.  I will list side by side comparisons so that you can see the results without having to scroll all around the review.  The first set of benches will be the stock GTX660TI with its stock cooling solution compared to the GTX660TI with the Arctic Accelero S3.
This set of benchmarks shows you the cooling improvements the Arctic Accelero S3 provides.  The ones that will benefit from this set of benchmarks are people that have dead fans on their cards, people who own cards that their stock GPU coolers don't cool so well or those of you that have really loud GPU fans.
I mentioned it before but the noise level of the cooler alone is 0 (Zero) sone or dead quiet, no noise and with the Turbo module only 0.25 sone, even at full speed which is 1,000RPM's.  No way you will hear this over the sound of your current fans, probably even more quiet than liquid cooling pumps if you have them.

Amazing what 24°C can do to improve a score.  Both were at stock speeds and the only difference was the GPU cooler.  With that, the total score improved 2.31%, Graphics score went up 3.54% but again the Physics suffered a bit at 0.23%, though both were still 57% better than all other results.

Back to the GPU slayer that is Metro Last Light.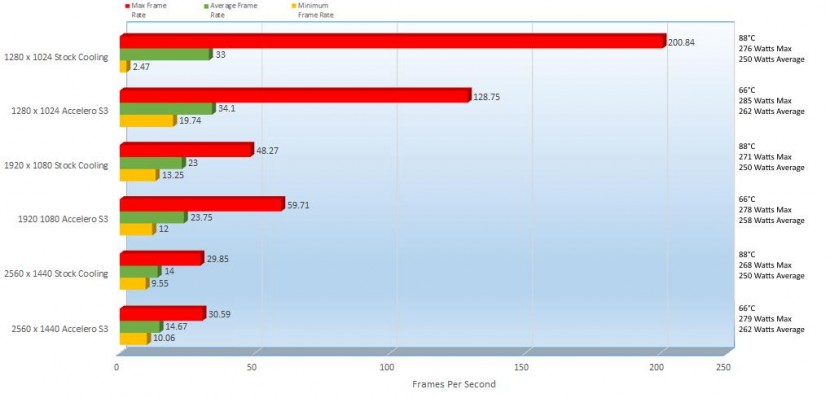 We can see that all of the results were better on the Accelero S3 configuration, though they averages did not go up by much.  The minimum frame rate jumped up 155.52% but minimum but that rating has little worth.  The great thing we can see is that the temperature went down across the board by 22°C, that is again awesome.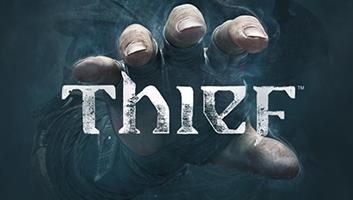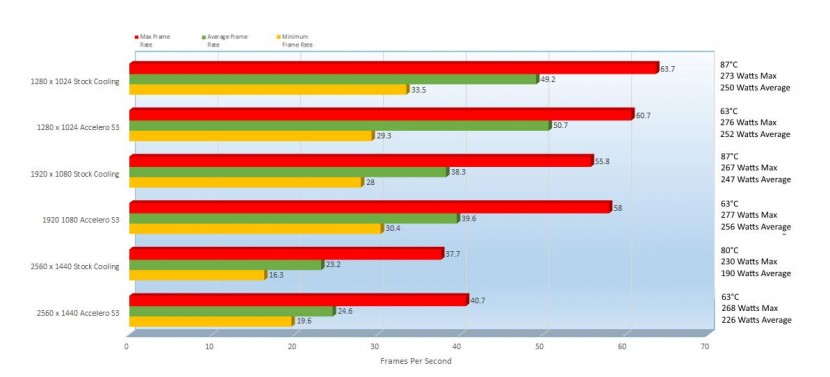 Thief seems to have had a much better improvement.  At 1280 x 1024, the Accelero S3 has improved performance by 3.00 %, 1920 x 1080 the Accelero S3 again boosts the speed by another 3.33% and at 2560 x 1440 we see the biggest improvement at 5.86% in favor of the Accelero S3.  We can also see the trend of a tremendous cooling improvement by as much as 32%, though again the wattage creeps up a bit by as much as 19% respectively.

Tomb Raider like before has no improvement what so ever in 1280 x 1024 and 1920 x 1080 by means of FPS, has performance gains in 2560 x 1440 in Average and Minimum by 1.64% and 3.87 % respectively.  At max FPS though, the stock cooling solution bested the Accelero by 3.17%, though like minimum, don't pay a lot of attention to maximum as any little thing could have happened but it would not have affected the average speed, which is the most important of the 3.
Like before, we see as much as a 46.15% temperature improvement and but the highest wattage increase as only 8.62% which is not too bad.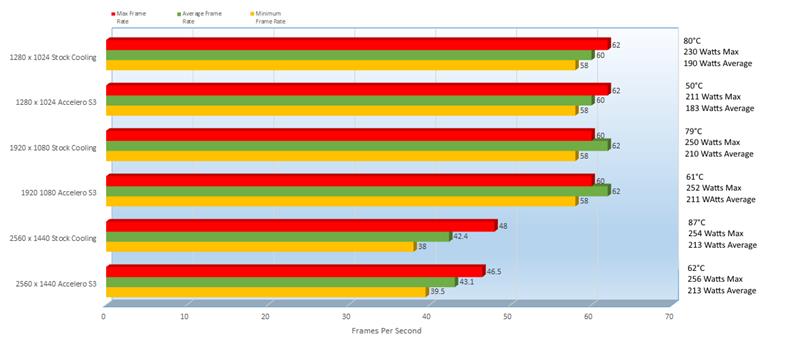 Ok, so we have seen the improvement a little extra cooling can do to a stock GPU, both in clock speed and in cooling performance, now let's see what the Accelero can do with an overclocked card.
These benchmarks shows you the cooling improvements the Arctic Accelero S3 provides over the stock GPU fans for overclocked GPU's.  Overclockers will love the benefit this cooler providers over stock coolers maybe even GPU liquid cooling units.  At .25 sone, you can't go wrong.

Let's see what 3DMark thinks about this solution.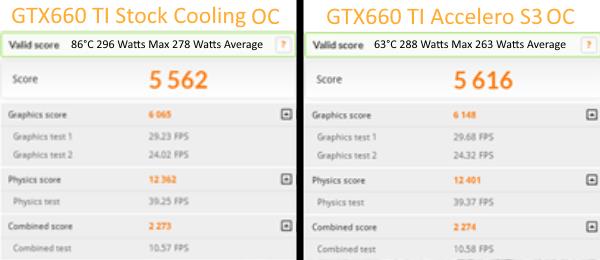 Overclocked video cards with overclocked cooling solutions, I love it. The overclocked Accelero solution comes in .97% better than the stock solution, and tons quieter.  3DMark maxed out at 296 Watts and peaked at 86°C using the stock solution, with the S3, it was at a cool 63°C and only pulled 288Watts at an average, a 2.74% decrease in power consumption.  The Graphics score went up only 1.31% and 4.38% respectively though the Physics score went up by 0.32%.

This will be Metro's Last Light for this benchmark at least, but what was its final answer?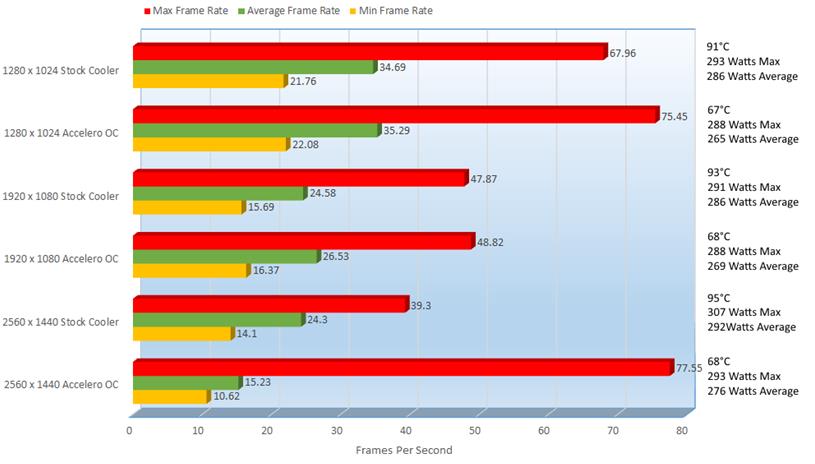 Speaking only averages here, 1280 x 1024 improved by 1.71%, not too bad for those of you that are saving up to by a nice monitor.  1920 x 1080 tears it apart at 7.63% giving those of you at 1080 a nice little treat.  Those of your rocking 2560 x 1440 will only see a 0.92% increase, though that is still better than nothing.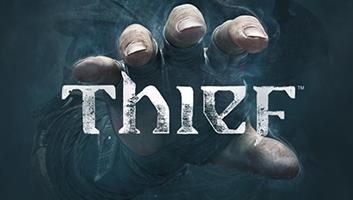 Will Thief steal our hearts with a noticeable improvement?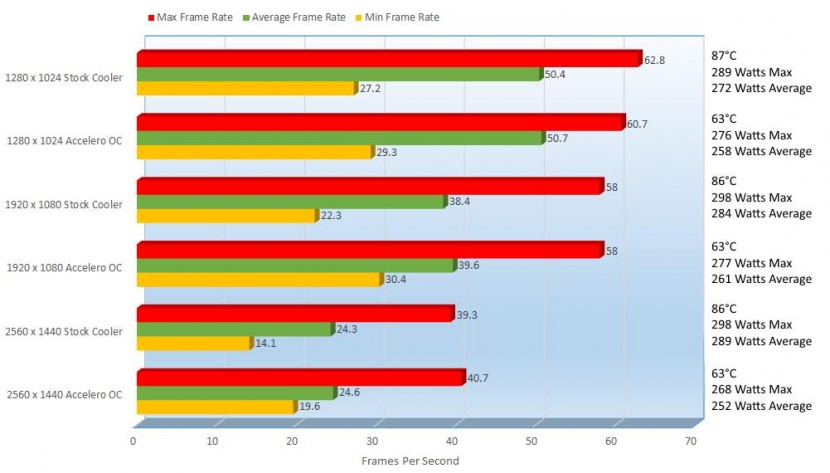 Sneaking in with a 0.59% improvement, the Accelero passes by, not making a scene at 1280 x 1024.  This isn't an average robbery though; Accelero steals from the average at 1920 x 1080 showing its 3.08% heist over standard solutions.  It seems though that the most the Accelero could squander from the likes of the mighty 2560 x 1440 is a modest 1.28%.

Can Laura help us escape the clutches of the evil stock goons and go beyond what we know today to uncover the secrets of the Arctic?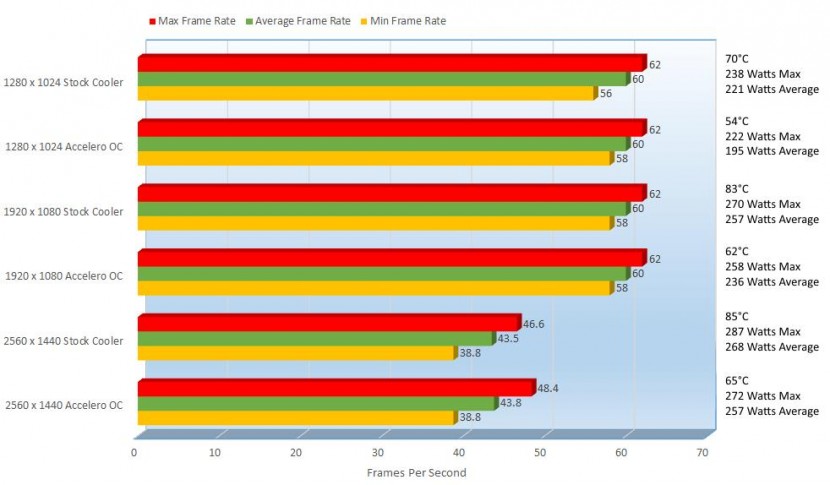 Unsurprisingly 1280 x 1024 and 1920 x 1080 forgot to show up in the benches but left their seats warm.  While the benchmarks are not impressive, with cooling improvements as much as 28.97%, the Accelero S3 does what it does best and stays cool.  2560 x 1440 only falls behind in stock fan performance by 0.69% and again the cooling elements of the Accelero shine through holding the temps down 26.67% over stock.
My overclocks were not the highest, since I didn't want to kill my card or spend weeks getting things perfect, I achieved my goal.  I showed you that a cooler card will perform better both in overclocked scenarios and stock scenarios.  The overclocked comparison helped show you just how cool this device can get cards, but it also shows you that it has no regards for how much space you have in your machine, it wants most of it.
While the war wages on between the Green and the Red, who's better and who gets the hottest, cooling will be their common ally, this no one can deny.  Arctic aims to improve the experience for all with the Accelero S3 and it does an amazing job, this I can say with 100% certainty.
There are only 2 things really this card does, eats up space and cools amazingly especially being a fan cooling unit, versus liquid cooling.  This part is not an action but it can call you to take action is the amazing price.  The price can possibly justify the space it devours if you have a single GPU system.  It can save you tons of money of your GPU fan dies and you just don't have enough to by the next biggest and best card or just like your card too much and can't justify upgrading to today's line up, it can cool a few of today's cards too and maybe some tomorrow.
One other thing, I have never been a fan of liquid cooling units, coming from my previous careers, I have seen many come back with either bad pumps, empty reservoirs causing failure, loose units due to shipping and broken hoses and liquid all over the system.  This causes the user (you) to spend tons of money to repair/replace parts and wastes time and/or costs the manufacturer lots of money, time and aggravation on both sides and possibly damaging their reputation.  Manufacturer being the people that actually built the units or the guys that built your computer, but they hold a special place in many people's hearts and the modder community stand behind them and their benefit.
So with all of this said, I will give this unit a 4 out of 5.  They need to have something that takes up less space and cools as well or maybe even better.
Also, can you guys please help me out, it seems like Thief and Tomb Raider has passed their prime for benchmarking.  What would you guys recommend I start benchmarking with, it needs to have a built in benchmark like Thief and Tomb Raider do.
I have spent many years in the PC boutique name space as Product Development Engineer for Alienware and later Dell through Alienware's acquisition and finally Velocity Micro. During these years I spent my time developing new configurations, products and technologies with companies such as AMD, Asus, Intel, Microsoft, NVIDIA and more. The Arts, Gaming, New & Old technologies drive my interests and passion. Now as my day job, I am an IT Manager but doing reviews on my time and my dime.