I was more than happy to review another gaming mouse when UTechSmart contacted me asking if we would like to receive a copy of their high end UtechSmart High Precision Laser Gaming Mouse which has 8200DPI and 11 programmable buttons.  I found it interesting with all my mice reviews on how different each mouse feels in the hand and how much of a difference the button placement is on the varieties of mouse.  This means a mouse is not a one size fits all and my review on each mouse must showcase what is different between the various mice and what I liked or didn't like in how the mouse worked for me and let my readers decide if this is the right mouse for them.
First I like mice that allow for customizable weights, and the UtechSmart Laser Gaming mouse comes with a set of 6 weights and a tweezer to lift the weights out and insert them into the gaming mouse to increase the default weight of the mouse for those who like a heavier mouse.  The somewhat constructive criticism here here, is that even with all 6 weights added, the UtechSmart Laser Gaming mouse like some other mice I have reviewed still is very light weight, if you want a heavy feeling mouse this mouse does not have enough weights to give you that heavy drag feel.
One improvement for me would be to have each of the weights weigh more, this gives you more flexibility between light and heavy, I would quadruple or more the weight of each weight that you put inside the mouse, it just doesn't get nearly as heavy as some Logitech or Razer gaming mice, again if you prefer a heavy mouse. I originally liked heavy mice when I had the Logitech G500 and this mouse gets about the same weight as the Anker 8000DPI Gaming mouse, but is no where near the weight of the Logitech G700s which doesn't have weights and is just a heavier mouse by default.
The next thing about the UTechSmart Precision Laser Gaming mouse is that it has unique buttons configurations and placements I haven't seen or tested before on a mouse.  These include the bottom thumb button, which is a button that is under your thumb rather than all the thumb buttons all being to the right of your thumb.
DPI sensor at the top, bottom thumb button in center
Hand over thumb button, bottom thumb button easy to use.
In fact the bottom thumb button was surprisingly natural and easy to use, even with your thumb slightly resting on it it doesn't press inadvertently and I found this button worked well for gaming applications or as a zoom in default setting for applications.  The two thumb buttons that are placed in standard location are typical, with my thumb however the button furthest from the palm is a little too far and harder to press as you can see just the tip of my thumb is over that button.  I feel the buttons could have been a tad smaller and shifted a little closer toward the palm.  This could just be the way I hold the mouse and hand shape, but that first thumb button took a little extra reach of my thumb to press.
The other very interesting button is the ring finger button on the right side of the mouse next to the right mouse button.  This is something I have never tested in a mouse before and almost didn't realize it was there until I was sliding my fingers all around the mouse.  Once I realized it was there I started deliberately using that ring finger button and found it worked but pressing inward with your ring finger isn't a natural motion and it takes some training to get used to.  Once I got used to it though it was a nice convenience having that extra button, though it isn't as easy to use as the bottom thumb button.  By default the ring finger button changes the color of the UtechSmart pulsing logo to different colors, but I set this to F3 for my gaming mostly.
Ring Finger Button on right side of mouse.
Overall I found the 11 programmable buttons to be a boon and the placement to be interesting, the gaming mouse configuration application that comes with the UTechSmart Precision Laser Gaming mouse gives you 3 screens, one to customize all of your 11 buttons, the 2nd for advanced settings and DPI level settings, and the third to customize the color of the UtechSmart logo.  Any one of the buttons can be set to any key or even a programmed macro that involves setting a pattern of keystrokes including adding a delay.  This mouse doesn't have the ability to do a macro record and save where the mouse records your movements/button presses and saves them like some other mice however.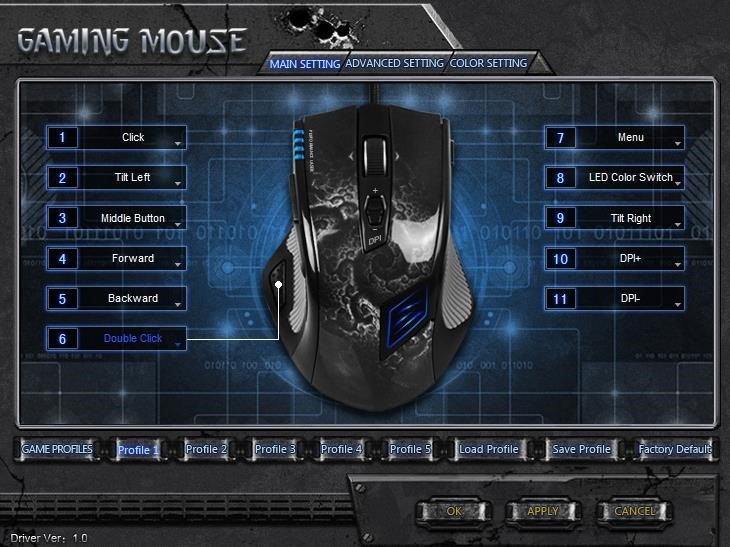 You also can have up to 5 configuration profiles saved.
Overall the UtechSmart High Precision Laser Gaming Mouse is a very capable gaming mouse and is recommended if you need a mouse with 11 programmable buttons.  I thought the mouse could use a wider variety of weights and that the thumb button placement could be optimized a little better, but other than that this mouse is a good deal at the price and should satisfy most gamers on a budget.  The rubber grips on the left and right side of the mouse are comfortable and help keep firm control of the mouse while it glides across the mousepad.
Disclaimer: UTechSmart provided me with a Precision Laser Gaming Mouse so that I could do a proper and accurate review of it for DragonBlogger.com.  All opinions are 100% mine and mine alone.
I have been obsessed with computers, tech, gadgets and games since the early 1980's having grown up on the Commodore 64 and Amiga computers.
By day I work in the IT Security Industry and have been in IT for over 20 years. On my spare time I am a Vlogger, Blogger, Streamer, Gadget Reviewer, affiliate marketer, influencer and entertainer. I am also an avid movie fan, TV Show fan, Anime fan, video game fan and fan of trying anything and everything new.