Rokit Boost brings us the SwageU (aptX) Bluetooth Headphones for your music, podcast or streaming delight.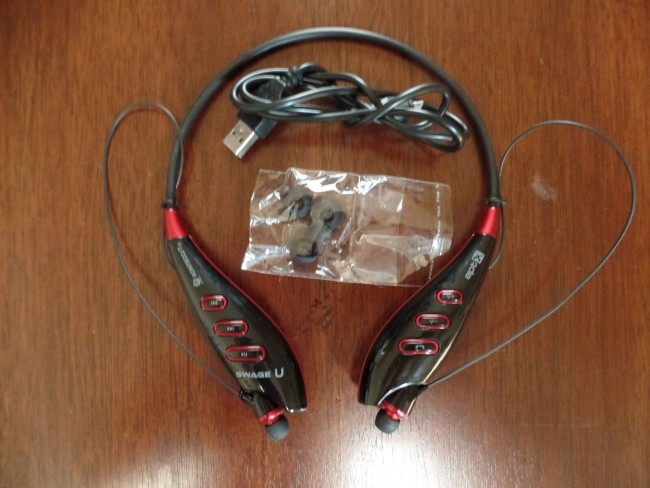 As you can see these aren't your standard Bluetooth headphones.  They are setup to be laid around your neck then the earbuds go into your ears.  I have tried a couple Bluetooth in ear headphones and they can be a little weighty due to what they have to do to make them Bluetooth.  RokitBoost with their SwageU headphone take the weight and add it to your collar bone instead.  There the weight is not noticeable at all.  It is a little strange to have the device around your neck but it is comfortable and the ear buds are light and also comfortable.  The earbuds are also magnetic so when you take them out of your ear and let them drop they can attach to the neck piece so they aren't flopping around which is a great touch.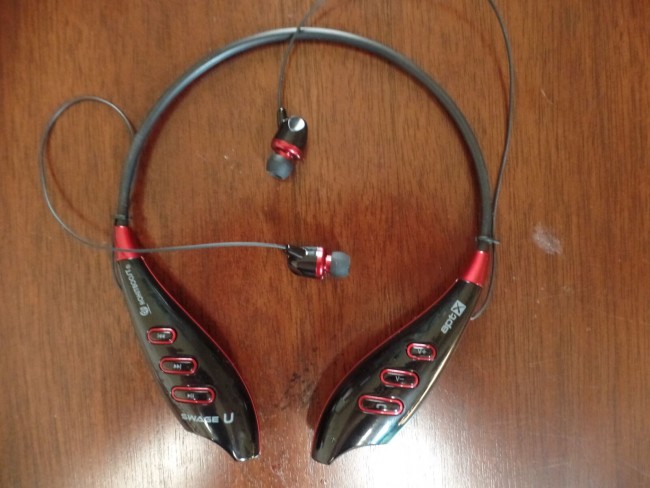 From your neck piece you have full control of your audio.  You can play/pause and fast forward or jump back with easy clicks.  You can answer or hangup phone calls and control the volume all from the neck piece.  The neck piece also has an expected on and off switch along with a USB power for charging,   Charging was pretty quick after draining the Swage U of all it's juice.  It fully charged in about hour.
All in total I used the SwageU HeadPhones for just about 8 hours.  I was listening to music and podcasts on a road trip I took for work.  Sound was good for the podcasts and everything was clear. Adjusting the volume was easy even while driving.  I could skip through a playlist full of music without any issue or go back with the same ease.  Music played pretty well as well and sounded pretty good for earbuds.  It was a little on the tinny side but not horrible at all and the controls were easier to reach and manipulate from around your neck than hanging on a typical Bluetooth cord.  The SwageU does actually have a built in EQ you case adjust from the neck piece as well which isn't common for Bluetooth headphones.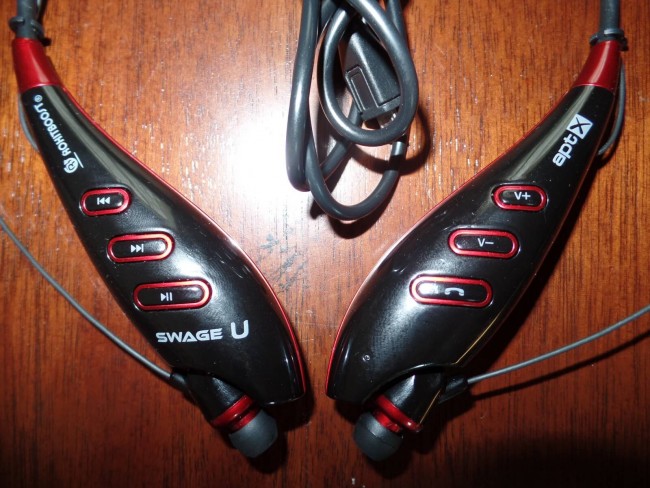 Rokit Boost states you can connect these via Bluetooth to two phones, which means when it pairs it keeps 2 devices in memory.  I was successful in doing so with my Iphone 5s and my wife's Galaxy s5 with no problem.  I actually took a call on my phone then placed it on hold and took another call from my wife's phone.  Just by hitting the phone button, and got back to my call with ease.  Kind of cool little feature if you are one to carry a business and a personal phone and want to use the same Bluetooth earbuds for both and this isn't a common feature with earbuds.  I did try to connect my Nexus 7 and my IPhone 5s at the same time and that didn't work however.  They didn't mention this as an option but that is a use case for me so I was a little disappointed it didn't work and I wasn't sure why the Tablet would be different.
So the Rokit Boost SwageU Headphones all and all are not a bad little setup for a different way of using hands free Bluetooth with a phone or tablet.  I mostly listen to podcasts and that sound was good.  Music was also pretty good after adjusting the EQ via the headset. For $49.99, down from $79.99 they aren't too badly priced on Amazon either.
I haven't reviewed other Bluetooth headphones with a neck collar piece before, but comparing them to other Bluetooth earbuds I found the sound quality for music to be right about in the middle, not the lower end but not the highest end either.  Given the features which are clearly a bonus I think they are still a good deal.
I am just a geek getting older but keeping up.