Disclaimer: Samson provided the MediaOne BT3 Bluetooth Speakers for evaluation purposes. Opinions expressed in this review are 100% my own.
It isn't often that I have tested Bluetooth speakers that are larger than the palm of my hand. While there are several great options for personal listening experiences, most of them may not fit the bill for larger parties or outdoor events. The Samson MediaOne BT3 Bluetooth Speakers aim to fill such roles as well as be a potential staple for gamers or music producers. Are the Samson BT3s suitable for such tasks? Read or watch the video review below to find out.
Eye Pleasing Design and Highly Portable
The Samson BT3s are quite pleasing to look at. They're not as sleek as some comparable studio monitors I have seen but I still could easily envision these in an entertainment center. In terms of portability I could not be happier. If you watch the review above, you will see that they are the same height and width as a standard pair of headphones. The convenient size and weight encourage you to tote them around and bust them out anywhere.
Missed Opportunities
Before getting into the positives again, it is worth mentioning that the speakers possess two flaws. The first would be the inconveniently tiny pairing button. I am not exaggerating, it's the same size as the small screws surrounding it. Digging around for it could turn into a cumbersome affair while pairing.
The second issue may be a nitpick but I am surprised that the BT3s were not packed with slipcovers. I have been spoiled by the inclusion of covers and carrying cases for most of the bluetooth speakers I have owned and felt they were sorely missed in this scenario. Considering how easy it is to take these with you anywhere, slipcovers equipped with handles would have made this set an awesome value.
Superb Sound Quality and Responsive Controls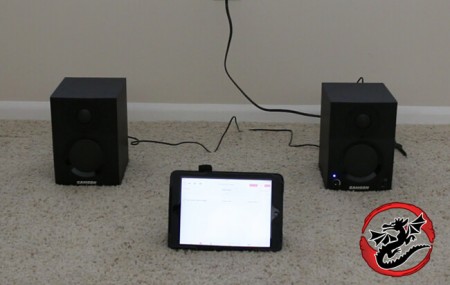 The biggest apprehension I had when firing up the Samson BT3s was whether they would suffer the plague of audio skips. After easily pairing the speakers, I ran around the house to different locations in an attempt to throw the BT3s off. Spamming the pause button, fiddling with the volume slider, etc. did not hamper the BT3s in any way. For the entire week of testing my listening experience was delightfully skip free.
It also was refreshing to hear audio that was clear and free of static. Whether at low or high decibel levels, I did not detect any distortion. Bass was not a strong suit for the BT3s in my opinion. The bass is acceptable and pleasant but sounds a bit flat when completely unadjusted. I do not believe general consumers would experience issues with this but audio mixing professionals may be sterner.
Impressive Bluetooth Range
Bluetooth speakers often suffer when it comes to controling them at a distance or behind walls. I was able to run a distance of 40 feet and still be able to control the Samson BT3s. Regardless of whether I was behind walls or doors, there were never any dead zones. It's also worth noting that I had great results with any of the compatible devices I paired with the BT3s.
The Samson MediaOne BT3 Bluetooth Speakers walk the line between packing power and being convenient admirably well. Hopefully some consideration will be made in the future to increase the size of the pairing button and perhaps the inclusion of slip covers. All in all, the BT3s are certainly a good choice for those on the hunt for beefier Bluetooth speakers.

Mitra Faridian first joined the site in 2011 under the handle "Persian Poetess." Her gaming and entertainment taste is very eclectic and she's always open to a fun new virtual adverture. Email her at the following address: mitra [at] dragonblogger.com