Intro
We are influencers and brand affiliates.  This post contains affiliate links, most which go to Amazon and are Geo-Affiliate links to nearest Amazon store.
As a gamer and for all fellow gamers, we are bombarded with promises of upgrades will change our lives, and for the most part they don't do much.  SSD's and memory do help tons, but one of the things that get us as gamers are video cards, but they are ALWAYS so expensive.  Today I have the pleasure of bringing you my review of the Sapphire Radeon NITRO+ RX 480 8GB GDDR OC 11260-01-20G.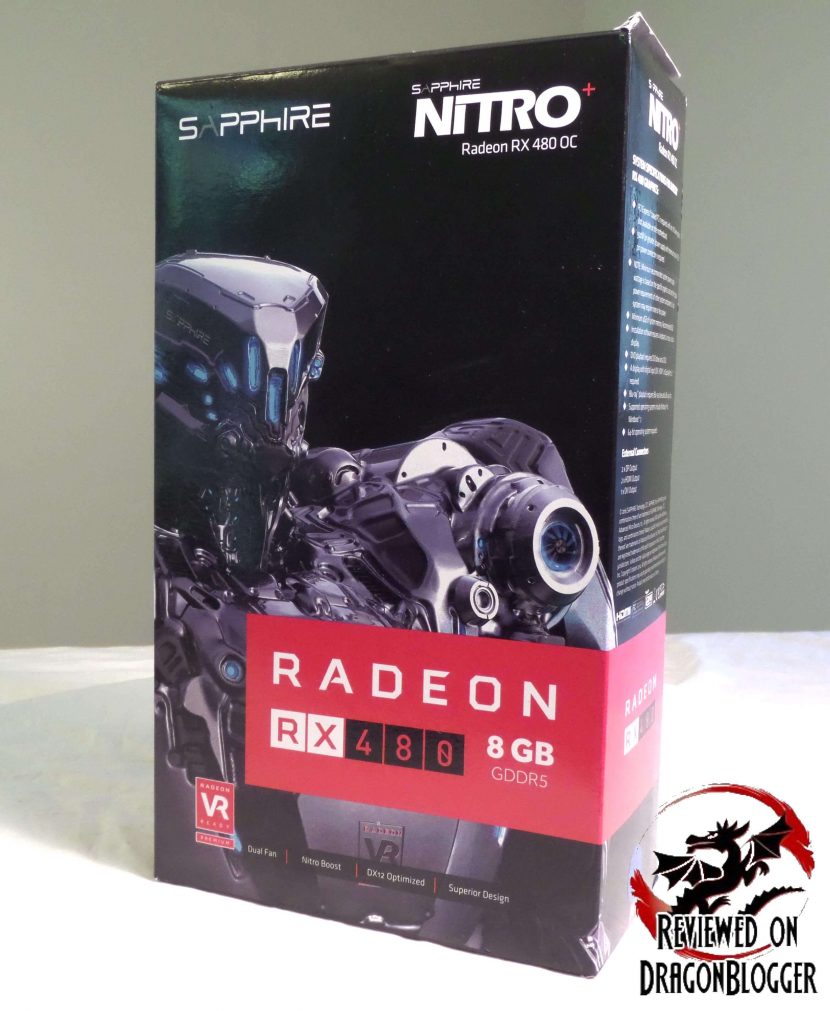 Ohh…. I know,… I want to tear it open too, but let's check out the specs first.
Spec's and Features
Core Speed: 1208Mhz

Boost Engine Clock: 1342 (Seems to always run at this speed though)

8192MB GDDR5 256 bit RAM

2000Mhz

8000Mhz Effective Memory Frequency

Compute Shaders: 2304
Supports Crossfire
5 Output Maximum

1 x DVI-D
2 x HDMI 2.0b
2 x Display Port 1.4

Resolutions Supported

DVD-D
HDMI 2.0b
Display Port
Quad HD Display 4K*K Support
Supported API's:

OpenGL 4.5
OpenCL 2.0
DirectX 12
Shader Model 5.0
Vulkan API

Supported Features

FreeSync Technology
AMD Eyefinity
Dual Bios
AMD Liquid VR Technology
AMD Virtual Super Resolution (VSR)
AMD TrueAudio Next Technology
AMD Xconnect Ready
DirecX 12 Optimized
Radeon VR ready Premium
HDR Ready
Frame Rate Target Control
NITRO Fan Check

Dual X-Fans
Two Ball Bearing

NITRO Quick Connect System
NITRO Glow RGB LED
NITRO CoolTech(NCT)
NITRO Free Flow
Dual-X Cooling
NITRO Boost
Intelligent Fan Control III
Black Diamonds Choke

Power Consumption: 225Watts
System Requirements

500Watt Power Supply
1 x 8 Pin AUX Power Connector (Yes, only 1)
Windows 10, 8.1, 8 or 7

Form Factor
Length: 9.45in
Width: 4.9in
Depth: 1.6in
Shipping weight: 2.35 pounds
I know, I fell asleep too while I was typing it, too much info.  OK, let's get into an unboxing and open this Sapphire Radeon NITRO+ RX480 8GB GDDR5 OC box up.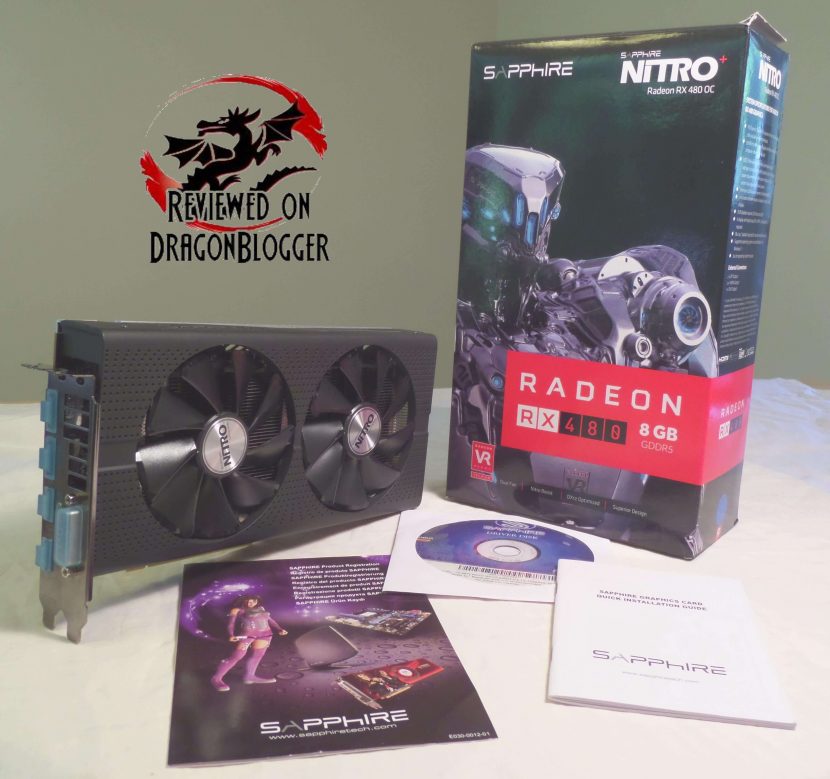 So yeah, you can hook up to 5 monitors, what kind of ports though?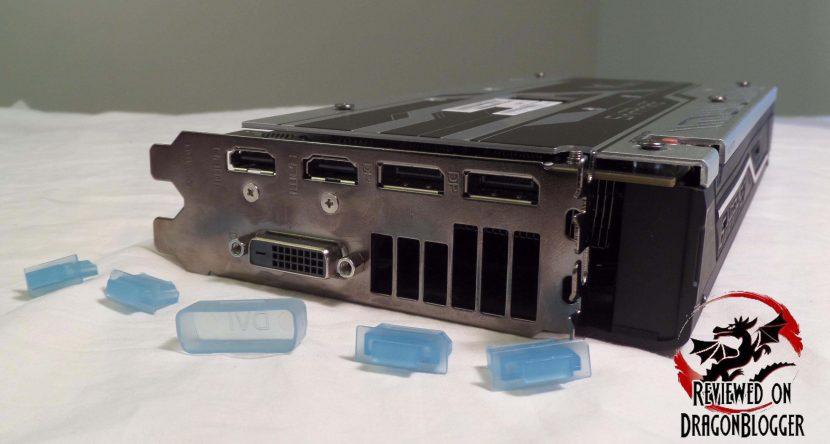 As I mentioned in the long list of specs and features, we can connect 2 x Display Ports, 2 x HDMI ports and a single lonely DVI-D port.  Before you make fun of the DVI-D port, I still have a 27in monitor that has one, and yes it is an LED and it works fine, so there is no reason to get rid of it.  Thankfully they still keep that port there as well as provide a host of other ports to make your investments still worth it.
Another thing this does is that it allows you to not have to use adapters to connect monitors.  As you saw in the unboxing, Sapphire does not include any cables or adapters, so you have to fend for yourself on these.
Looking around the card, we find the "LED Mode Switch/V BIOS Switch"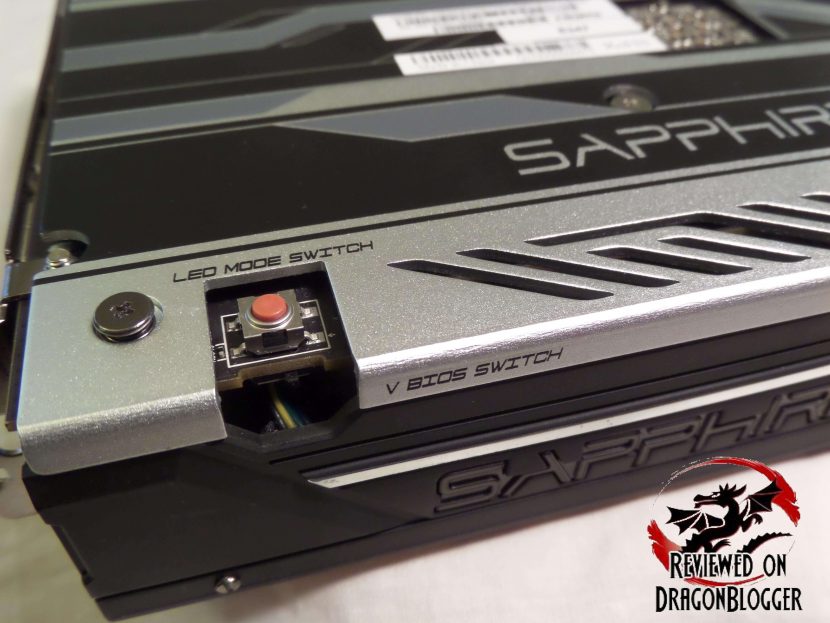 The LED Mode Switch on this Sapphire card allows you to change the LED lights on the card; I will show you that a little later in the review.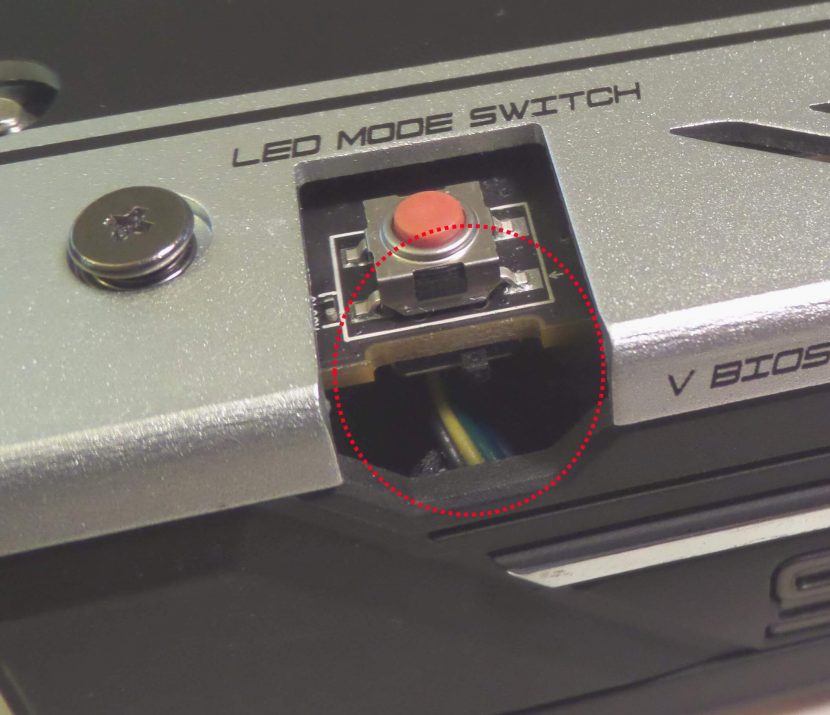 A little closer, under the button, we find the V BIOS Switch.  This switch allows you to switch to a different BIOS or Firmware on the card where on one, you might have an overclock and the other, you might have a stock setting.  This comes in handy when working on overclocks and you might push one of the overclocks a little too high not allowing the system to turn off, at this point you can unplug the machine to let it discharge, flick the switch to the left (or the right), plug the machine back in and you are good to go.
Moving more to the right, we come to the back of the card.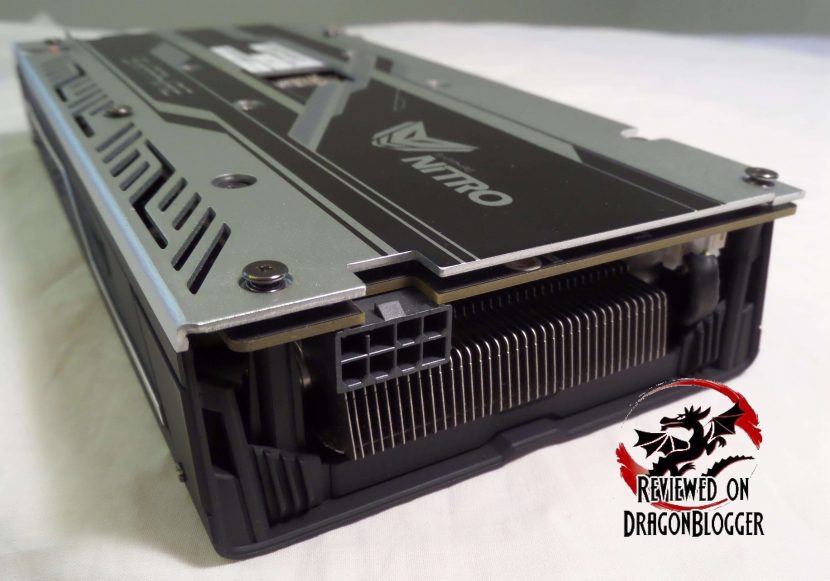 Here we find a single 8 Pin PCI-E plug, yup just one.  This is not a power eater, but we will get into that also a little later in the review with some benches.
Turning the card around again, we come to the bottom of the card itself, where we find the PCI-e connector.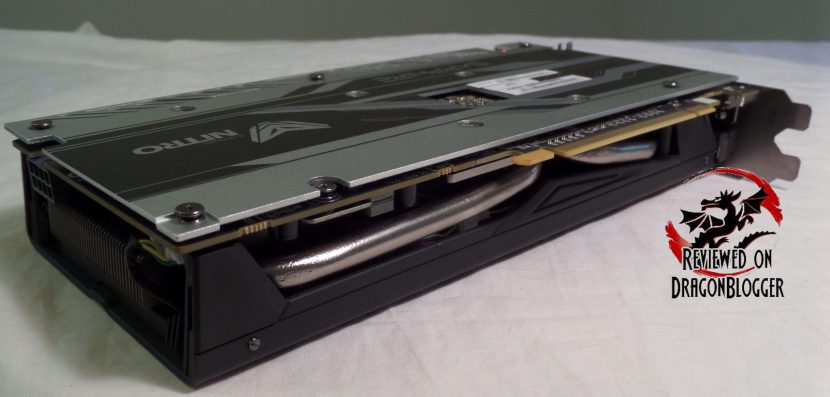 We also find 2 huge pipes to keep things nice and cool.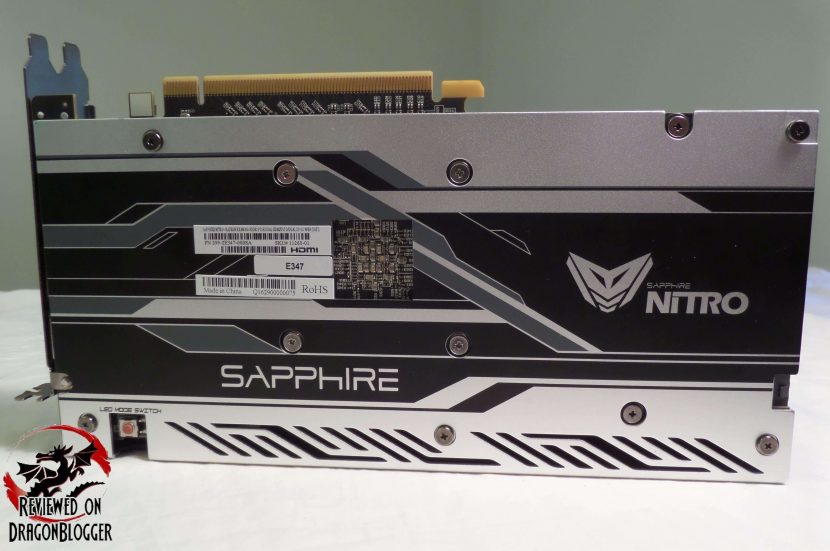 The top of the card has an Aluminum backplate with their own nice design, but it's a little more than a design, there's some function here as well.  I will get into this a little later in the review as well.
Alight, so now that we have seen the card, how do we install it?  Well I go over that it in the next chapter.
We are influencers and brand affiliates.  This post contains affiliate links, most which go to Amazon and are Geo-Affiliate links to nearest Amazon store.
I have spent many years in the PC boutique name space as Product Development Engineer for Alienware and later Dell through Alienware's acquisition and finally Velocity Micro. During these years I spent my time developing new configurations, products and technologies with companies such as AMD, Asus, Intel, Microsoft, NVIDIA and more. The Arts, Gaming, New & Old technologies drive my interests and passion. Now as my day job, I am an IT Manager but doing reviews on my time and my dime.