Intro
We are influencers and brand affiliates.  This post contains affiliate links, most which go to Amazon and are Geo-Affiliate links to nearest Amazon store.
A time comes when you need a video card, upgrading from on chip/die/bcrooard GPU, upgrading your existing video card or maybe replacing and existing video that might have died, the time comes for us all.  The type of GPU/Video card you buy can depend on a few things like your budget, preference or functionality and I might have something that might fit on a few of those lists.  Today I bring you my review of the Sapphire Radeon PULSE RX550 11268-01-20G video card.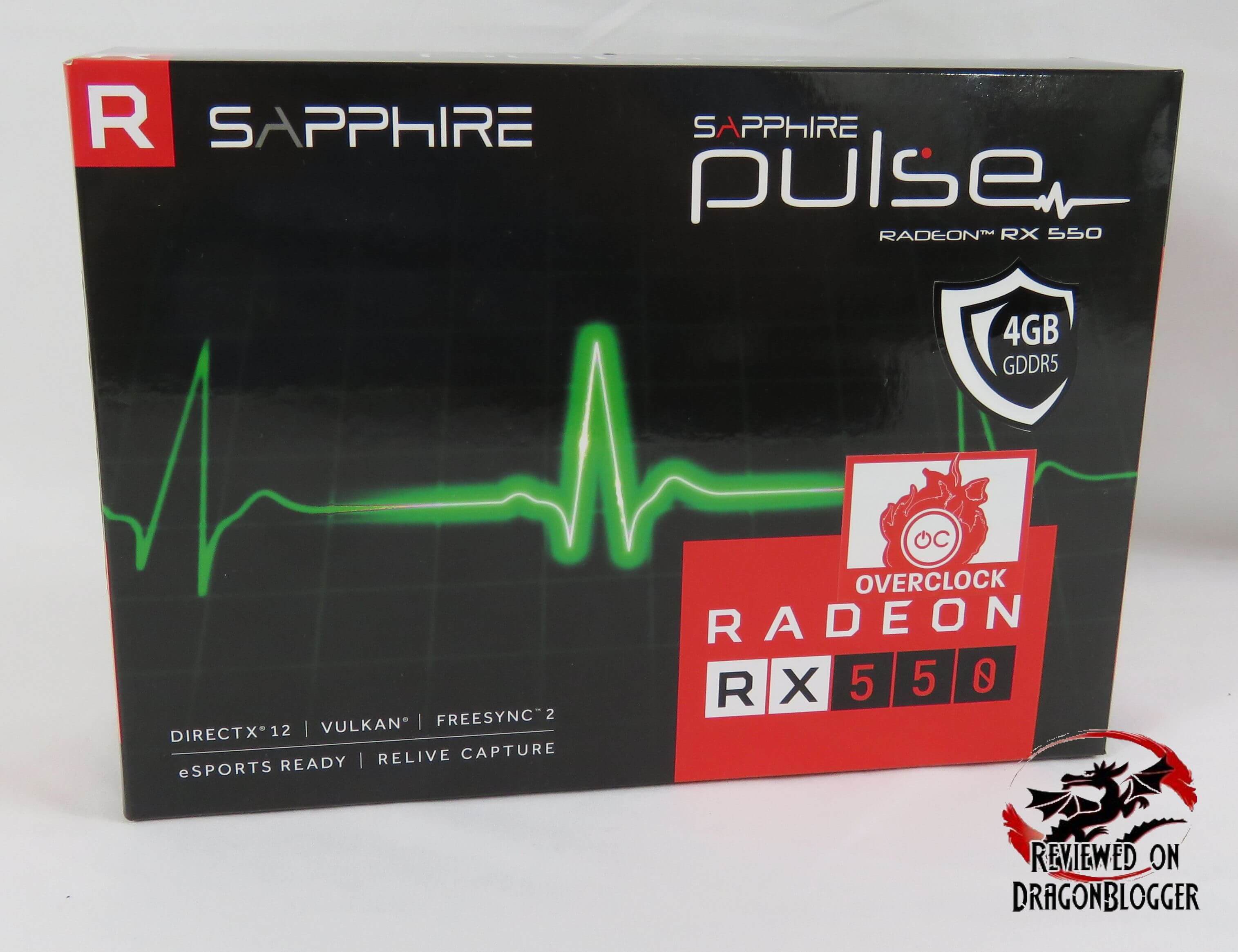 This is a budget video card from our friends at Sapphire based off AMD's latest GPU series still on the Polaris line, though refined and evolved as AMD states.  So let's check out the features and specifications.
Specifications and Features
Engine Clock: 1175Mhz

Boost Engine Clock: 1206 (Seems to always run at this speed though)

4096MB GDDR5 128-bit RAM

1750Mhz

7000Mhz Effective Memory Frequency

Compute Shaders: 512
3 Output Maximum

1 x DVI-D
1 x HDMI 2.0b
1 x Display Port 1.4

Resolutions Supported

DVD-D
HDMI 2.0b
Display Port
Supported API's:

OpenGL 4.5
OpenCL 2.0
DirectX 12
Shader Model 5.0
Vulkan API

Supported Features
Power Consumption: 65Watts
System Requirements
Form Factor

Length: 6.22in
Width: 4.41in
Depth: 1.10in
OK, before we talk anymore on the card, let's check out an unboxing.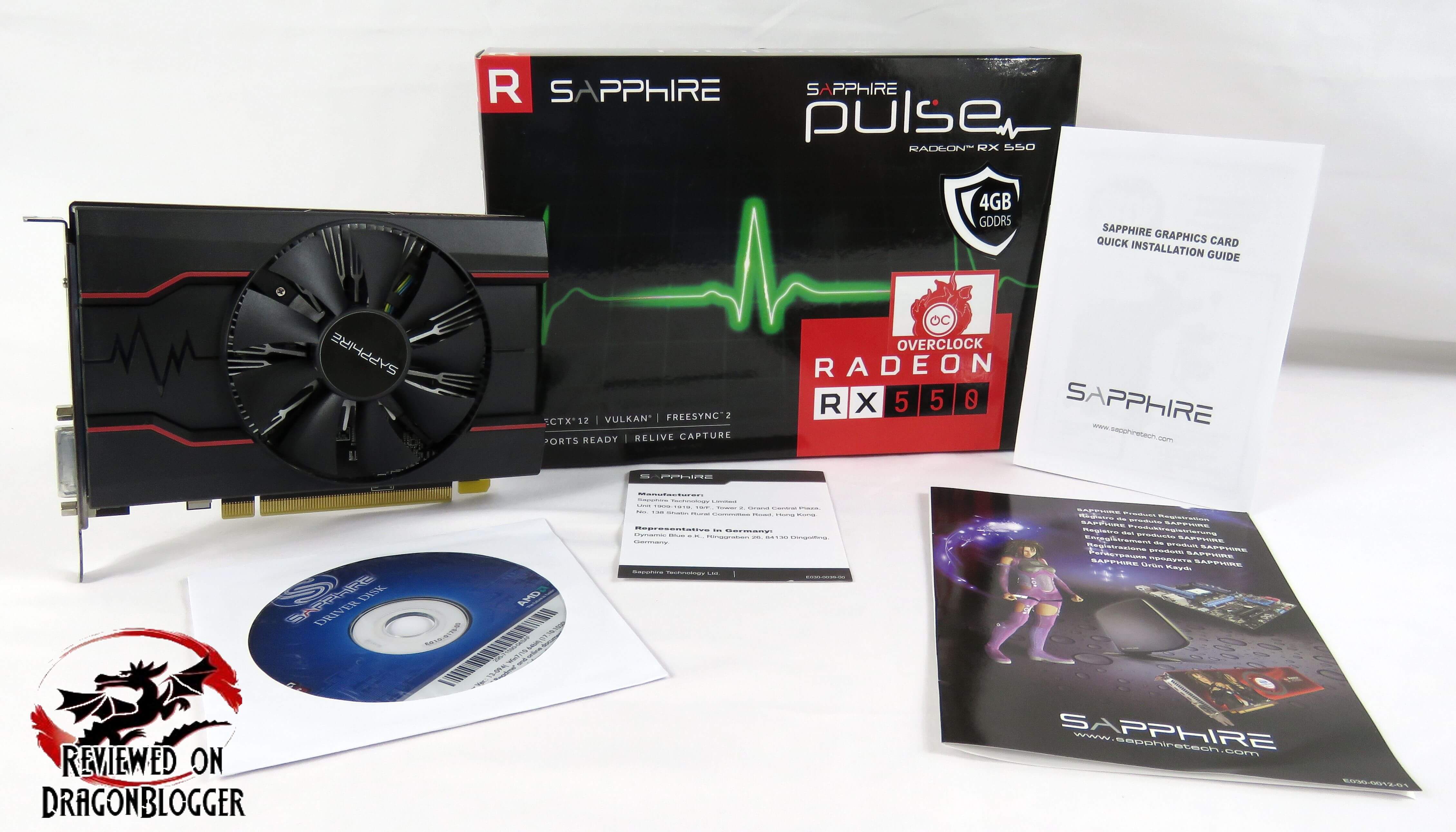 Before we get to the card, let's check out what comes inside of the box.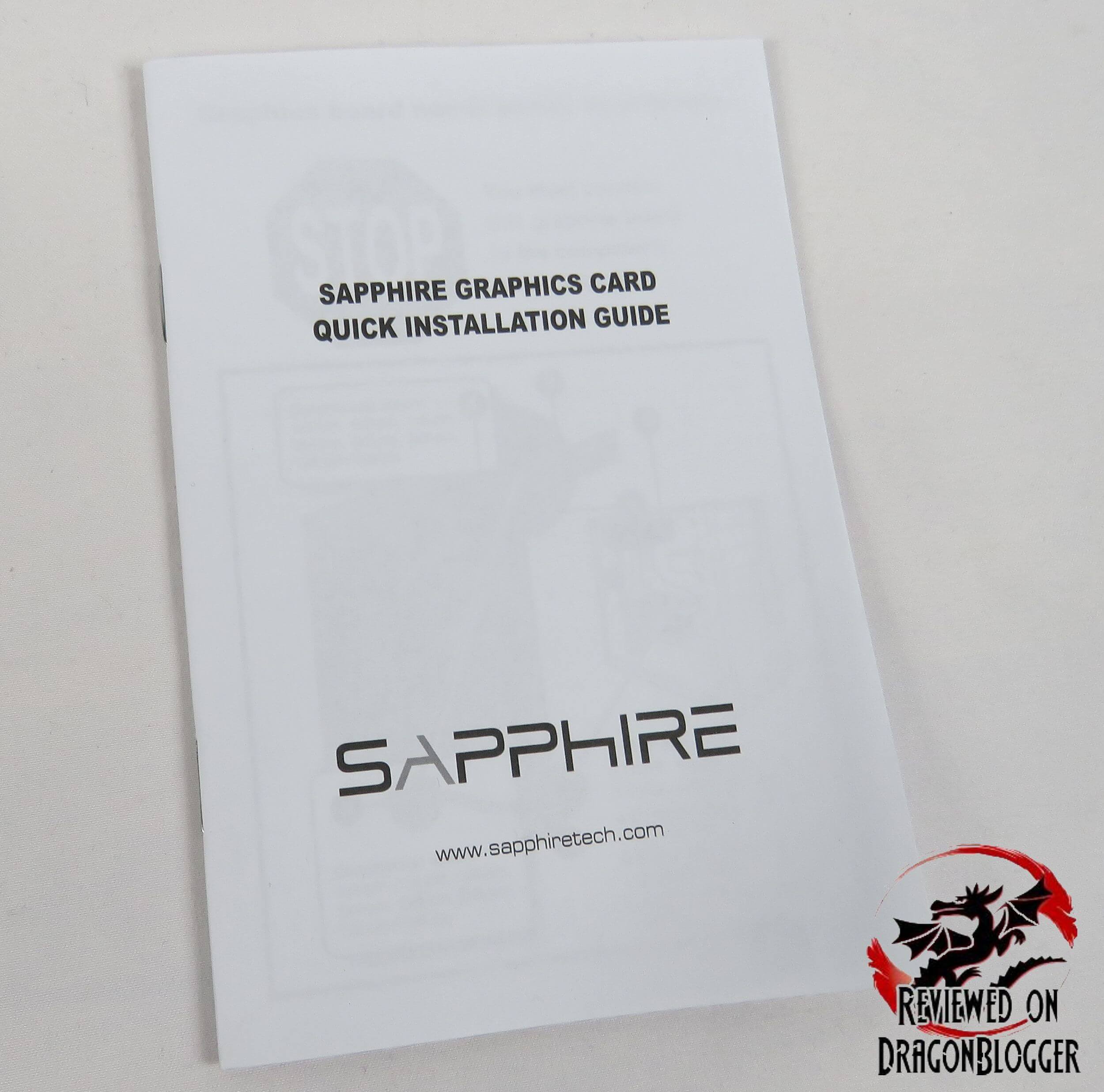 This Quick Installation Guide shows you basics on how to install the card, though I will a little later on in this review have a video showing you how to install it.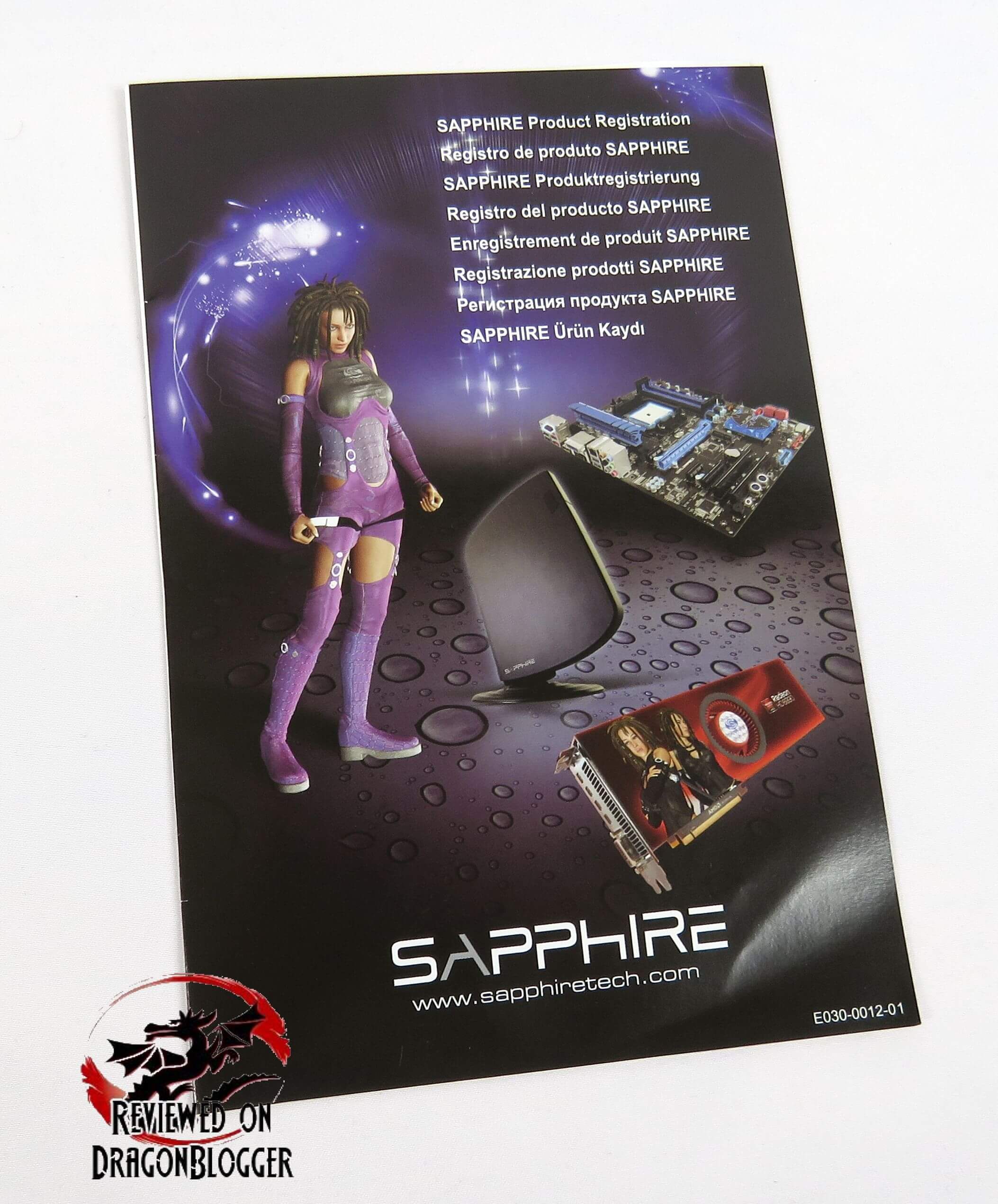 In this pamphlet, we have the production registration card.  Unlike most product registration cards, this actually has the serial number of your card already pasted in there so if something happens, you don't have to take the card out to look for it.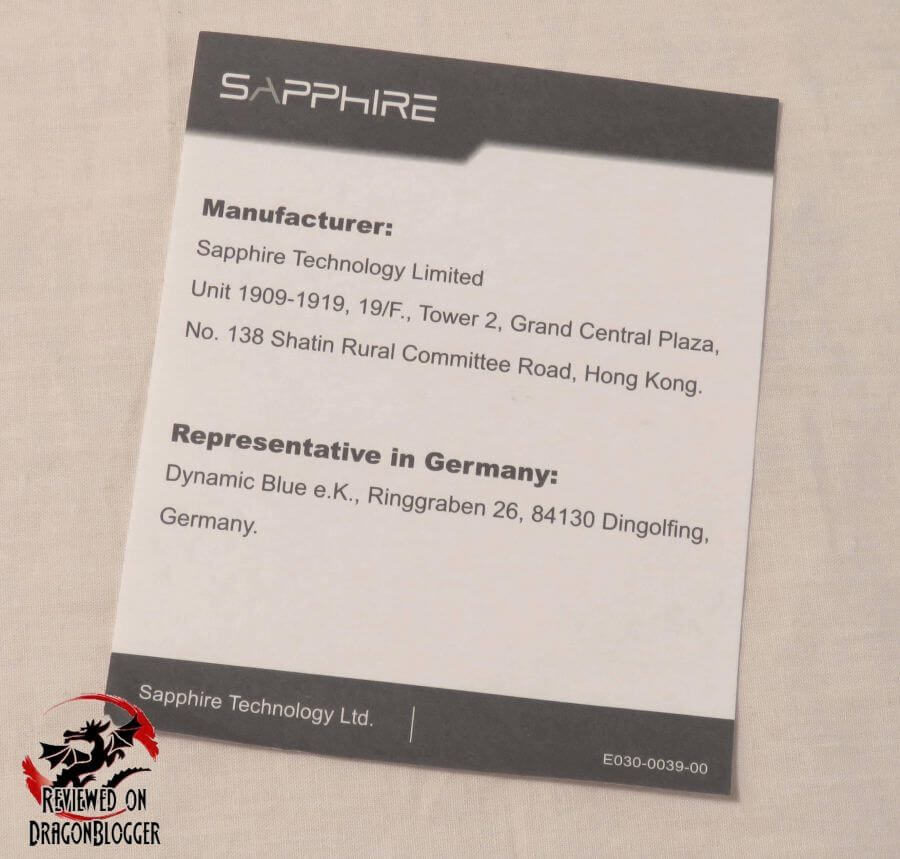 This sheet gives you manufacturer information.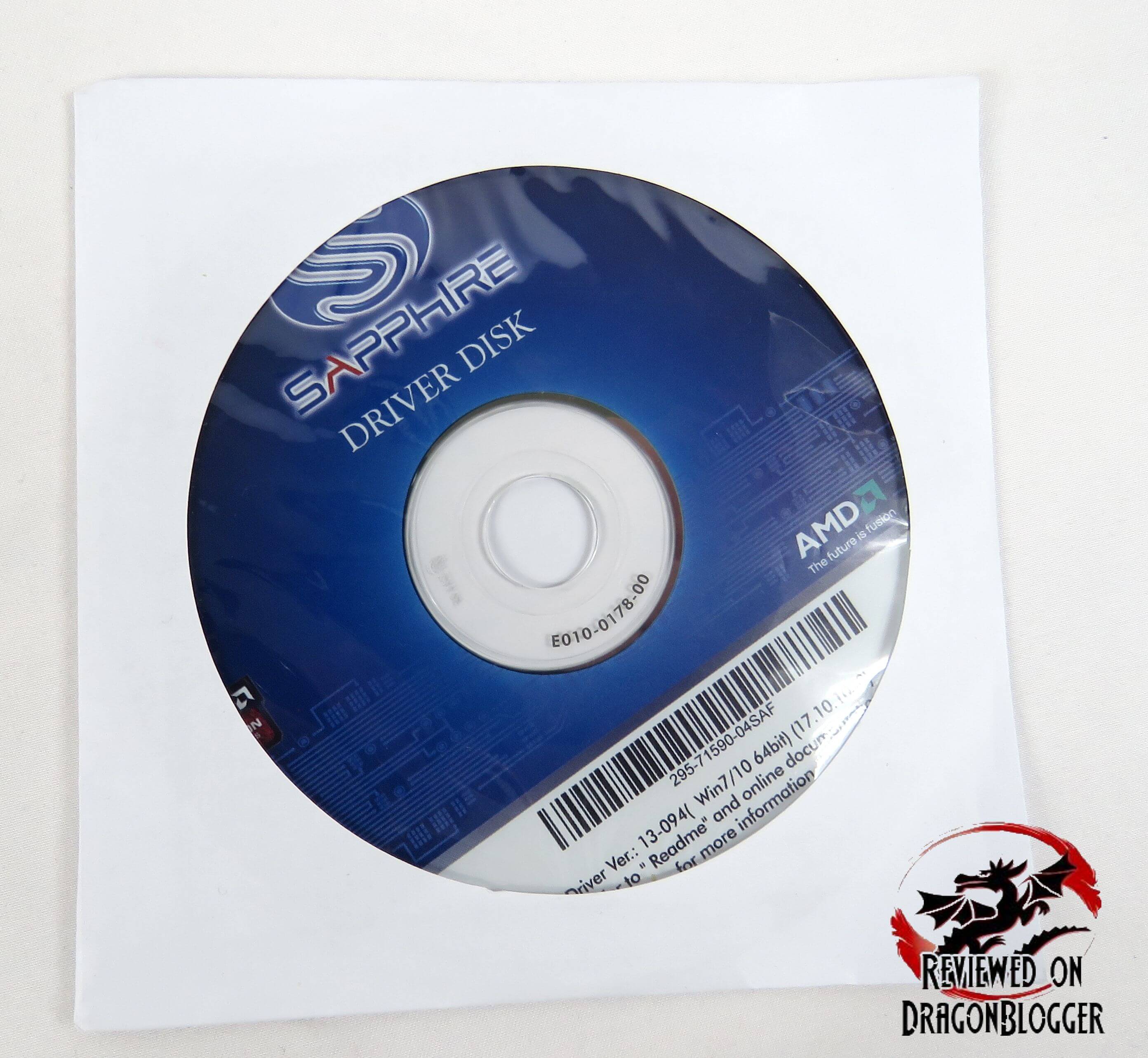 Lastly, the drivers disc.  I only recommend using this if you do not have an internet connection or maybe a very slow one if you are excited to jump into it.  I state this because the minute this disk is printed, the drivers are outdated, and the updates greatly improve performances and gameplay within games.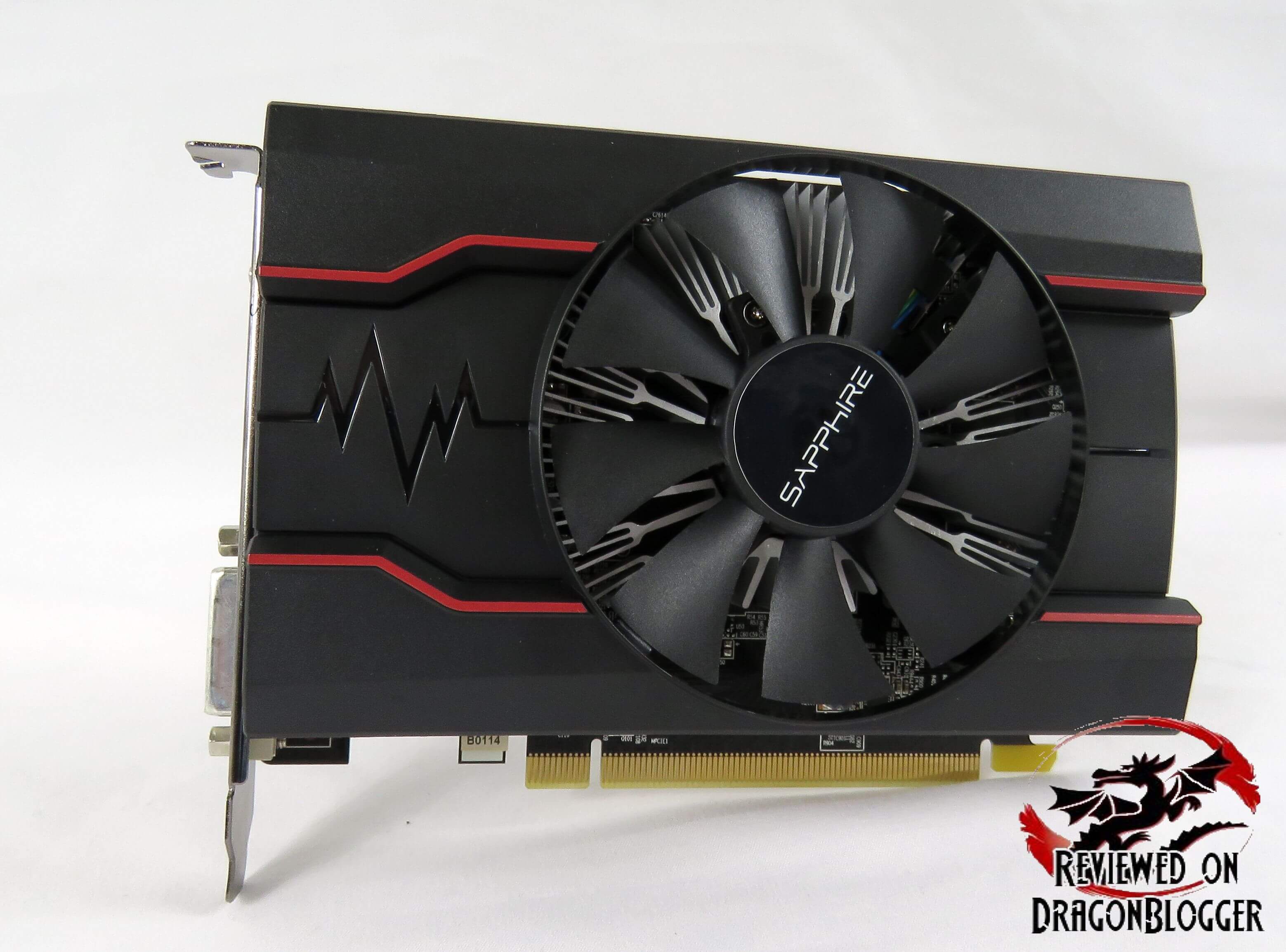 And here is the card itself.  It is a tiny little thing, only 6.22 inches long, but don't worry it's not about the size of the card but how you use it.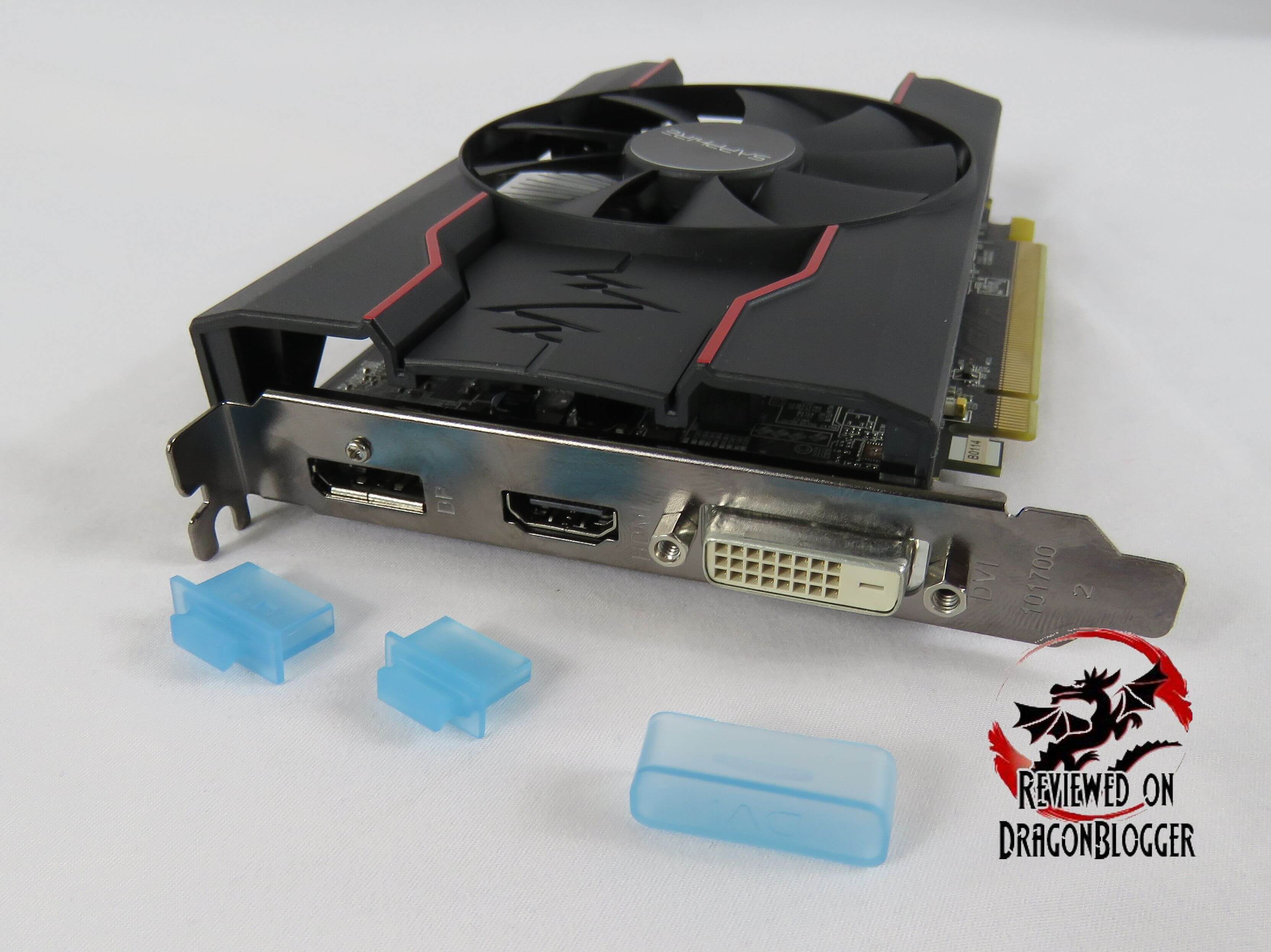 Here we can see the outputs, 1 x Display Port (DP), 1 x HDMI and 1 x DVI.  There are no VGA ports which may not be a bad thing for many, and it also does not bring an adapter.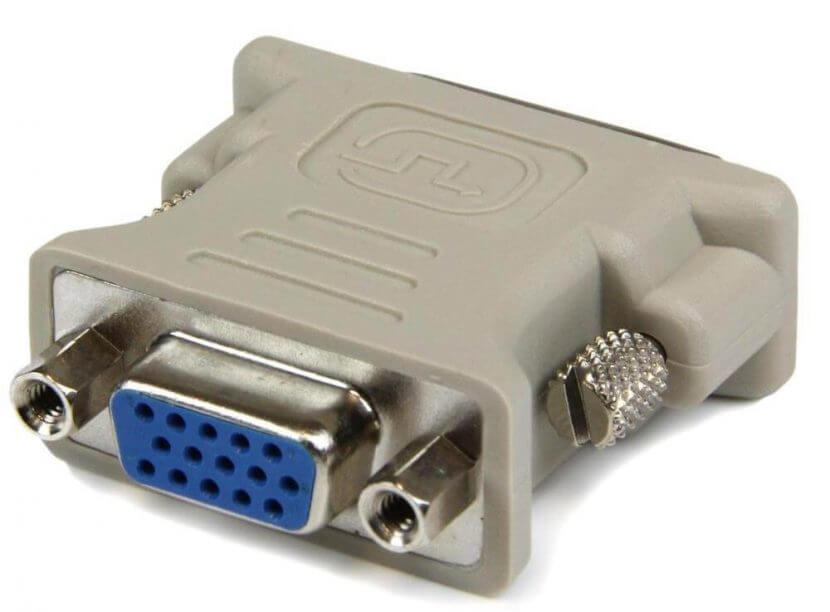 If you do need an adapter, you can click on the adapter pictured above and it will take you to Amazon's site where you can get one.
Now let's get to discovering the card a little more

Coming around to the right, we can see the front of the card (even though it is the side).  While the card does have a plastic housing, it is almost completely opened on the side so it will be expelling all of the heat into the case.  Mostly if you have a system that has remotely decent cooling, you will be fine with this.  You can see the SAPPHIRE logo on the bottom right hand corner, and just above that the 4 PIN connection that powers the GPU fan.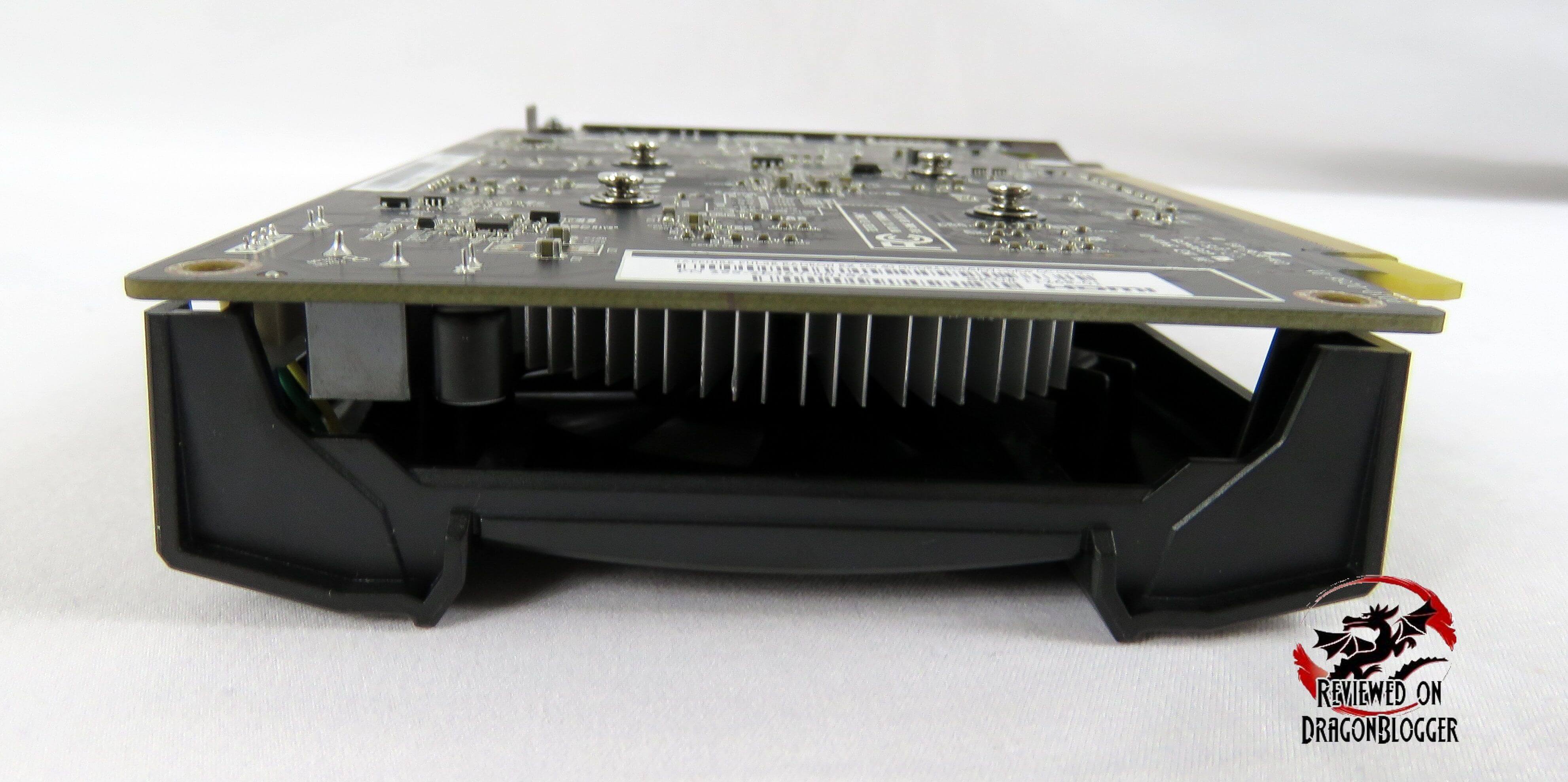 Around the back of the card, we can see there is no additional power connector.  There is no 6Pin or 8Pin connector, so that means it is using the PCI-e slots power, all 75Watts.  Well, not completely true, while the PCIe slot does provide 75Watts, the card only utilizes 65Watts which is why it only requires a 400Watt power supply, the rest of for your entire system.
The rear of the card, like the side is also opened up to allow heat to expel from the rear.

A little more to the right, we find the PCIe connection.

We can also see this side is also exposed.  So the card expels heat from all sides of the card.

Around the front of the card, where you plug in the monitors, you can see highlighted in red that this also expels heat, so there is no real pressure but it may not be needed.  The fact that it does not build pressure also helps to achieve Sapphires Cool & Quiet technology but we don't know just yet how cool and quiet it really is, but we will see soon.
Also to note, even though this is a single height card at least on the PCI slot side, it actually takes up a little of the second slot, so it essence it is a dual height card.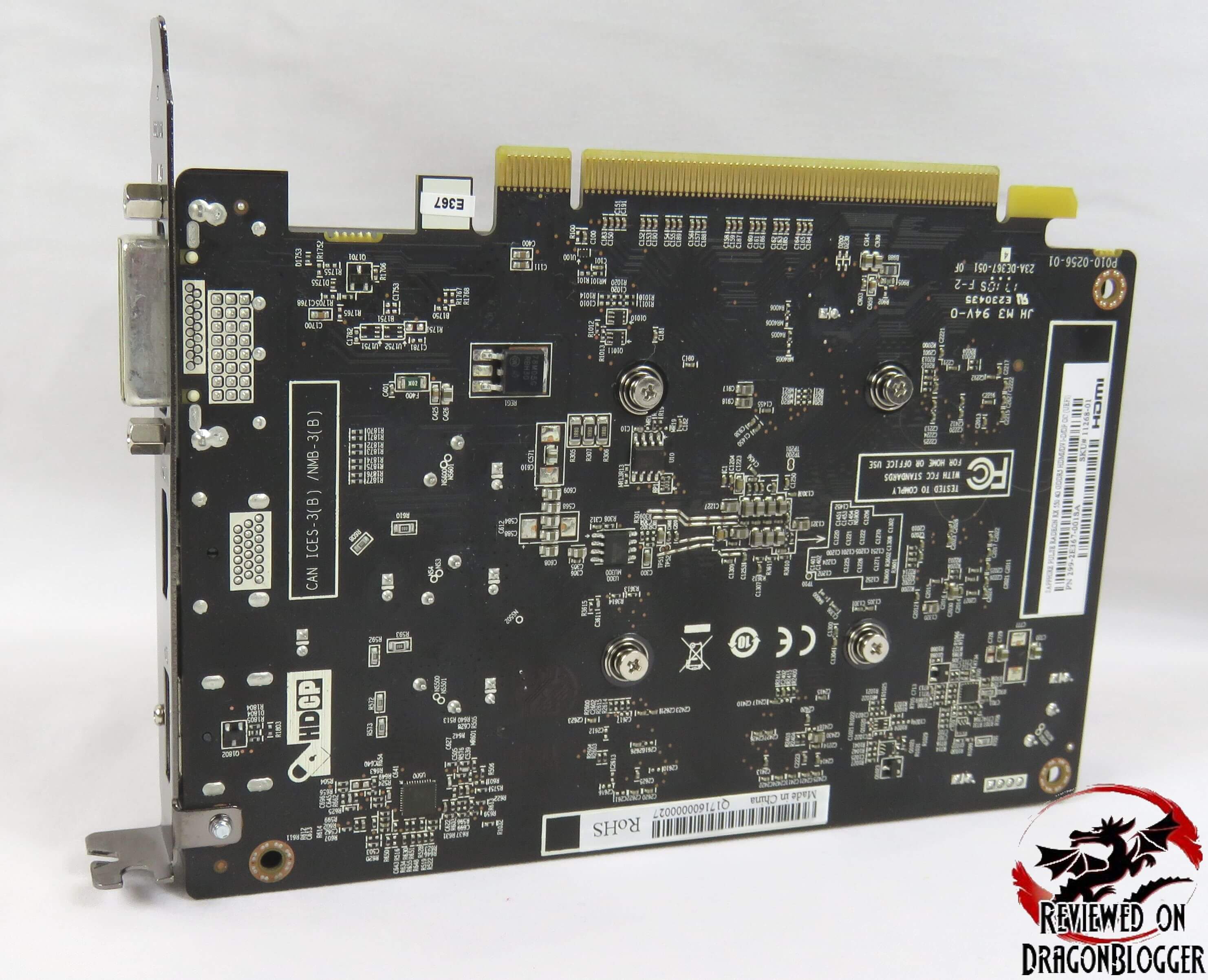 On the back of the card, we can see that there is no cover here, it is a plain PCB.  The PULSE line of Sapphire is not meant to be sexy, it is a no frills video card and that helps in the card coming in at such a low price.  Does no frills though mean it's a bad card, that it can't perform well.  We will also find out a little later in the review.
Before we get onto the performance though, let's see how to install it.  This next page will show you how to do so.
We are influencers and brand affiliates.  This post contains affiliate links, most which go to Amazon and are Geo-Affiliate links to nearest Amazon store.
I have spent many years in the PC boutique name space as Product Development Engineer for Alienware and later Dell through Alienware's acquisition and finally Velocity Micro. During these years I spent my time developing new configurations, products and technologies with companies such as AMD, Asus, Intel, Microsoft, NVIDIA and more. The Arts, Gaming, New & Old technologies drive my interests and passion. Now as my day job, I am an IT Manager but doing reviews on my time and my dime.