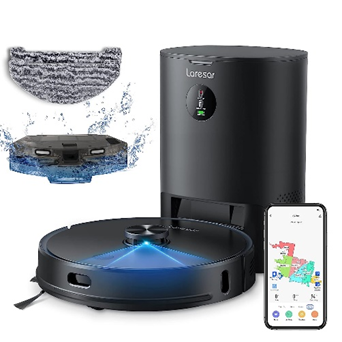 Does cleaning the home seem like a boring and tiring task? Surely the robot vacuum cleaner will make your life easier
If there is something boring for most people is cleaning the home, no matter your age or if you are a man or a woman, cleaning is something so boring that sometimes we forget it. Although cleaning the home is somewhat boring that does not mean that we should not keep it clean, dust in the home not only makes our home look dirty but can also increase the risk of getting sick, especially if you are allergic to dust. But do not worry, you do not need to hurt your back to keep the floor of your house clean, the robot vacuum cleaner is the ultimate solution for those who hate cleaning the home.
The robot vacuum cleaner is a modern product that mainly uses technology to clean your home automatically, this means that the robot vacuum cleaner can vacuum the dust and clean the floor without you needing to do anything, so, you won't have to worry about hurting your spine again, the robot vacuum cleaner does the hard work for you. The performance of a robot vacuum cleaner may depend on the brand, but if you want to get flawless cleaning, then it is necessary to invest in a good product.
The Laresar L6 Pro robot vacuum cleaner is a great option to consider if you are tired of cleaning your home, this robot vacuum cleaner will be responsible for cleaning your entire home with an advanced cleaning system, which guarantees a deep cleaning. It's easy to clean and use, so what are you waiting for to get it? Below, discover the most interesting features of this product.
Features of Laresar L6 Pro robot vacuum cleaner
The main feature of the Laresar L6 Pro robot vacuum cleaner is probably the powerful suction it can offer, ensuring an incredible and flawless cleaning in your home. With an out of suction of up to 3500pa ensures that your floor is free of dust. The brushless fan also helps suck up all the dust from your home without clogging which is common in cheap robot vacuum cleaners. Another feature of the Laresar L6 Pro robot vacuum cleaner is that it has 23 sensors that prevent any type of accidental fall or blow, the sensors help the robot to locate blind spots, objects, pets, and people, this prevents any accidental shock. Cleaning this robot vacuum cleaner is incredibly easy and best of all, you don't need to clean it every day, the Laresar L6 Pro has a tank with the capacity to store 3.5L of dust and you can disassemble the tank at any time. Worried about battery life? That's not a problem for the Laresar L6 Pro robot vacuum cleaner, the rechargeable battery can work for more than 200 minutes and will automatically return to the station, keep in mind that the charging time is about 6 hours. Finally, the manufacturer offers a friendly 2-year warranty and 24-hour support.
You can buy this item here on Amazon