We are influencers and brand affiliates.  This post contains affiliate links, most which go to Amazon and are Geo-Affiliate links to nearest Amazon store.
This is a review of the Sentey Bluetooth Speaker B-Trek S4 (Blue) in my case.  Pulling it out of the box the speaker feels very solid and it has some weight to it, but not too much weight that it is unwieldy.  It comes with a USB to micro USB cable for charging purposes, a line out cable and some instructions.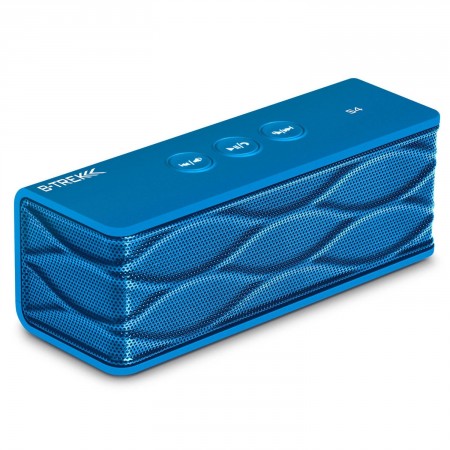 Once out of the box the speaker looks pretty cool.  The top has three buttons and a mic hole.  The buttons are rewind/volume down, play/pause answer and the third is the fast forward and volume up.
I kind of dislike the multi-use button especially when they combine the volume with any function typically.  On the B-trek S4 it works pretty well once you get used to it but it did take some getting used to.  Press it once and fast forward or rewind depending on the button and long hold to activate the volume functions.  The center button works as the play button but also as the answer button being the speaker can also work as a hands free device for your phone.  The bottom of the speaker has a couple of rubber feet to raise the speaker a tad off of a flat surface and also keep it from easily being slide around accidentally.  On the rear of the speaker is an on/off switch and an line in port and a line out port.  There is also the micro USB port to plug in for charging.  I used a PC and another wall plug in that took the standard USB end and both ways charged fine.  Wall plug was faster but the PC worked.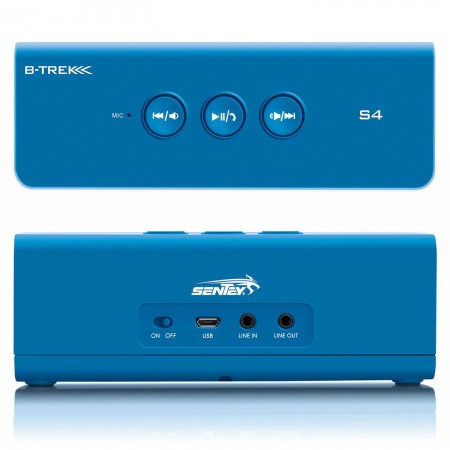 The line out port was interesting.  It makes the Bluetooth in the speaker a dongle for a none Bluetooth speaker.  Kind of a nice little add on to a little speaker and not something I remember seeing on other Bluetooth speakers similar to this one.
My experience with these Bluetooth speakers as hand free for a phone call is hit or miss.  Sometimes they work  for you but no so well for the person on the other end or the reverse where you can barely hear the other person.  This little speaker was a bit in the middle.  It wasn't unusable for me talking to others and seemed fine for them.  They knew I was on a "hands free" device but were surprised to know it was a Bluetooth speaker and not an ear piece.
Bluetooth 2.1 is what it is.  You have a range of about 10 meters or 30 feet.  That holds up without anything interfering.   Add a wall or two and that may cut it by a third to a half.  Pretty standard in my experience.  Sound is better the better the Bluetooth signal so keep the speaker and the paired device close and without interference if possible.
Sound quality is on par with the few devices I have checked out in this price range.  Spoken word, podcasts, are pretty clear with no issue understanding what is being said.  Music quality varies a bit based on genre and volume.  Anything where you want that pounding bass is going to miss out on some of that bass.  Lyrics are audible and understandable but there are times when the bass is too much.  Rock and country seem to play pretty well.  The wife said her country was clear but couldn't turn it up too loud and the rock for me was essentially the same.  At the right volume it was a solid sound.  No distortion or out of whack sound taking away from the music.
This is a couple pictures of my device.
Battery was determined to be good as well but it takes a bit to charge it up.  When charged it can get from 4.5 to 5.5 hours out of it.  For me that is mostly podcasts at a decent volume.  Move volume around, stretch the Bluetooth you might get less. It is rated for 6 hours which I could see obtaining in ideal circumstances more often than not.
So all and all a solid little blue tooth speaker The B-trek S4 is.  Got two kids fighting over as I finish writing this.  I would give it 3.5 out of 5 stars.
We are influencers and brand affiliates.  This post contains affiliate links, most which go to Amazon and are Geo-Affiliate links to nearest Amazon store.
I am just a geek getting older but keeping up.