We are influencers and brand affiliates.  This post contains affiliate links, most which go to Amazon and are Geo-Affiliate links to nearest Amazon store.
Popping up on the budget camera and camcorder scene is Seree with their products sold by the Sereer Technology shop over at Amazon.  Now at the time of this writing they had a very high rating average for the store and they have a number of camcorder product models available.  So many in fact that it may be confusing to end users as to which model to get and why choose one model over another model so here is some information to help you along with my review of two different Seree Camcorders.
First, I have reviewed the Seree HDV-520 and the Seree HDV-S14-FBA camcorders, but I will show you how you can tell which model is which on the Amazon store.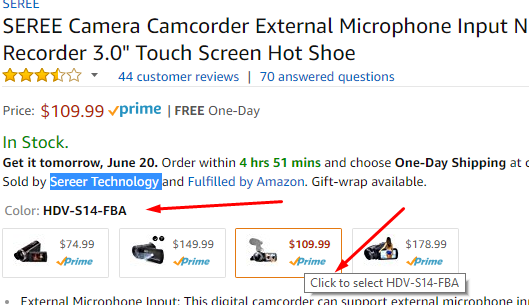 So when you are on a product page on Amazon you can see there are multiple camera's and accessories under that same product code or ASIN, they have product models defined normally where you would have "color" options for a product, hence you can see the model name by hovering your mouse over the various "options" or click on them and see the model name in the color section of the Amazon product page for Seree Camcorders.
Nearly all of the Digital Camcorders have the same feature of supporting an External Mic via a 3.5mm audio jack in the back and having a hotshoe so that you can install a flash or a boom mic and have it sit on top of the camcorder.  All of the camcorders that I have tested also come with a remote so you can remotely control the camcorder.  None of the camcorders come with an SD Card you have to supply your own, but a 64GB card works just fine and isn't too expensive.
Now I really appreciate that the Seree camcorders come with a wired lapel mic and these do a great job of amplifying your voice with the cord being fairly decent in length.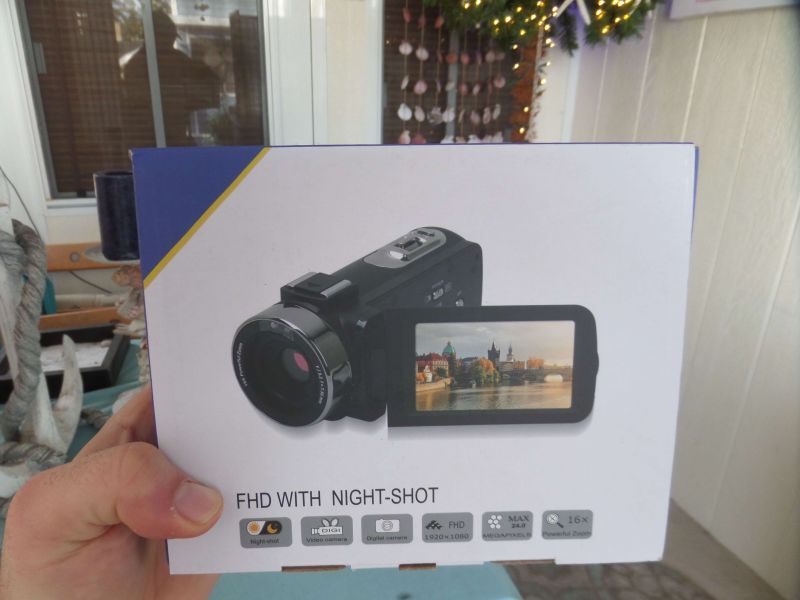 I did some testing with the S14-FBA and found that at 720p it records and looks fair at 30 frames per second but the 1080p at 15 frames per second is just too choppy for my taste.
The HDV-S14-FBA from Seree does however have the IR night vision mode which is something that the HDV-520 doesn't have, but the 520 does have 30fps at 1080p and I will show that later. My son and I went down to the parking lot near the beach and tested the night vision mode of the Seree HDV-S14-FBA and you can see that video below.
The Seree HDV-520
This is in my opinion the better camcorder of the two but it does lack IR night vision which would have been nice to include along with the 1080p and 30 frames per second capture rate.  Here is the unboxing of the HDV-520 camcorder from Seree.
So I decided to do a microphone test also of the default microphone on the Seree HDV-520 compared to how it sounds with the Lavalier microphone that comes with the camcorder.
The sound is much louder and clearer with the lapel mic for sure, though it is almost too loud that it distorts so make sure you test it and keep it a good distance from your mouth when using the lapel mic with the Seree Camcorder.
Here is the full video review of the HDV-520 camcorder by Seree.
Now one thing I do love about the Seree Camcorders is that they support external lenses, and the macro lens for the Seree HDV-520 does a great job of giving you incredibly close video shots.  If you record products, or want to record bugs on the ground or something super close up, then I highly suggest the add-on macro lens for a Seree camcorder.  They also include a telephoto lens as well for 2x optical zoom instead of using the rather weak digital zoom.  The digital zoom is rather disappointing as when using it to zoom in it doesn't scroll smoothly but instead increments rather abruptly each zoom level which means you can't do any smooth zoom scrolling at all with either of the Seree camcorders I tested.
I also did review a wireless microphone for the Seree camcorder and this is an FM microphone that does suffer from some fuzziness of the voice due to the FM frequency, it wasn't nearly as clear as the lapel mic in both volume and clarity which was a bit disappointing because in theory having a handheld wireless mic would be great for doing interviews.
All Seree camcorders have what appears to be the same OS and settings on their camcorders except for the missing Night Vision mode of the HDV-520.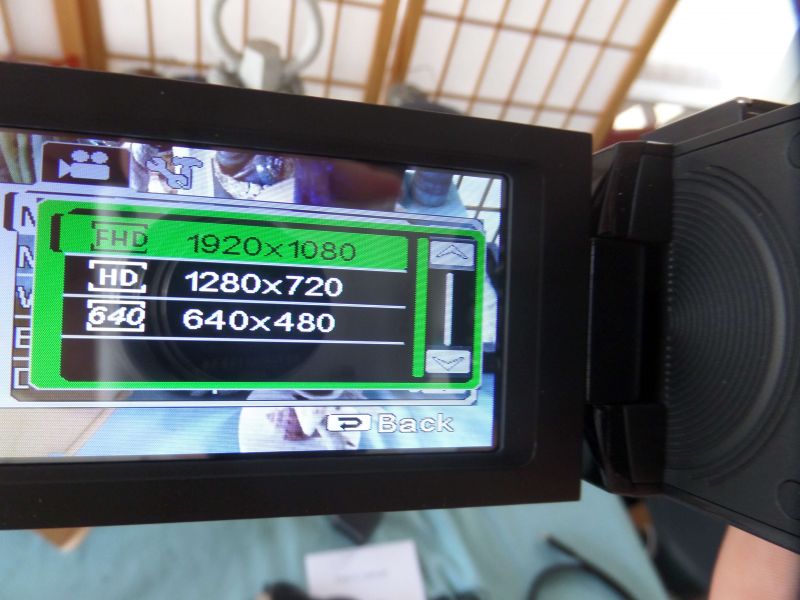 You can select screen recording resolution, picture resolution, and other settings like white balance and more.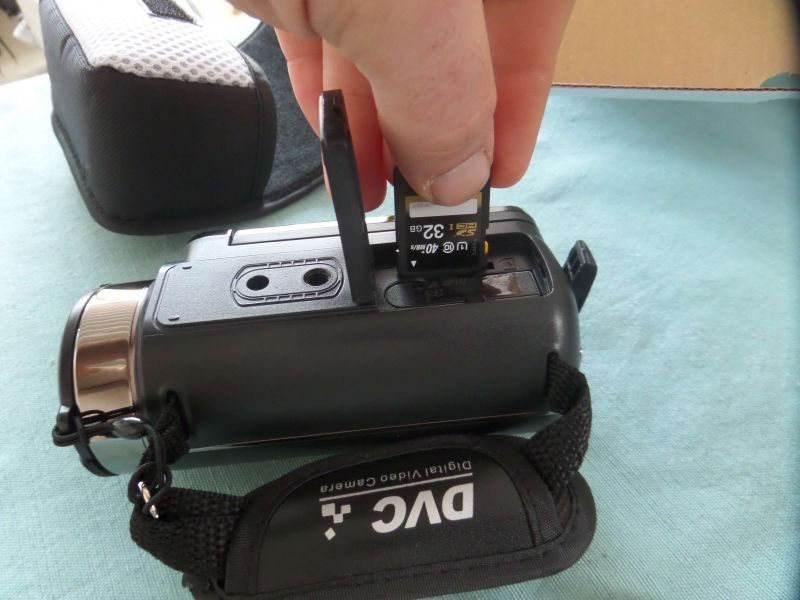 The SD Card slides in with ease and you can put up to 64GB SD card though 32GB is all I had to spare at the time of the review and I used the card in both Seree camcorders.
I like how you can record in Black and White right off the bat, as well as Sepia and Negative which is fun for doing effects when recording.  The black and white recordings let you make your home movies a bit more nostalgic without having to do any processing with a video editor later to remove color.
All in all as camcorders I would rate the HDV-520 4 stars for the price and the quality, just note that it ideally only takes video at 2′ distance or greater, it isn't designed for close up shots. The macro lens does a great job getting SUPER close shots, but there isn't really any happy shot range in the 6″ – 18″ distance which is ideal for shooting products so this is something to consider here.  It is fantastic for home movies, sporting events and family events and should be more than sufficient for family vacations and more however.  The S14-FBA however I would give 3 1/2 stars and only because of the 15fps at 1080p, if you only shoot in 720p this might not be a big deal but the night vision mode is pretty cool for doing certain things with and the HDV-520 does lack night vision mode.
Seree HDV-520 Camcorder gets 4.5 Stars.
We are influencers and brand affiliates.  This post contains affiliate links, most which go to Amazon and are Geo-Affiliate links to nearest Amazon store.
I have been obsessed with computers, tech, gadgets and games since the early 1980's having grown up on the Commodore 64 and Amiga computers.
By day I work in the IT Security Industry and have been in IT for over 20 years. On my spare time I am a Vlogger, Blogger, Streamer, Gadget Reviewer, affiliate marketer, influencer and entertainer. I am also an avid movie fan, TV Show fan, Anime fan, video game fan and fan of trying anything and everything new.