We are influencers and brand affiliates.  This post contains affiliate links, most which go to Amazon and are Geo-Affiliate links to nearest Amazon store.
Gaming experience undoubtedly depends on the infrastructure that you have for gaming. Amongst all, gaming router may be sometimes the neglected one. You may wonder what a gaming router has to do with gaming experience.
Don't ask us now that when you have a great internet connection, a super 64-GB fast RAM and a stylish set up of gaming zone, why on the earth would you need a gaming router. You should have a best gaming router if you do not want to suppress your adrenaline rush, not disappoint it, not want to lose the game abruptly. Keen to know more how? Read on further.
How gaming router boosts your gaming experience?
For a best internet gaming experience, a great internet connection with an amazing speed is a good addition. It helps a great deal in big downloads and eases accessibility of content though you have many connected devices. But that alone would never suffice.
Sometimes you may experience that 'latency' that can play a spoilsport during your gamin session. What exactly is this? Latency is usually the time taken for the gaming signal to travel to and fro in the network. It is also called as 'ping'.
Assuming that the best that you can get is a 30 milliseconds connection, without a gaming router, you would see an enhanced performance and gaming experience if you add the best gaming router to your gaming zone. In other words, a best gaming router will definitely boost up your gaming experience- much beyond that you could get via the best internet connectivity.
Additionally, if your ISP connection is poor, and if you decided to change your ISP provider next time, do not forget to add a gaming router too for a best result. Also, when you have a gang of friends sharing multiple devices on a same internet connection, performing various online needs, gaming router will help in diverting the gaming traffic separately on an entirely unique channel and routing the rest online tasks on to different path. It means, both you and your friends can have peace of mind without any clash of download speeds or gaming slog.
Wondering how this can happen? Well, it is all because of the unique features of gaming router – Quality of Service (QoS). This is the one main feature of a gaming router that would differentiate it from a normal Wi-Fi router, thus making it a great addition to your gaming zone. Additionally, a gaming router comes with multiple Ethernet ports, just making your experience much happier!
Now that we know how a gaming router can be a great idea for boosting your online gaming experience, let us check out the best on the list 7 gaming routers that make a perfect fit to any type of gamer.
1. ASUS RT-ACRH13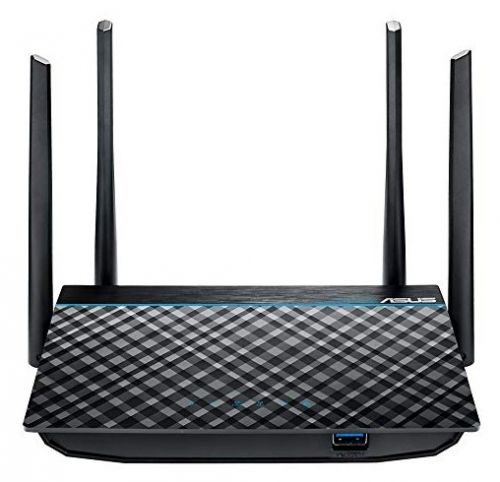 The dual band AC1300 offers an effortless setup and lets you enjoy the combined speeds of up to 1267 Mbps. You can easily manage and monitor your network from your mobile device too using the interactive ASUS router APP. Note that the connected devices must be 802.11 ac compatible for best results. You also get USB support on this router. This gaming router works well with Windows 10, 8, 8.1, 7, Mac OS X 10.1, 10.4, 10.5, 10.6, 10.7, 10.8. It also has an amazing encryption of 64-bit WEP, 128-bit WEP, WPA2-PSK, WPA-PSK, WPA-Enterprise, and WPS support.
2. TP-Link AC1900 Smart Wireless Router
This router comes in two colours – black and white. This is one of the best routers that make a perfect choice for setting up your home gaming zone. It has 4 gigabit LAN ports that provides fast access to multiple connected routers making it a preferred gaming router for many gaming enthusiasts. Its 3-external antennas provide a wider range of coverage of signal and eases smoother and faster access to multiple devices that are connected to it. This gaming router is compatible with 802.11 devices and all Wi-Fi designated devices.
3 Linksys AC3200 Dual-Band Wi-Fi Gaming Router with Killer Prioritization Engine (WRT32X)
The name itself says its performance. This was the first ever router that was built specifically for gaming purposes. Its users are happy that it reduces the peak ping by up to 77% as its manufacturer's promises. It goes well with Killer-enabled-PCs from Alienware, Gigabyte, MSI and Razer. You can have a top experience with its 3.2 Gbps speed. It contains four ports, making it a good choice for multiple uses.
4. ASUS Whole Home Dual-Band AiMesh Router (AC1900)
This is yet another kid from ASUS for your best online gaming experience. It offers dual-band connectivity for flexibility and compatibility. It provides an effortless setup based on ASUSWRT web-based interface. Additionally, it has higher protection from being vulnerable to attacks, thus assuring you peace of mind from cyber threats. It needs a DC output of 19V with a maximum current of 1.75amps. It is on lines of IEEE standards IEEE 802.11a, IEEE 802.11b, IEEE 802.11g, IEEE 802.11n, IEEE 802.11ac, and IPv4 and v6.
5. Netgear (R7000-100PAS) Nighthawk AC1900 Dual Band Wi-Fi Router,
This router is known for its QoS performance and you can get it from reading the reviews. Yes- this gaming router stole hearts of millions of users across the globe with its proven performance and ease of setup. It has the OpenVPN app that lets you access your network remotely using your mobile device ReadySHARE Vault automatic backup software for Windows PC. It is compatible with Alexa and other such voice based IoT devices, which just means an additional super gaming experience too!
6. NETGEAR (R8000-100NAS) Nighthawk X6 AC3200 Tri-Band WiFi Router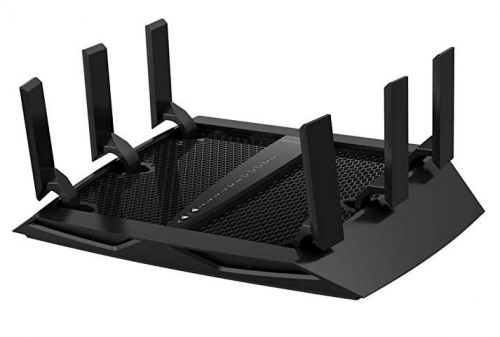 This is another voice compatible and Alexa compatible gaming router. Its tri-band Wi-Fi delivers better Wi-Fi experience. It has s-x antennas that provide fullest coverage of signal available. The Nighthawk app lets you setup this gaming router ina user friendly way. The router has a USB 3.0 port feature and you can enjoy high speed storage and access too.  You can also check out our review of the Nighthawk X6.
7. TP-Link AC5400 Tri Band Gaming Router
This is another amazing gaming router from TP-Link. It has a 1.8GHz 64-bit quad core CPU that just gives boosted loading speed. It is inbuilt with effective antivirus that gives you peace of mind as you explore the online gaming experience. Its unique Range Boost feature lets it receive the signals with ease and so is its sending speed and performance too. The AC5400 has tri-band Wi-Fi, one at 2.4Ghz and the other two at 5GHz bands.
Just remember that a gaming router will definitely be a great booster to your online gaming experience. For doubt on selection of router that matches your gaming needs, you can always rely on online reviews, experiences of friends and peers. If you need help choosing the best router for you, check out this gaming routers guide.
Happy gaming!
We are influencers and brand affiliates.  This post contains affiliate links, most which go to Amazon and are Geo-Affiliate links to nearest Amazon store.
I am interested in all things technology, especially automation, robotics and tech that helps change how society will live in the future.