The CR – 10 3D desktop printer is quite sizable, and has a liquid crystal display screen. There is a SD card with an offline printing option. It has imported special aluminum frame with a 300 x 300 x 400 mm volume with 0,4 mm gage diameter of a header though it may be replaced with 0.3 / 0.2 mm. in order to maintain a charm of a handicraft, the desktop printer CR – 10 3D is also a built-in set allowing you to go through an unforgettable step by step experience of a 3D printer!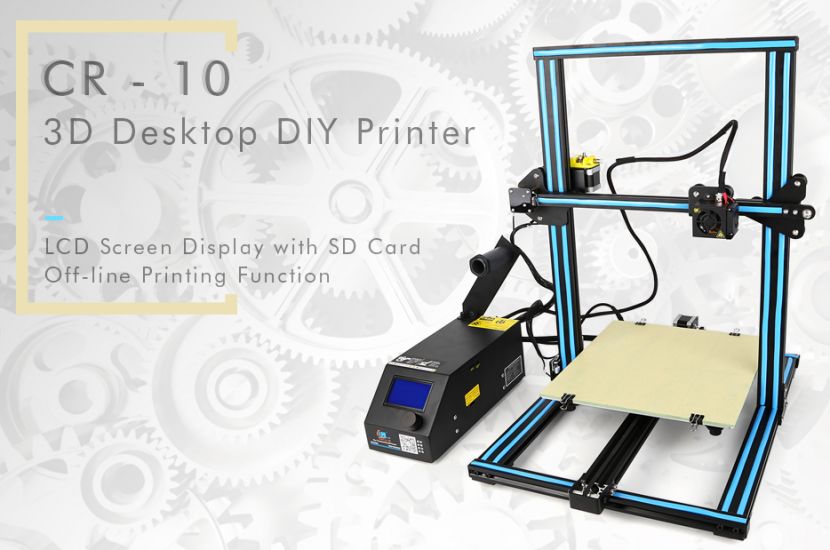 Creality CR-10 3D Printer Key features:
A liquid crystal display screen and keyboard for a simple stand-alone use;
Off-line printing support of SD card, also it is allowed to print directly with a USD-adapter;
300 x 300 x 400 mm pleat volume
A few 3D printed lines support: ABS / PLA / TPU and so on;
A further simplified structure means quick assembly and easy setup, which saves you time and energy;
Improved stability and reliability: aluminum plane provides with more stable printing;
Pleat is simple and convenient for DIY clients;
It is not a complete DIY set, which gives you an unforgettable step by step learning how to do 3D printing from the ground up. While you have passion for creative work, you must-NOT-miss this device;
Nozzle temperature: below 250 °C under normal conditions, max. 270 °C
Brand: Creality
Type: DIY
Model: CR-10
Header diameter: 0, 4 mm
Memory cards in off-line mode of printing: SD card
A liquid crystal display screen: is supported
Printing speed: 80mm / s
Printing material diameter: 1.75мм
File format: G-code, JPG, OBJ, and STL
Computer host software: Cura
Packing type: packing unorganized
Product weight: 13, 3000 kg
Packing weight: 13, 4200 kg
Product size: 54.00 x 64.00 x 31.00 см / 21.26 x 25.2 x 12.2 inches
Packing size: 54.00 x 64.00 x 31.00 см / 21.26 x 25.2 x 12.2 inches
Packing content: 1 x CR – 10 3D desktop DIY printer
In the last century, three-dimensional models were used in narrow focus specialized spheres: in medicine – prosthetics, in mechanic engineering – making casting forms, in electronics – electronic chip building, in architecture and design – getting a maquette of interiors and buildings, in scientific research – creation of experimental prototype of the future item.
Using 3D desktop printer, one is able to print play games and entertainment, crockery and house ware, furniture and accessories, let alone accessories for mobile devices and computers, office materials, gold and silver ware, automobile parts and components, clothing and footwear, 3D copy of a human being, selfie-reproduction.
About the Author:
Melisa Marzett who is currently working for Professional Online Sky Essay Writing Company is a splendid writer who is eager to accept any writing challenge just so enthusiastic readers were happy reading her piece and found them useful and interesting to read.