Everyone needs a little color in their life… unless you're an edgy freak like I was in highschool. Then you need a lot of color in your life. Achieve your rainbow sparkly unicorn dreams with Govee's Outdoor Ground Lights. Honestly, do you ever get bored of the stereotypical street lights that line the city at night? Do you want some color to flair up your yard? With RGBIC technology, the Govee app can help you set each light to any sort of color you want – and they mean it. There are millions of colors to choose from.
Christmas, Winter Solstice, Hanukkah, Yule, or the other winter holidays? No problem. Halloween or Samhain? Just use the same lights. I'm sure if you strung these lights in a clever way, you could really compliment your walkways and/or driveway. If you have a large yard, that might be something as well.
With the app, you can do more than just change the color of the lights manually: It can go automatic. Create light shows by programming the individual bulbs on the app to go through certain sequences and color changes. But that's not all: Try enabling the music mode, and the lights will actually "dance" based on an in-built microphone. This is especially awesome for raves, parties, and other festivities. If you blare Jingle Bells on Christmas Eve from a Bluetooth speaker or something, the lights will change colors based on the rhythm and the music.
https://www.youtube.com/watch?v=6z3NYukSd7U
Not sure what you're feeling? Try the preset scenarios for almost every occasion and/or mood. I personally would spend hours fiddling with this app because I'd want things just right. This sounds like a digital artist's dream, to be honest. And let's say you want the lights to turn off or change color when you wake up or when the sun is out. Again, not a problem whatsoever: There's a timer feature in the app itself.
Lights too bright? There's an in-built dimmer from 0% to 100% on the app. It even works with Amazon Alexa and Google Assistant. That's pretty awesome, if you ask me. Imagine telling Alexa to "dim the lights" on a romantic dinner, or to set the lights to a "rave party" setting that you made yourself.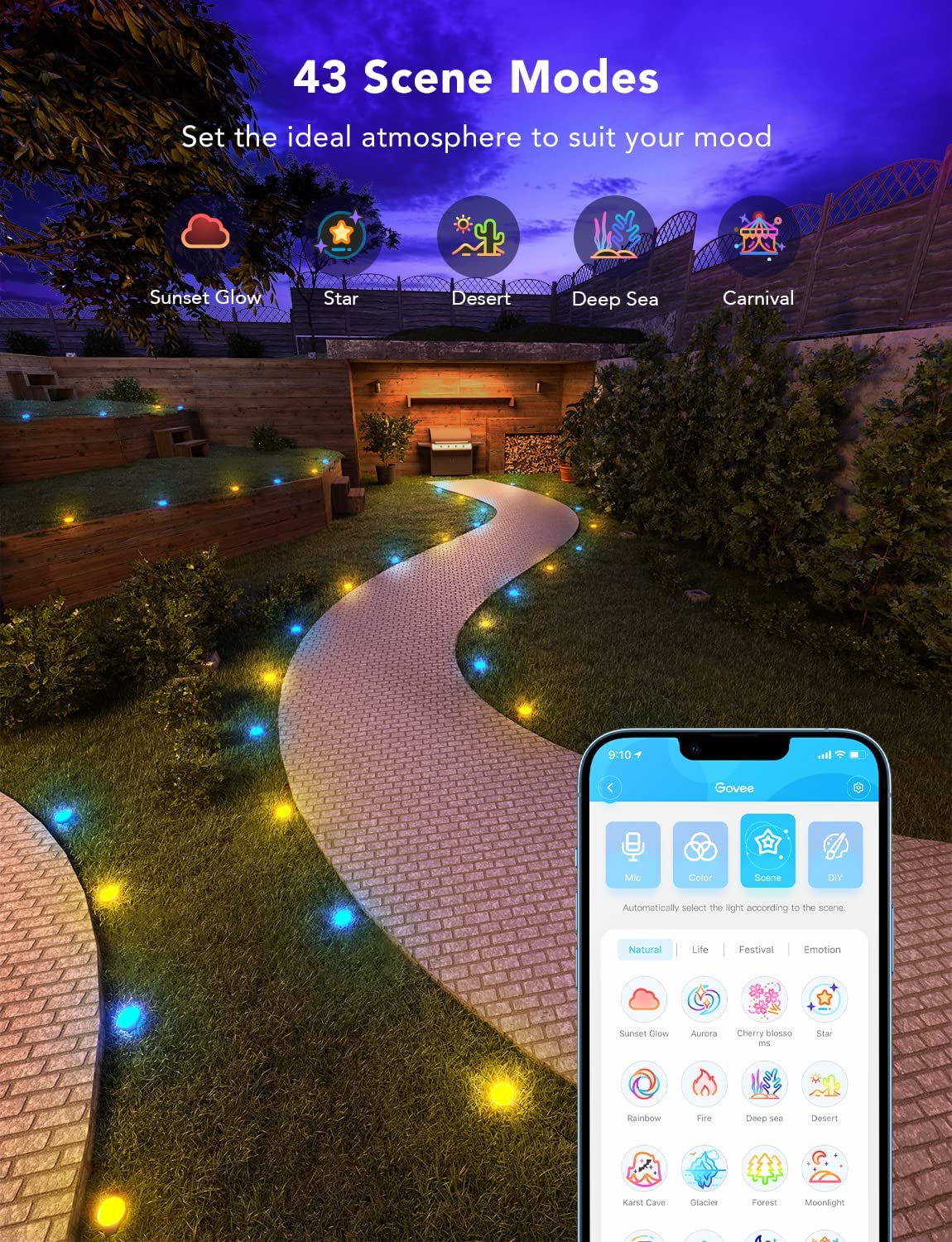 Worried about the weather conditions? Don't be – I promise. IP67 waterproofing in the lights has you covered. After all, who wouldn't want to see their awesome light show in a heavy rain? That would be honestly beautiful, with all the colors reflecting off the water in the air. Foggy nights and mornings would be amazing too. Just imagine the lights glowing even more and the whole area around them being lit up in a 3D space. Something that should be noted though, the adapter isn't waterproof, so make sure that you keep it safe.
But let's say you just need more lights. Yeah, I would too. We're in luck: There's not just a 36 foot option, there's also a 50 foot option. With 70 lumens of light, and a 1.6 foot distance between each light, your LED needs will be covered quite well.
Interested in seeing the product for yourself?
Check out the Govee Outdoor Ground Lights on Amazon
Thanks for reading.
Roxie out.