Skincare is definitely a must for everyone, but sometimes it's just not the easiest thing to do. Between all the masks, creams, and various other things needed it can be quite the hassle. Our faces collagen loses its give over time, and tightening it can be quite the task. Thankfully LifePro is here to help with the Vizacure LED Therapy Mask! This revolutionary product has a whole host of benefits all while being simple to use. It's patented system will get your face bright and rejuvenated in no time at all! So without further ado let me tell you why you should consider the Vizacure LED Therapy Mask for your next skincare purchase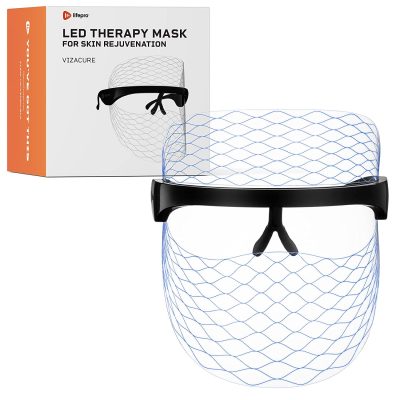 Features
Aside from a comfortable design that feels almost natural to use, and is compatible with all your favorite skincare products this mask packs quite a bit of bang for your buck! The LED lights help improve blood flow to your face as well as collagen production, which smooths and tightens your skin. This also leads to improvements in pigmentation and fine lines, as well as your tissues metabolic rate! All while using natural light rather than harsh chemicals. Gotta love a good bit of natural healthcare!
LED Face Light Therapy brightens your skin color, and can even reduce wrinkles while opening your pores and tightening your skin! This leaves your face with a luxurious sheen that looks almost radiant. It's also fantastic for relaxation, and a great way to unwind after a hard day. You can improve your complexion while unwinding for the day in luxurious comfort! It's in fact made for frequent use so you know it's designed to be as comfortable as possible to ensure you never have any hassle while using this fine product! Just fifteen to twenty minutes daily can show results in as little as a few weeks!
Your Vizacure unit features three powerful therapeutic modes, Amber, Red, and blue which all target specific issues, so you get the most powerful therapy available right at home! Get ahead of pimples, help alleviate itching and flaking, and tighten and smooth your skin with LifePro! Skincare is important, and not getting a jump on it can lead to everything from crows feet, to wrinkles! Not something anyone wants to have to deal with, thankfully LifePro is here to help and offering a fantastic product at a price so affordable it's almost criminal!
Summary
LifePro products are focused on your health and wellness, and this product is no different. With three different modes to target different issues, a comfortable and simple to use design this is one useful mask! We all want to look a bit younger, and outside of the general skincare benefits this offers the promise of tightening your skin and restoring collagen is exactly how you go about doing that! All in all this is a fantastic product and at a much more affordable price point than its competitors that can range to nearly triple in price! If you're looking for a skincare solution, I'm happy to say you've found it!
I am just a 25 year old doofus who enjoys rpgs, sugar rushes, and passing out at odd hours.