In case you didn't get the June Newsletter, I wanted to let fans know that in 2019 I had set a new goal for Dragon Blogger and that was to push out and expand into the Twitch streaming platform.  In doing this I brought in a team of streamers including myself who had entertaining personalities, were chill and really enjoyed getting to know the audience and interacting.  The above picture in order from left to right is Justin, Brian, KatVonMeow and Oliver.  Within just a few weeks of starting we were able to reach Twitch affiliate status and have a constant growing fanbase of regulars who come by and know each of our streamers by name.  I am looking for your support, please visit twitch.tv/dragonbloggers and give us a follow, drop in on a stream some time or if you an Amazon Prime member, give us your Twitch Prime Sub at no cost and help us keep funding the giveaways and the stream content.  As a thank you for your support I am giving away a random Steam game key to everyone who gives us a Twitch prime sub or 1 game per Tier level if you become a standard subscriber up to 3 Steam games for a Tier 3 sub.  These subs help us unlock more emotes and continue funding our adventures, I am also trying to bring in enough donations to help upgrade some of our streamers equipment (PC's…etc).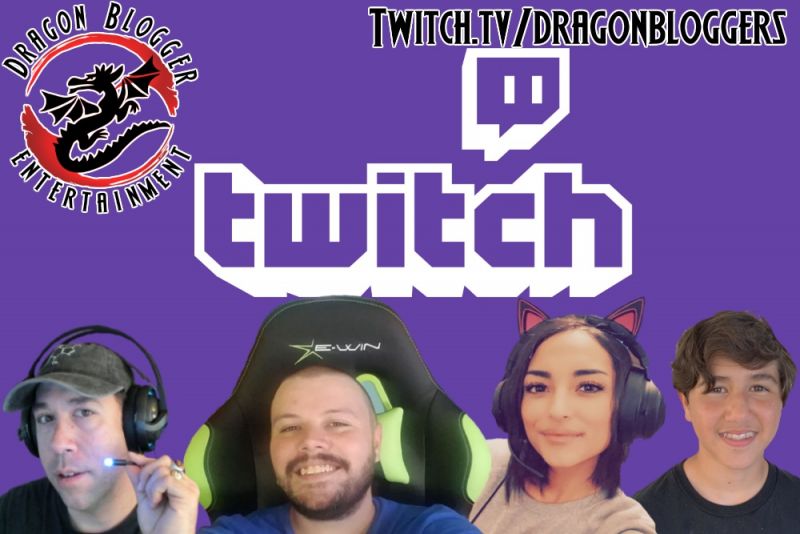 Meanwhile here are our streamers and common stream schedules, though it is best if you turn on notifications for when we go live since we have a bunch of streamers and various stream days/times including some ad-hoc stream schedules.
During EVERY stream we try to giveaway at least 1 or 2 random Steam games, so there is always a chance you could win a Steam game key.  Coming soon I will be also including various gift cards/codes for PC and other platforms as well to help those who don't have PC and want to win something.
Brian
 streams from his
Xbox One
and doesn't have
webcam
yet, he streams anything from FPS games like Apex Legends,
COD
BO 4, Overwatch, The Division 2 but also streams full playthroughs of games like A Plague's Tale recently and is currently doing ELEX this week.  You can find Brian streaming every weekday 
Monday through Friday from 10am Pacific Time / 1pm Eastern Time
 for about 2-3 hours per day usually though he once ran over 5 hours on a great stream a few weeks ago.
KatVonMeow 
is our newest member of the Dragon Bloggers team, she streams from her PC using
SLOBS
and uses a
webcam
with greenscreen.  She streams Overwatch often and intermittently goes in an out of random adventure or new indie games.  Kat can be found streaming 
Tuesday and Fridays at 6pm Pacific Time / 9pm Eastern Time
 and 
Sundays at 11am Pacific Time / 2pm Eastern Time
.
Justin Germino
 as the owner of Dragon Blogger since August 2008 I also do live streaming when I can with my very busy schedule.  I am usually found streaming on 
Saturday or Sunday
 randomly and announce when I am about to stream on our
Discord Channel
and
Gaming Tribe
fanpage.  I tend to stream Magic the Gathering: Arena lately, or
Elite: Dangerous
, No Man's Sky or I am still playing the JRPG Strategy game Valkyria Chronicles 4 which I was streaming quite a bit last week.
Oliver 
is my youngest son at 12 who also streams quite a bit at different times for our channel.  He does almost all my
PSVR
streaming and has streamed Beat Saber, Trover Saves the Universe and several other
PSVR
games for us.  Oliver also can be found playing Overwatch with Kat during her streams sometimes.
Mason
 is my oldest son at 15 and he was mostly creating video content for our YouTube Channel including Fallout 76,
Warcraft
III and Subnautica.  He is starting to emerge into Streaming and will be covering mostly
World of Warcraft
content for our streams, particularly WoW Classic when classic officially releases but will be working on streams before then.  His streams tend to be late after 
10pm Pacific Time / 1am Eastern Time
when he starts but no set schedule yet.