Jump into Wireless AC Routers with the Netgear Nighthawk AC1900 Dual Band Wi-Fi Gigabit Router and you won't regret it.
The Looks
Firstly, the looks of the 'Nighthawk' are incredibly awesome. It has 3 external removable antennas, and a sleek base. The device is hang able on walls, after which it looks like a piece of alien tech. Sleek.
A dozen LEDs on top of the router inform you of the status of its wireless radios, USB ports, Internet connection, Ethernet and USB ports, and other features. These include 2 buttons, one for turning wireless capability on/off. The other as a WPS.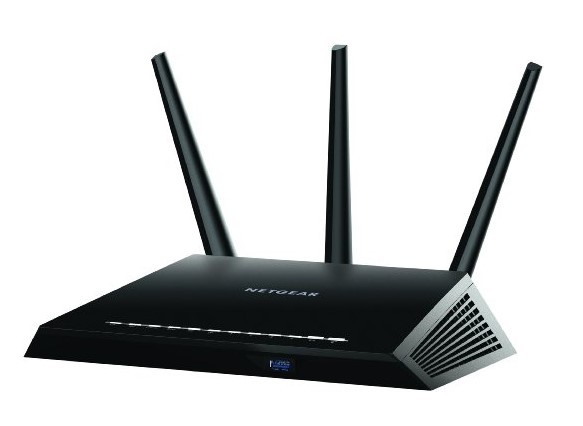 Insane USB 3.0 Speed Utilization
It is possible to use the Netgear Nighthawk Router as an NAS (Network attached storage), which, according to the tests performed by the consumers, means fast and reliable read/write speeds. The company promises about up to 45MB and 35MB write speed. Usual or older routers typically give you about 28MB Read and 25MB write if you want a comparison. This is possible by the insane decision from Netgear to add in a Dual Core 1 Ghz ARM Cortex A9 which is actually a very powerful CPU for a router.
No More Bandwidth Issues
The router offers downstream quality of Service (QoS) along with Upstream. It comes packed with parental control features and supports OpenDNS and blocking of sites based on keywords. It is also possible to assign an email address to be notified when someone connects to a blacklisted/blocked websites so is a great option for parents who want to keep tabs if their kids try to access blocked content. The downstream QoS will also ensure that the bandwidth problems such as to clients, one trying to download a file the other trying to stream a video, both of them will get the right amount of bandwidth.  You can prioritize video, VOIP or other network traffic accordingly.
The Far Reach
A test conducted by PCWorld shows that at 65 feet from the router, they got nearly 300 MBps using the WUMC710 Wireless Bridge. This is definitely a great asset of the Nighthawk, especially for folks who need a router that can cover several feet of land.  Those who are in multi-story houses and only want 1 router to cover two or three stories for example instead of needing a repeater on each floor.
Other Mentions
The Nighthawk from Netgear is capable of supporting 2 USB Storage devices or printers. It also provides a personal FTP server with Dynamic DNS support. The router is getting a year old at the time of this post, but it is not only one of the best all round routers, but it is also one of the most bought. So you can assure yourself that you'll find a large resource for your troubleshooting. You can also contact Netgear if you have any problems with the device.
The Verdict
If you're upgrading from any 802.11n router, then you should do it ASAP. The Netgear Nighthawk AC1900 is a fine choice for a router, especially if you have multiple clients and get bandwidth issues, the downstream should solve that for you. I highly recommend at least checking this product out if you're in the market for buying a new router.
I'm a teenager, trying to earn a few extra bucks to keep my gaming and tech dreams up to date, Hence I'd appreciate it if you'd read/share and comment on my articles. I've been writing for this website for about a year now and have finally collected enough to buy this ( http://imgur.com/a/fYqPC ) I always welcome feedback and constructive criticism. I prefer writing about the latest gadgets and the happenings in the gaming world.