I received an email that my site DragonBlogger.com was listed in ministatus and decided to go check it out.  It is some sort of domain listing site that compiles your metrics just like compete.com or some other sites, but I saw few sites that tried to estimate what your site brings in monetarily.  This was funny because when looking at the ministatus listing of DragonBlogger.com it showed probably monthly income of $1284.30 and this is about 8x more than I actually earn from my site.  The Daily Unique visitors of 1456 were also about 20% over estimated, so I am not sure how the system tries to calculate how much traffic to your site gets.

Either I could be doing more to earn more, or this site seriously over calculates the earning potential of sites as it does with my site.
On Search Engine statistics the Ministatus website shows only partially correct metrics showing far less indexed pages for Google than my site actually has.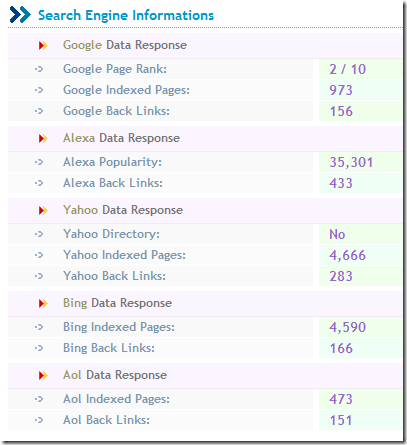 Overall I didn't find the information provided by ministatus to be that valuable to me in comparison to other sites.  The site is useful only for general averages but by no means is it as accurate as using your Google Webmaster tools or Analytics to collect true information.  It was however accurate at the time with its Alexa information for the date I checked.
-Dragon Blogger