Forget to carry your iPhone charger to office often?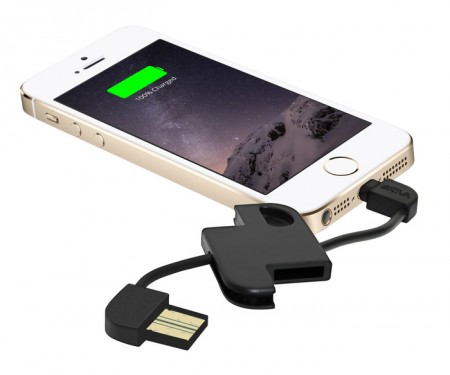 Skiva Technologies has developed a foolproof solution to forgetting and misplacing costly connector cables. Cord2Go is a Lightning Port to USB Sync and Charger cable for Apple's mobile devices like iPhone, iPad, iPod and other Lightning port based devices.
Along with inbuilt support for the latest iOS 8, the USP or highlight of this one in several (practically countless) PC to Mobile device connectors is that IT IS A KEYCHAIN! Just put it in your pocket or wallet with car/office/house keys attached  ;-)
About the Company
Consumer Electronics Association (CEA) member
MHL Consortium member
Apple's MFi technology licensee
Founded in January 2011, Skiva Technologies is a privately-held company based in in Irving, Texas but has its Research and Development facility in India. It has previously developed several top-class innovative products for Mobile devices along with home networking solutions in the US and Canada markets. Skiva Tech aims to build on great consumer electronics products to make them easier and more effective to use. In less than 4 years, it has achieved phenomenal success in terms of popularity and revenue.
Product Features:
Apple's MFi Certification.
Full iOS8 Compatibility.
Lightning Port based SuperFast Sync & Charge cable connector.
Compact, Sleek, Light, can be carried in your trouser/ shirt pocket or wallet.
USB universal compatibility, no drivers required.
Concealed Tangle-free Cable.
Multipurpose – Keychain cum Mobile Connector.
Easy to Use. Easy to Remember.
Cheaper than Apple Lightning Port to USB cable.
Can be used with Car USB, Laptop and Desktop computers, Multiple-port chargers as well as Power Packs.
Product Specifications:
Weight and Dimension
Length 1.9 inch
Breadth 1.1 inch
Height 0.2 inch
Weight 8 grams
Cable Length 3.8 inch
Compatibility
iPhone 6, iPhone 6 Plus, iPhone 5, iPhone 5s, iPhone 5c
iPad Air 2, iPad, iPad(4th Generation)
iPad Mini iPad mini 3, iPad mini 2, iPad mini(1st Generation)
iPod Nano(7th Generation), iPod Touch(5th Generation)
Warranty: One Year
Cord2Go Team Members:
Mandeep Kumar: Product Architect
Vishaldeep Garg: Feature Master
Nadeem: Mechanical Design
Suraj S: Form Factor Designer
Soumya Pratim: Vendor Specialist
KickStarter.com Fundraising Progress:
Skiva Technologies has raised 1/3 more than its threshold of $10,000 for influx of further investment capital with 2 weeks left before the deadline. 861 out of 1700 limited advance booking slots in the campaign have already been taken, so hurry up and grab yours for 25% discounted Cord2Go Keychain Cables for your Phones and Tablets.
Past experience has helped the team streamline the process of product development, shipping, marketing etc. and they expect to meet shipping dates in February 2015 (less than a month!)
KickStarter Project Page:
https://www.kickstarter.com/projects/853175871/cord2go-charge-and-sync-lightning-keychain-for-iph