For those who know me, I have been using the Spotcam cloud IP based camera system for 2 years now and have tested the Spotcam, Spotcam EVA and now the Spotcam HD Pro is being reviewed in this article. But first we kick off the unboxing video of the Spotcam HD Pro
The reason why I love Spotcam is when you buy the camera, you get 1 day (24 hours) of video storage in the cloud for free.  Many other cloud IP based security camera brands charge you a monthly fee for any storage or greatly feature restrict your security camera unless you pay a monthly service fee.  Whether you are adding your first camera or an additional camera to your Spotcam account you can use the below video to walk you through the steps.  The first thing you do is download the Add_Spotcam.exe software, then run it and it will connect and show you an setup window, when you reach the right part of setup you connect your PC to your Spotcam Wi-Fi network and then configure your Spotcam to connect to your local Wi-Fi network.  When you are done you switch your Spotcam camera back to client mode and it will connect to your Wi-Fi network and broadcast your camera stream online automatically afterward.
Adding a Spotcam Camera to MySpotcam
Then you install your Spotcam where you want to use it and you are done.
My Dual Camera System is now online: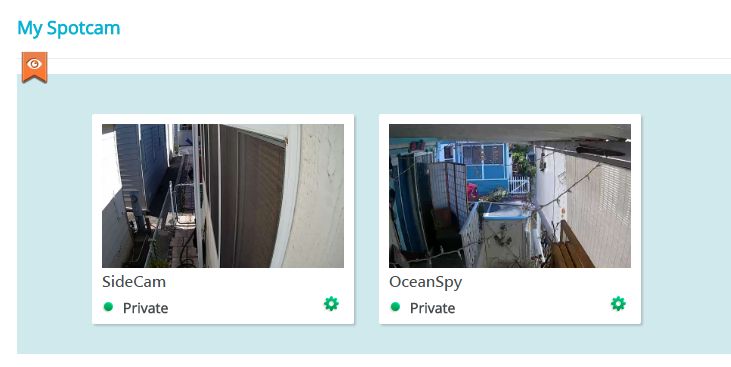 Now, if you want to see more how the control software works read my Spotcam EVA review, I won't go over the same camera controls and cloud account controls here but only talk specifically about the Spotcam HD Pro.  The Spotcam HD Pro is rated for outdoor weather compared to the Spotcam EVA and it has the appropriate rubberized coating on switches and plugs to help ensure that it has better dust and water protection.  The general microphone, audio quality from the camera is good but one thing I really noticed was how much I love the pivoting and motion of the Spotcam EVA after using it for several months compared to the fixed Spotcam HD Pro. The EVA simply lets you rotate, pivot, move up and down which gives you greater ability to tune adjustments and create monitor viewing ranges that you can't do with the fixed Spotcam models.  The night vision mode is good but doesn't have a tremendous amount of range, and in all 3 current Spotcam models they top out at 720p resolution which can make recognizing people's faces a bit difficult at a distance of greater than 5 or 6′ because they are grainy and pixelated.
The Spotcam HD Pro also ideally works if it can be mounted vertically upside down, it doesn't mount well when it is sideways and only able to have one scale of view.  Overall I found the Spotcam HD Pro not preferable to the Spotcam EVA but if you need to have it outdoors where it can get hit by the elements the EVA is not going to survive the outdoor conditions long.  Spotcam is still my favorite security camera solution where it stores the video in the cloud and allows you to create videos, alarms for motion, sound and even set alert schedules.  You get 24 hours of free cloud storage of your video for each camera, and the monthly subscription for 3-day storage is decent.   As more Wireless IP-based security camera brands come on the market Spotcam should be releasing a 1080p security camera that has the motion capability of EVA and the outdoor rating of the Spotcam HD Pro to stay competitive in the future would be my only suggestion for the brand.  They should also consider selling a 2 or 4 camera bundle at a discount instead of buying each camera individually where possible.