We are influencers and brand affiliates.  This post contains affiliate links, most which go to Amazon and are Geo-Affiliate links to nearest Amazon store.
So James who is an editor/reviewer and one of our Twitch streamers is the one who I go and interview Carmy next.  While dropping in on Carmy's streams I very quickly saw that she is someone who just likes to have fun with her viewers, was very interactive and had a great sense of humor.  So I spent some time learning more about Carmy and checking in on her streams more frequently and here is our interview with Carmy.  I also found out from her Twitch bio that she is a Boston Terrier Lover which makes her a kindred spirit.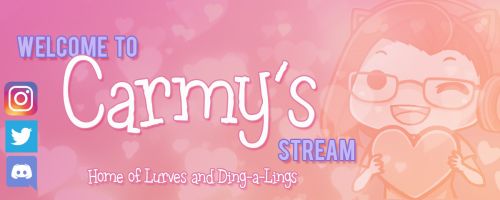 Justin – Thanks for taking the time to be interviewed Carmy, tell our readers about yourself where you are from…etc.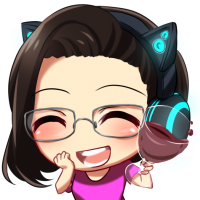 Carmy – My name is Carmy, I'm a southern gal from Louisiana, I work in graphic arts and just love to goof off! I have been streaming for over 2 years, and I play a good amount of games, from chill to crazy action, depending on mood! I have a small community called the Ding-A-Ling Crew, just a couple of silly people hanging out! I'm also co-owner of The Irish Legion, run by Sol_Invitus, great group of friends as well!
Justin – Small world, we did a previous interview with Sol_Invitus he is a great dude and James watches him all the time.  Pretty sure that is how we ran into you originally, but honestly could be from Team B42 or any of the other Discord groups we co-frequent.  I didn't realize you were co-owner of The Irish Legion.  When did you first realize you wanted to start streaming and when did you first start?
Carmy – Well my old coworker started streaming when PUBG was first out, a long time ago! When I learned how easy it was to setup for streaming I went ahead and tried it out, then turns out I had a bit of stage fright, but I overcame that a short while after that!
Justin – That is pretty cool, I do see a lot of streamers who first start out without a webcam or mic, just to stream game, or mic without webcam.  Some are still shy and don't use a webcam or use an avatar instead of a webcam because they don't want to be on cam.  Realistically streaming for an audience can help you build confidence with presenting, projecting your voice and actually get more comfortable with public speaking and entertaining which is one of the reasons why I like it.  What streaming platforms do you go live on most often (Twitch/Mixer/YouTube…etc)?
Carmy – Definitely Twitch! I tried Mixer out and I enjoyed it, it's just difficult to make a transition when I'm so used to the way things are on Twitch! Not saying I'm moving to Mixer! Just a trial run!
Justin – I also am experimenting with Mixer but find it more convoluted and confusing just because I am so used to Twitch.  I also don't plan on jumping ship to Mixer.  What devices do you prefer to stream from?  (Console, PC…etc)
Carmy – I used to have PS4, Wii U, Switch, but now it's PC only! I think either device is easy to use for streaming!
Justin – Sure, I mean some exclusives for certain consoles have an appeal to have all of them for streaming something you may miss out on, but PC is Master Race for a reason :)  What is your preferred streaming hardware/PC/software setup (PC Specs)? (Webcam, Elgado Streamdeck, SLOBS/StreamElements…etc)
Carmy – I had OBS, then tried SLOBS, then switched back to OBS! HA! Much more stability! I used to have Streamlabs only, then found out about StreamElements, so I'm making the slow moveover to there! My setup is my PC (2 monitors), Logitech Webcam, Blue Yeti Mic, Stream Deck, Cat Headphones, which is a must, and ME!
Justin – I see a lot of people use OBS, OBS Studio, Streamlabs OBS and a lot of people use Stream Elements it's funny I have yet to meet or interview a streamer that uses XSplit or any paid software for streaming. I also use a lot of Logitech products, but man I wish I could find headset attachments like dragon horns or something, it is always Cat Ears :)  What is your short term goal < 3 months and long term goals with streaming?
Carmy – My short term goal is to get growth in my channel and community!  I just started a small community Minecraft server, DingCraft! So I hope that grows as well! Long term goals I hope to just to get well known, I suppose, partner or not be more involved in Twitch events and meet more people!
Justin – DingCraft, I like it.  I used to play Minecraft a lot with my kids but don't play as much anymore.  Do you have any advice you give to other people wanting to get into streaming and entertainment?
Carmy – If you really want to stick with streaming, you gotta stay on it, think of anything that can add content to your channel. For me, thinking about ways to improve never stops. Acting on those ideas on the other hand…I procrastinate haha!
Justin – Yeah procrastination can really slow things down, also making the time to do the stuff besides actually streaming is important too.  Where, When and What Can People Find You Streaming and What Can They Expect From Your Streams (types of games, unique entertainment style/games)?
Carmy – My Twitch handle is carmy, I don't have a set schedule as of now, since I'm back to working full-time, so I hope I can get back on the weekends! I have been on a MAJOR MineCraft kick lately, so you will most likely catch me fishing and breeding more cats in my DingCraft server! I drop hypes for everything that comes my way! Haha, I'm somehow chill but full of energy at the same time, if that makes sense?
Watch live video from carmy on www.twitch.tv
Justin – Do You Want to Give Any Shoutouts or Promote Anything?
Carmy – Shoutout to my awesome friend, we have been through thick and thin for the past year and some months, Sol_Invitus! Without him, not sure how things will be in my path of streaming! Also an loud shout out to my great supporters out there, too many to name, but you are all on my mind!
Promoting? ummmm CHECK OUT MY TWITCH CHANNEL AT www.twitch.tv/carmy check out my Merch! T-shirts, Hoodies, etc to represent my community!
We are influencers and brand affiliates.  This post contains affiliate links, most which go to Amazon and are Geo-Affiliate links to nearest Amazon store.
I have been obsessed with computers, tech, gadgets and games since the early 1980's having grown up on the Commodore 64 and Amiga computers.
By day I work in the IT Security Industry and have been in IT for over 20 years. On my spare time I am a Vlogger, Blogger, Streamer, Gadget Reviewer, affiliate marketer, influencer and entertainer. I am also an avid movie fan, TV Show fan, Anime fan, video game fan and fan of trying anything and everything new.