We are influencers and brand affiliates.  This post contains affiliate links, most which go to Amazon and are Geo-Affiliate links to nearest Amazon store.
In this week's streamer spotlight I invite you to learn more about Sol_Invitus who I discovered one day from the Grizzly Nation Twitch Group.  I immediately found that I enjoyed his sense of humor and his theme of always being dressed like a Roman soldier, and he tends to have a lot of fun joking with viewers on Stream and has some great scenes for incoming raids, subs and follows that are fun to watch.  He is also just an amazingly supportive and friendly guy, you can find him playing Minecraft, Fortnite and so many other games too.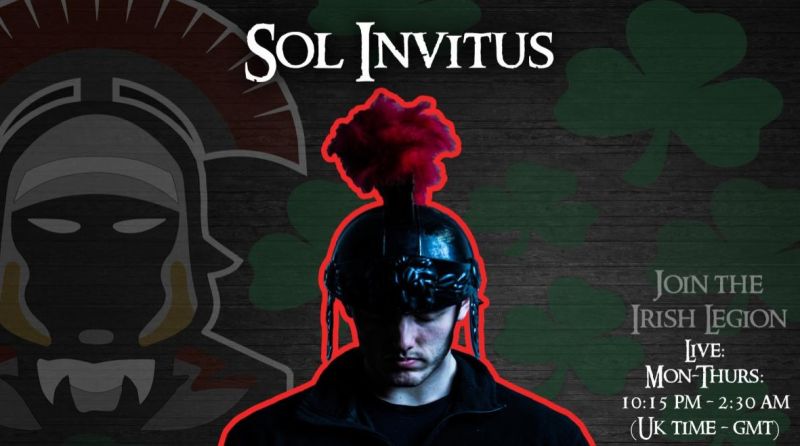 Justin – Tell our readers about yourself (notes include name (or just handle) where you are from…etc. (This can be in character)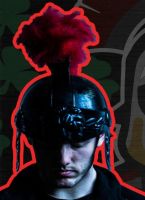 Sol_Invitus – Hello folks! Sol here! A variety streamer from the South west of Ireland. Been streaming since January 2018 and have had a blast since!
If you enjoy music, rage gaming, trolling a streamer or simply just having a good dance, you have come to the right place. Although I am Irish, the stream is Roman themed with the community known as the Irish Legion. Hence why your first impression of me will be the red peacock feathered helmet!
I currently do a PhD in Atmospheric Chemistry in the UK so enjoy a good discussion on the likes of climate change, space weather and air pollution. Or if you enjoy martial arts, sketching or anime I am more than happy to discuss those also!
Justin – I think that is so cool that you are working on a degree in Atmospheric Chemistry and streaming on the side.I had never heard of the Irish Legion before I ran across your channel and the Roman theme was totally cool and drew me in probably because I loved Rome: Total War and actually visited Rome years ago.  When did you first realize you wanted to start streaming and when did you first start?
Sol_Invitus – I first realized I wanted to start streaming after playing Dungeons and Dragons for a year with colleagues from my chemistry degree. The DnD session was inspired by watching episodes of Critical Role and when we realized how fun DnD was, I wanted to start on Twitch to see if we could put our own sessions on there.
Justin –  D&D, I have been a Dungeon Master since 1984 with Advanced Dungeons and Dragons and still DM my family 35+ years later with 5th Edition.  What streaming platforms do you go live on most often (Twitch/Mixer/YouTube…etc)?
Sol_Invitus – Twitch is my primary platform. From there I share a YouTube channel with Diddlydeepotatoes called 'Shenaniflagons'. There we post all manner of topics from gaming clips to music covers and discussion.
Justin –  Shenaniflagons, I like it.  What devices do you prefer to stream from?  (Console, PC…etc)
Sol_Invitus – PC is my streaming device of choice. Although the phone did come in handy for Twitchcon Berlin.
Justin – What is your preferred streaming hardware/PC/software setup (PC Specs)? (Webcam, Elgado Streamdeck, SLOBS/StreamElements…etc)
Sol_Invitus – I use a Canon EOS 200D DSLR camera as a webcam (acts both a quality webcam for Twitch and recording on Youtube). A pullout green screen with two large diffuser lights. Elgato cam link is used to link the camera to the desktop.
PC Spec: 16 GB Ram, 500 GB SSD, Ryzen 5 processor, GTX 1060.
For the stream, OBS Studio for the broadcast software with the use of StreamElements and Streamlabs chatbot.
Justin – Nice that you prefer to use a true DLSR than a typical webcam, no wonder your on-screen presentation is so sharp and clear.  I never even heard of the Elgato Cam Link before, so I learned about a new product from you.  What is your short term goal < 3 months and long term goals with streaming?
Sol_Invitus – Short term goal – Pass 3k followers on Twitch, help the YouTube channel make further progress, further build on the Irish Legion community.
Long term – Either streaming full time or a comfortable position where I can stream and work post PhD.
Justin – Sure nice to have a backup plan and pursue two goals at the same time.  Do you have any advice you give to other people wanting to get into streaming and entertainment?
Sol_Invitus – Don't put all your eggs in one basket. Diversify your content across multiple platforms (Twitch, Youtube, Mixer, Instagram, Twitter). Get to know your audience, try have a decent response time to your chat. Have a balance between games you want to play and popular games. Sometimes going to the extremes can make you get lost in the dark of Twitch promotion. In short, Youtube can promote to an audience, Twitch will help them get to know, the creator.
Just make sure your content is the best you can give.
Justin – Solid advice for anyone whether a streamer or not, diversify is very important.  Richard Branson one of my inspirations said everyone should have a side hustle and I couldn't agree more.  Where, When and What Can People Find You Streaming and What Can They Expect From Your Streams (types of games, unique entertainment style/games)?
Sol_Invitus – Currently stream Mon-Thurs from 10pm – 2am (GMT) and sometimes do weekend slots.
Streams can vary from Twitch Sings karaoke nights to Minecraft hardcore survival playthroughs to Grand Theft Auto Role Playing and first person shooters such as Overwatch and Call of Duty.
Watch live video from sol_invitus on www.twitch.tv
Justin – Thanks, I highly encourage my readers to check out Sol_Invitus and see his style of entertainment and engagement with the viewers.  Do You Want to Give Any Shoutouts or Promote Anything?
Sol_Invitus – The YouTube channel is going releasing weekly videos of all the streaming chaos! 'Shenaniflagons' on Youtube is the place to go.
A shoutout also to Dragonbloggers for being patient as they waited for my response for this interview. Work had caused a considerable delay in response!
Justin -No problem Sol, thank you so much for taking the time in between your busy schedule to do the interview.  I really enjoyed running across your streams and am a big fan.  James one of our other streamers also tells me how much he enjoys your streams and entertainment style as well.
We are influencers and brand affiliates.  This post contains affiliate links, most which go to Amazon and are Geo-Affiliate links to nearest Amazon store.
I have been obsessed with computers, tech, gadgets and games since the early 1980's having grown up on the Commodore 64 and Amiga computers.
By day I work in the IT Security Industry and have been in IT for over 20 years. On my spare time I am a Vlogger, Blogger, Streamer, Gadget Reviewer, affiliate marketer, influencer and entertainer. I am also an avid movie fan, TV Show fan, Anime fan, video game fan and fan of trying anything and everything new.