I finally converted all of DragonBlogger.com feeds to Feedblitz! I had talked about it before and several bloggers I know and respect including Andy Bailey who runs ComLuv.com uses it to power their RSS feeds, but I was holding out and still running on Feedburner like I had been for years.
One of my primary reasons is I was constantly plagued with Feed Size Over Limit errors on Feedburner and the only way I wound up getting around that was changing my feeds to summary so that images didn't display in the feed itself.  This wasn't ideal and Feedblitz had a better way of handling feeds that were too large by intelligently truncating them for readers.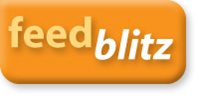 I also liked that Feedblitz could build a mailing list out of any RSS feed and serve as both a mailing list and still provide RSS updates to readers.  It was fairly easy to import the email RSS subscribers from Google Feedburner into Feedblitz, but you do lose the regular RSS readers.  Feedblitz recommends setting your Feedblitz RSS feed as the source feed for your Feedburner feed and gradually let the readers convert over.
For $1.99 per month for unlimited feeds, the Feedblitz service is worth it and I have had no feed size or any other feed related issues since converting to Feedblitz several weeks ago.
With this being said I created a dedicated RSS Feeds page on DragonBlogger.com where readers can subscribe only to the RSS Feed they want.  If you want the whole package, you can get my main feed but if you want only the technology articles or entertainment reviews you can get those select feeds as well.
If you run a site that covers a wide array of topics, it is best to offer feeds for each major category so you don't push away a readership that is there for one content niche and could care less about the others.
With that being said, here are the specific RSS feeds on DragonBlogger.com my readers can choose from:
Subscribe to the Full DragonBlogger.com RSS Feed
Subscribe to the DragonBlogger.com Technology RSS Feed
Subscribe to the DragonBlogger.com Blogging RSS Feed
Subscribe to the DragonBlogger.com Gaming RSS Feed
Subscribe to the DragonBlogger.com Entertainment RSS Feed
We also have a special dedicated Pottermore RSS Feed for Pottermore Fans!
Subscribe to the DragonBlogger.com Pottermore RSS Feed
-Dragon Blogger